Actual Cash Value vs. Replacement Cost: What's the Difference?
One pays the current value, minus depreciation; the other pays the full cost to replace your property.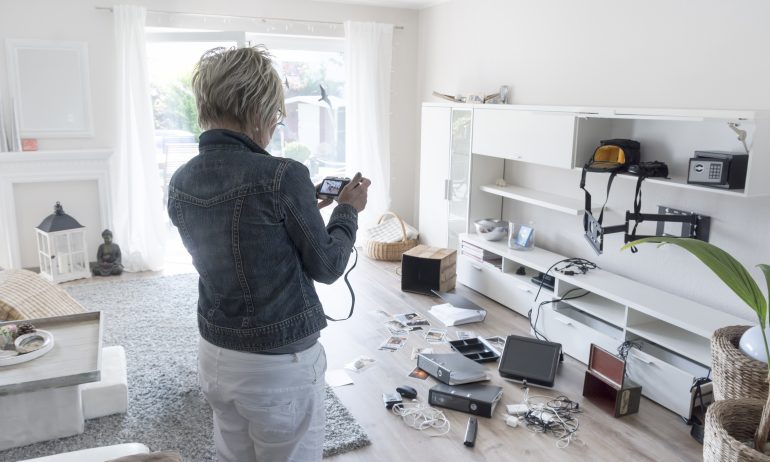 Many or all of the products featured here are from our partners who compensate us. This influences which products we write about and where and how the product appears on a page. However, this does not influence our evaluations. Our opinions are our own. Here is a list of our partners and here's how we make money.
You come home after a long day to discover shattered glass, ransacked rooms and stolen possessions. Your heart sinks as you realize the magnitude of the burglary. Thankfully, you have homeowners insurance.
But here's the catch: Will the insurance company pay enough money to replace your stolen items with brand-new ones? Or will you receive only a fraction of what you originally paid for them?
Understanding the difference between replacement cost coverage and actual cash value can help you choose the right coverage for your needs.
Get home insurance quotes in minutes
Answer a few questions to see custom quotes and find the right policy for you.
What is actual cash value coverage?
Actual cash value (ACV) coverage calculates your claim payout based on an item's original cost, minus depreciation. Depreciation is the decrease of an item's value over time due to wear and tear. This means the payout you receive may be less than what it costs to replace that item with a brand-new one. It's the most common payout method for personal property coverage.
Here's an example: Someone breaks into your house and steals your 2-year-old laptop. You have ACV coverage. The insurance company takes the original cost of the laptop, calculates its depreciated value, then pays you based on that amount.
If you paid $2,000 for the laptop and the insurance company says it's worth $1,400 today, that's how much you'd get back, minus your deductible. Your deductible is the part of your home insurance claim you're responsible for paying.
What is replacement cost coverage?
Replacement cost coverage allows you to replace damaged or lost property with new items of similar kind and quality. It doesn't consider depreciation, so you receive the full cost to replace the item regardless of its age or condition, minus your deductible.
Let's go back to the example with the 2-year-old laptop. Instead of actual cash value coverage, your policy has replacement cost coverage. Replacement cost coverage would pay for a new laptop of similar quality and features.
So if the closest model to your stolen laptop costs $2,200 today, you'd first get one check for the actual cash value of your laptop ($1,400 in the previous example), minus your deductible. Then, you'd buy your new laptop, submit the receipt to your insurance company and get a second check that covers the difference.
Actual cash value vs. replacement cost
You might come across both ACV and replacement cost coverage in your insurance policy, depending on what's being covered. Your house is typically covered on a replacement cost basis. For personal belongings like electronics, furniture or clothes, the insurance company usually offers ACV coverage by default.
Replacement cost coverage likely costs more than ACV coverage, as it provides more comprehensive protection. However, replacement cost coverage also ensures homeowners can replace their items without having to pay out of pocket.
Not sure if ACV or replacement cost coverage is right for you? Take how much you'd save on premiums and weigh it against the amount you'd pay out of pocket should you face a major loss. You may find that the savings on your premiums are canceled out if you make a claim and the payout is less than what you'd need to replace your lost belongings.
Types of replacement cost coverage
By default, replacement cost coverage pays to rebuild, repair or replace your property, up to your policy's limit. But what if you need more money than your policy allows? These options can give you more coverage.
Extended replacement cost
Extended replacement cost coverage is an optional add-on to your home insurance policy. It's designed to help cover the cost of rebuilding your home if it's more than your policy limit allows.
Suppose your home is insured for $300,000 and you have a standard replacement cost policy. If your home is destroyed in a fire and it costs $375,000 to rebuild because the costs of materials and labor have skyrocketed, your insurance company will pay up to the policy limit of $300,000, minus your deductible. You would be responsible for the remaining $75,000.
But extended replacement cost coverage would pay an additional percentage above the policy limit, often 20% to 25%. So if you have 20% replacement cost coverage, your insurance company would pay up to $360,000 (minus your deductible) to rebuild your home. This would leave you responsible for $15,000 instead of $75,000.
Guaranteed replacement cost
With guaranteed replacement cost coverage, your insurance company agrees to pay the full cost to rebuild your home, no matter what it costs. In the example above, your insurance company would pay the full $375,000 to rebuild your home. This means that you won't pay any out-of-pocket expenses other than your deductible.
Replacement cost vs. actual cash value: How to decide
Considering these factors can help you decide whether actual cash value or replacement cost coverage type is best for you:
Budget. If you want to save money on insurance, actual cash value coverage is usually cheaper. However, you may not get enough to buy new replacements for the belongings you lost, so balance the savings on your premium against what you'd have to pay out of pocket should you have to file a claim.
Risk tolerance. If you want more financial protection and are willing to pay extra for it, replacement cost coverage could save you thousands should you have to file a large claim.
Get more smart money moves – straight to your inbox
Sign up and we'll send you Nerdy articles about the money topics that matter most to you along with other ways to help you get more from your money.