How Much Does a Funeral Cost?
Funeral planning is hard emotionally and financially; knowing what you're paying for can help alleviate the stress.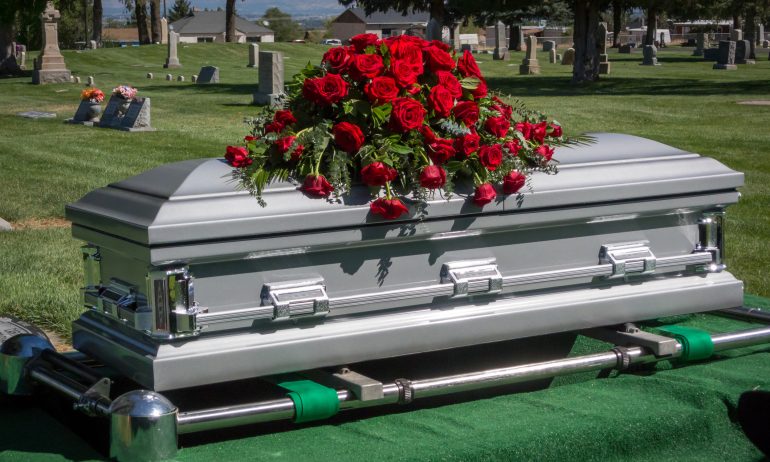 Many or all of the products featured here are from our partners who compensate us. This influences which products we write about and where and how the product appears on a page. However, this does not influence our evaluations. Our opinions are our own. Here is a list of our partners and here's how we make money.
---
The investing information provided on this page is for educational purposes only. NerdWallet, Inc. does not offer advisory or brokerage services, nor does it recommend or advise investors to buy or sell particular stocks, securities or other investments.
The median cost of a funeral with a viewing and burial was $7,848 in 2021, and the median cost of a funeral with viewing and cremation was $6,970, according to the most recent information available from the National Funeral Directors Association.
These are only the national medians; a funeral might cost more or less depending on the state and the services you decide to include. Understanding these costs and how they break down may help ease the burden of planning a funeral for family members. When a loved one dies, finances are the last thing many of us want to think about, and funeral expenses can add up quickly.
Here is a quick breakdown of what you might expect to pay for an adult funeral with viewing and burial services:
| | |
| --- | --- |
| | |
| Transportation of remains to funeral home | |
| | |
| | |
| Use of funeral home facilities/staff for viewing | |
| Use of funeral home staff for funeral ceremony | |
| | |
| | |
| | |
| | |
| Median cost of a funeral with viewing and burial | |
| | |
| Median cost with burial vault | |
These cost estimates do not include cemetery fees, grave markers, monument costs or items from outside the funeral home, such as flower arrangements or obituaries.
Are you looking for an online will app?
BEST FOR: Ease of use. COST: One-time fee of $159 per individual or $259 for couples. $19 annual membership fee thereafter.
This fee covers services that are common for any funeral, but it varies by state and funeral home. However, the basic services fee generally covers:
Storing the remains of the deceased.

Coordinating with a cemetery or crematorium.
Fees for additional funeral services
There are several optional services and features that families can add, such as:
Embalming: The national median cost for embalming services was $775 in 2021. Additional services (preparing the body, cosmetology, etc.) typically cost around $275, according to the National Funeral Directors Association, or NFDA.

Transporting remains: The national median cost for transferring the body to a funeral home was $350 in 2021, the NFDA says. It may cost an additional $350 to rent a hearse to move the body from the funeral home to the cemetery.

Viewing hours or memorial services: The national median cost to use a funeral home's facilities and staff was $450 in 2021. There can be additional fees if the family chooses to have a memorial service, and the national median cost for this is $515, according to the NFDA.

Caskets and vaults: The NFDA says the median cost for a metal burial casket is about $2,500, and a burial vault can cost an additional $1,572.
Cash advances are fees charged for goods and services that the funeral home buys from third parties as part of the funeral planning process. They might include payments made to florists, musicians, clergy, pallbearers or newspapers for obituary notices.
Funerals can be expensive, but a few options can ease the cost burden.
Funeral trusts: Funeral trusts are often irrevocable trusts funded with a specified amount set aside to pay for all funeral expenses. The trust can be prefunded with cash or named as the beneficiary of a life insurance policy.
James Ryan II, a licensed funeral director at Farrell-Ryan Funeral Home in Rochester, New York, emphasizes the importance of funeral trusts for people receiving long-term care. "Nursing home costs can be astronomical," Ryan says. "I've seen places that cost as much as $26,000 per month, so people in that situation can run out of money very quickly. In New York state, they allow you to set aside money in a funeral trust. Once the money is in that trust, creditors can't come after those dollars even if they run out of funds to pay for their care."
NFDA President Jack Mitchell IV, who is also a licensed funeral director at Mitchell-Wiedefeld Funeral Home in Baltimore, shared similar sentiments. "If it's a situation where someone is going to need to apply for medical assistance, the most important part is that the money is placed in an irrevocable trust," he says.
Payable on death, or POD, accounts: These bank accounts allow you to set aside funds for your funeral expenses. The person you name as beneficiary gains access to and control of the account after your death, so be sure the person handling the account is someone trustworthy. POD accounts do not have to go through probate, so your beneficiaries can access the funds in the account immediately upon your death.
Prepaid funerals: Some funeral homes will allow you to prepay for your funeral, and in some cases you can lock in the cost of your funeral today to avoid paying more later. "It's a good way to allow people and their families some peace of mind about rising funeral costs," Ryan says. "Not every funeral home does this, but some will actually offer a price guarantee. So if you came in today and we estimated that your funeral would cost $10,000, you'd prepay that amount upfront. Then, if you pass away in 2050, the cost of that same funeral might be $25,000. But since it's prepaid, we consider your funeral to be paid in full perpetually."
Mitchell clarified that in many cases, price guarantees will apply only to basic services fees and merchandise from the funeral home. "We don't have any control over pricing for things like flowers or clergy, so those things are not guaranteed. If prices go up, the family may need to settle the difference with the funeral home," he says.
Directly from the estate: Assets from the deceased person's estate can be used to cover funeral expenses. However, estate assets are generally not available until the probate process is over — which can take several months. In such cases, the executor of the estate typically pays the funeral expenses and then is reimbursed from the estate once funds become available.
Borrowing: You can get a loan to pay for funeral services, but this option should be a last resort for family members. Funeral loans are personal loans, which means they are often difficult to get, and they often have unfavorable interest rates.
How to save money on a funeral
Get quotes from different funeral homes. Under the Federal Trade Commission's Funeral Rule, you have the right to compare prices from different funeral homes. The rule also requires funeral directors to give you pricing information on the phone as well as a written itemized pricing sheet. You also have the right to select only the services you want. Costs can vary widely. For example, according to the NFDA data from 2021, the minimum basic service fee among the 802 funeral homes surveyed was $365, but the highest fee was $5,910. "The first thing I tell people is to call around and ask for quotes from different funeral homes," Ryan says. "I've seen quotes as high as double what we charge for the same services, so it's important for people to understand that they can shop around."

Be thoughtful about caskets and burial vaults. According to the NFDA, casket prices can range from $300 to $9,360. "There is no reason to spend a lot of money on a casket or a vault," Ryan says. "There are caskets that are better for aesthetic purposes, so to speak. But functionally, they all do the same thing."

Know your options on obituaries. The cost of running an obituary in the local newspaper can range from under $100 to $800 or more. However, most funeral homes allow you to post an obituary on the funeral home website, which can then be shared to Facebook or other social media platforms.

See whether the funeral home can arrange transportation of remains. It is usually far cheaper to ship cremated remains. "For cremations, the best option is usually to have the cremation take place in the state where the person died," says Ryan, who is based in New York. "It's also beneficial to call the funeral home where you want them to be buried instead of where they died. A funeral home in a different state will charge me trade rates to transport remains, which means it will cost a lot less to transport the remains if I call the funeral home in Florida as a funeral director, rather than as a family member."

Get fewer copies of death certificates. Death certificates are often necessary to manage the transfer of a loved one's assets and accounts. However, courts often charge fees for certified copies of a death certificate, and the fee is typically per document. Some funeral homes will recommend that you order 8-10 copies, but if you're trying to save on processing fees, you may want to start with 3-5 copies. You can always order more if needed.

Reconsider the viewing or ceremony. "In my experience, there are some families who were instructed by the deceased person to simply cremate the remains without a funeral service," Mitchell says. "There are cremation societies that don't have viewing or other services you typically find at a funeral home; they only specialize in cremating remains. This option is typically much cheaper than what you would find at a funeral home because their operating costs are much lower."
Are you looking for an online will app?
BEST FOR: Ease of use. COST: One-time fee of $159 per individual or $259 for couples. $19 annual membership fee thereafter.
Get more smart money moves – straight to your inbox
Sign up and we'll send you Nerdy articles about the money topics that matter most to you along with other ways to help you get more from your money.