Trusts: What They Are and How to Set One Up
A trust ensures your assets go to the right beneficiaries. Setting up a trust offers tax benefits for those subject to estate taxes, to maximize wealth for future generations.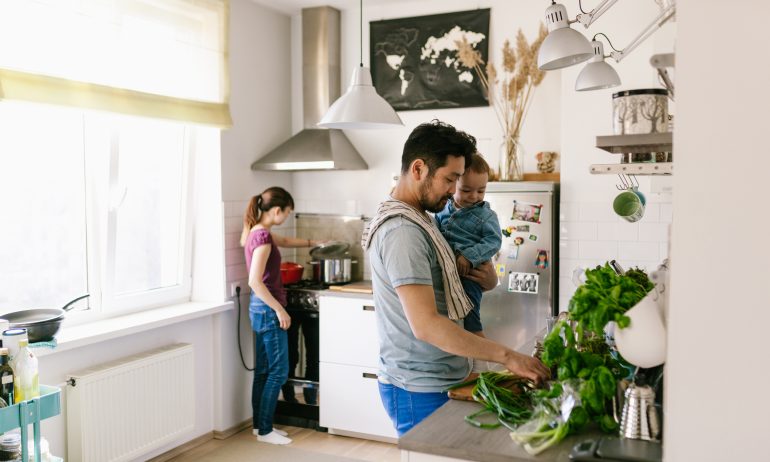 Many or all of the products featured here are from our partners who compensate us. This may influence which products we write about and where and how the product appears on a page. However, this does not influence our evaluations. Our opinions are our own. Here is a list of our partners and here's how we make money.
---
The investing information provided on this page is for educational purposes only. NerdWallet does not offer advisory or brokerage services, nor does it recommend or advise investors to buy or sell particular stocks, securities or other investments.
A trust is a legal arrangement intended to ensure a person's assets eventually go to specific beneficiaries. The person creating the trust puts assets in the name of the trust and authorizes a third party to administer those assets for the trust creator and the beneficiaries. A well-designed trust can help save time, paperwork and other headaches when settling an estate. In some cases, trusts can also help reduce the amount of estate taxes beneficiaries have to pay when they inherit assets.
Trusts are often wrongly associated with folks who might have a higher net worth, but trusts aren't just for rich people. They can be an important part of estate planning and can provide peace of mind by ensuring your assets will go to the right people.
This article is a simplified overview of what trusts are, how they work, and some of the basic differences between types of trusts (living, revocable, irrevocable and others). Trusts can be very complicated, and can quickly become overwhelming if you haven't dealt with them before. If you need help understanding the intricate details of a specific trust, be sure to consult with an experienced financial advisor.
Who is involved in a trust?
Trusts have three main players:
Grantor: The person who creates the trust and puts assets in it.

Beneficiary: A person who eventually receives some or all of the assets in the trust.

Trustee: The organization or person who administers the trust.
The main purpose of a trust is to transfer assets from one person to another. Trusts can hold different kinds of assets. Investment accounts, houses and cars are examples.
One advantage of a trust is that it usually avoids having your assets (and your heirs) go through probate when you die. Probate is a part of the court system tasked with deciding whether your will is valid (if you have a will) and then distributing your assets. That can take several months, and much of it is public record.
Setting up a trust: How to proceed
There are three ways to go, in general.
Hire a financial professional. Fees can vary widely, but professional guidance is often worth it. Services like Zoe Financial, Harness Wealth and Facet Wealth can connect you with a financial advisor to walk you through the process.

DIY. Some websites offer "do-it-yourself" trusts. They may be a low-cost option, but you may pay in time and effort.

Do it through work. Some companies offer discounted estate planning services as part of their employee benefits packages.
Whichever way you decide to set up your trust, you'll first need to determine what kind of trust best fits your needs. You can do your own research, but given how complicated some trusts can be, you may want to consult with a legal or financial professional.
Once you know how you'd like to structure the trust, the first step is typically to create a trust document. If you're setting up the trust yourself, most companies will provide some online guidance to help you through the process. Once the trust document is ready, you'll need to get it signed and notarized. Depending on your state laws, you may need multiple signatures from the grantor(s) and trustee(s), and you might also need witnesses during the process.
After the trust is signed and established, you'll need to open a trust account. Trusts can hold many different types of assets, including cash, stocks, bonds, mutual funds, real estate and other property. Once the account is opened, you can transfer assets into the trust. However, if the trust is established as part of an estate plan, you can designate the trust as a beneficiary so that the assets move to the trust once the grantor passes away.
Again, trusts can be complex and intricate, so if you're unsure about the best choices for you and your family, consult with a legal or financial professional before making a decision.
Control: You can specify the terms of the trust, which means a trust can help you be strategic if you want to protect assets after a divorce, for example, or control when kids get your money, or control how people spend the money you leave them.

Privacy: Assets in trusts don't have to go through probate. That process is public record, which can create drama if you're disinheriting someone or making distributions that you don't want to be public.

Time: Probate can take several months. Trusts can avoid probate and get assets to your heirs faster.

Potential tax savings: As we detail below, some types of trusts can lower your estate taxes. However, most people don't have to pay estate taxes, so talk with a financial advisor before setting up a trust. There's no reason to use a trust to avoid taxes you may not have to pay anyway.
Cost: An estate attorney can do the paperwork involved in setting up a trust and transferring your assets into the trust.

Time: You'll need to spend time dealing with paperwork. You may need to have uncomfortable conversations about who gets what.

May not be necessary for tax reasons: Some people can indeed save on estate taxes with certain trusts, but most estates aren't subject to estate taxes in the first place.
You can tailor a trust to your needs. Here are a few examples:
Living trust: Living trusts are also known as revocable trusts. In these trusts, you can change the beneficiaries and assets as long as you're alive and physically and mentally able to do so. You can even name yourself as the trustee and name a co-trustee or successor trustee. That way, if you're diagnosed with a debilitating condition, you can get things in order before you're unable to do so, and then when the day comes, the successor trustee takes over managing the trust for you.

Irrevocable trust: In an irrevocable trust, you can't change your mind. Once you put assets in the trust and name a beneficiary, it's permanent. (Make sure you know whether an irrevocable trust is right for you.) An advantage of irrevocable trusts is that you might be able to reduce your estate taxes — the assets in an irrevocable trust technically aren't yours. The trust owns them.

Education trust: Beneficiaries can only use the money for educational expenses.

Spendthrift trust: When beneficiaries can't make good financial decisions for themselves, the trustee decides how the beneficiary is allowed to use the money.

Charitable trust: An irrevocable trust from which assets go to one or more charities.

Functional-needs trust: For families with children who have functional needs, these trusts set specific rules for how the money will go to the beneficiary.

Qualified personal residence trust: An irrevocable trust in which you transfer a house to your heirs but get to live in it for a specified period first.

Generation-skipping trusts: A trust in which you transfer money to grandchildren or other people who are at least 37.5 years younger than you.
This is a complicated area of the tax code, so be sure to consult with a qualified professional. Here are a few things to keep in mind:
Estate taxes. If you have a large estate, you may owe federal estate tax when you die. In 2022, the federal estate tax generally applies when a person's assets exceed $12.06 million at the time of death. The estate tax rate can be up to 40%. Also, some states have their own estate taxes (and set their own estate size thresholds), so there could be two estate tax bills to pay: one to the federal government and one to the state.
Inheritance taxes. Some states have inheritance taxes, which are different from estate tax. The people who inherit the money pay the tax.
Income taxes. The assets in a trust might generate income, which could trigger income taxes or capital gains taxes. Who pays that tax depends on who legally owns the assets. If a charity gets the income directly, that donation might qualify for a tax deduction.
Time and effort. You may have some extra paperwork to do at tax time because trusts sometimes have to file their own tax returns.
Advertisement
APY

3.25%

With $0 min. balance for APY

APY

3.25%

With $0 min. balance for APY

APY

3.00%

With $0 min. balance for APY

Bonus

$250

Earn up to $250 with direct deposit. Terms apply.

Bonus

$200

Requirements to qualify
Get more smart money moves – straight to your inbox
Sign up and we'll send you Nerdy articles about the money topics that matter most to you along with other ways to help you get more from your money.