What Car Dealer Fees Should You Pay?
Learning how to spot which car buying fees are legit and which ones are not can help you maximize your savings.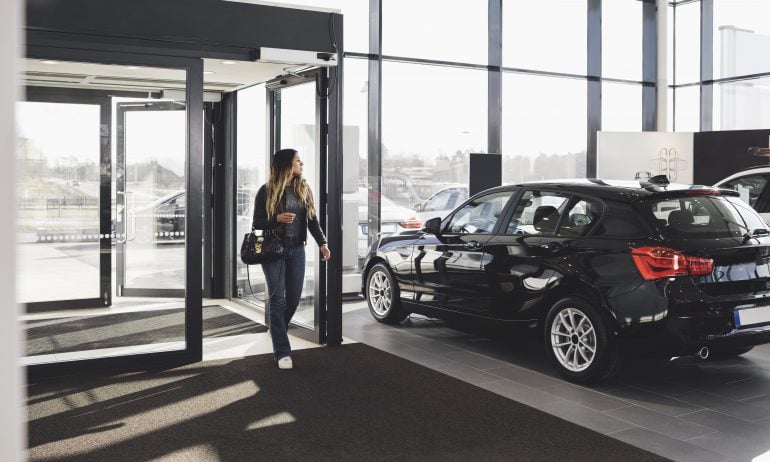 Many or all of the products featured here are from our partners who compensate us. This influences which products we write about and where and how the product appears on a page. However, this does not influence our evaluations. Our opinions are our own. Here is a list of our partners and here's how we make money.
In most states, dealers charge fees when you buy a car. And although you may be prepared for some of the common fees — like sales tax or processing and registration charges — there are other less common fees you might see on your contract.
To avoid paying more than you should, it's important to know what dealer fees you have to pay, which fees you can challenge and how to prepare for paying the necessary ones.
Most dealers charge these common fees when you buy a car:
Sales tax: The sales tax is a percentage of the total cost of the car and it varies based on where you register the car. For example, some states like Alaska, Delaware, Montana, New Hampshire and Oregon don't charge sales tax at all. Note, however, that even in states that don't charge sales tax, you may be required to pay local sales taxes based on the county or town in which you buy the car.
Title and registration fees: Title and registration costs are set by the state in the sales contract and are typically based on the value and weight of the car. These fees cover the cost to register a car with the department of motor vehicles, purchase a license plate and assign a title.
Documentation fee or dealer "doc fee": Dealers charge buyers doc fees to process paperwork and complete sales. Even though these are legitimate fees, the amount can vary wildly from one dealership to the next. Some states cap doc fees, which means the dealership can charge up to a maximum amount. For example, in California doc fees are capped at $85. But other states, like Florida, don't limit the amount that can be charged for a documentation fee.
While doc fees are common at physical dealerships, you may be charged these fees even if you buy a car from an online auto retailer. For example, the online used-car dealership Vroom charges documentation fees, while some of CarMax's locations charge "processing fees" when you purchase a car. There are other online sellers, like Carvana, that don't charge a documentation or processing fee.
Destination fee: The destination fee covers the cost for a manufacturer to deliver a car from the factory to the dealer, but it is passed on to the buyer to pay. New-car buyers must pay this fee, regardless of whether they buy a car in person or online. Destination fees vary based on the manufacturer, model and cost of the car, but they can range anywhere from $1,000 to $3,000, and more for luxury cars.
If you buy a plug-in hybrid or electric vehicle, you might be charged EV-specific fees in addition to standard registration fees, depending on your state. These fees range anywhere from $50 to $225 and are sometimes charged to offset reduced gas-tax revenues, for example.
While you are typically required to pay the above dealer fees when buying a car, there are other fees that you may be able to negotiate down or avoid entirely. Here are some fees to consider challenging if they suddenly appear when you're closing the deal:
Preparation fees: In some cases, dealers will insert a fee for the cost of getting a car ready for sale. However, you're likely already paying a destination fee that covers these dealer-prep expenses. Therefore, this fee is typically redundant and buyers can contest it.
Advertising fees: Most dealers charge an advertising fee (which is usually a charge made by the manufacturer to the dealer and handed off to the buyer) to cover a portion of the cost of advertising. Advertising fees range from several hundred dollars to nearly a thousand for more expensive vehicles. Buyers are typically required to pay these fees. However, dealers should tell you about any advertising fees beforehand. Some dealers may even tack on extra advertising charges beyond those passed along from the manufacturer. If these fees suddenly show up in your contract, you may be successful at challenging them.
Dealer add-ons: Dealers might sometimes add extras to your contract. Add-ons can range from extra equipment, like wheel locks, mud flaps or window tinting, to policies, like gap insurance or an extended warranty. Unfortunately, these add-ons cost extra. If you can live without the extras or don't want to increase the price of the vehicle or loan amount, you can opt out.
Paint protection, pinstriping, fabric protection: These are dealer options that can be expensive and are typically unnecessary. These options can easily be removed from your contract.
Anti-theft measures: These can be supplemental alarm systems, vehicle tracking units or even "VIN etching" — where a car's vehicle identification number is etched into the major car parts, like the windshield — to deter thieves. You can opt out of purchasing such products from your dealer. If you want these anti-theft options, you can get them at a body shop instead, which is typically much cheaper.
How to prepare for dealer fees
Find out the cost of local fees. Look up your state and local tax fees to help you estimate what you will be required to pay.
Work backward. Ask about dealership fees early in the car-buying process. This can alert you to any hidden charges added later on that were not mentioned in the beginning.
Shop around. If you're in a state where documentation fees run high, try multiple dealerships — even those in neighboring cities — to find the best price.
Beware of the supplemental sticker. At some dealerships, markups and dealer add-ons are posted on a second sticker next to the factory window sticker. Try to avoid these dealerships. If you want buy from one of them, ask to have the add-on equipment removed, or tell the dealer you won't be paying for the add-ons upfront.
Request an "out-the-door price" with a breakdown of the fees. By setting the terms as out-the-door, you spell out your expectation that everything will be included and broken down in any deal you are a party to. Do this before you get to the finance office, before you agree to a deal, and even before you make an offer.
If you're unsure about a specific fee, ask the dealer to clarify it for you so you understand what you're being charged and can potentially dispute any unnecessary costs.
Get more smart money moves – straight to your inbox
Sign up and we'll send you Nerdy articles about the money topics that matter most to you along with other ways to help you get more from your money.