Closing the Deal: Car Buying's Hidden Trap
Take your time reviewing the contract.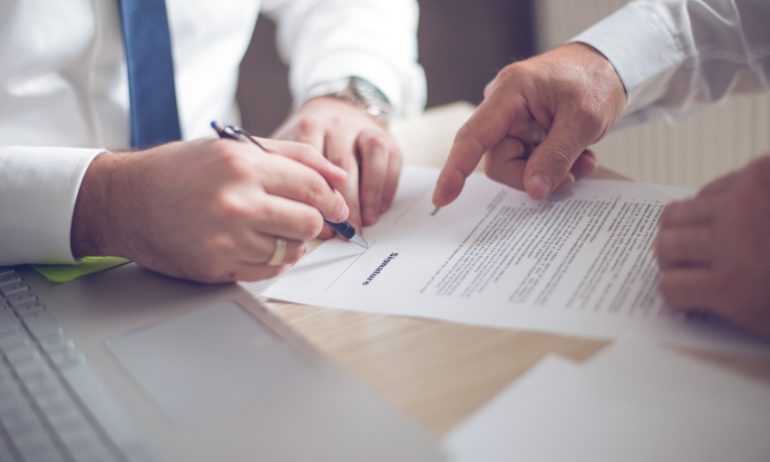 Many or all of the products featured here are from our partners who compensate us. This influences which products we write about and where and how the product appears on a page. However, this does not influence our evaluations. Our opinions are our own. Here is a list of our partners and here's how we make money.
Car buyers often believe the salesperson is the enemy. But a much greater danger to your wallet is waiting in the back of the dealership: the finance and insurance manager.
He or she is the one who'll put your good deal in a contract — and along the way, try to sell you additional products and services you might not need. And many shoppers aren't prepared for the unexpected pitches and sometimes high-pressure, manipulative sales techniques. To guide you through the closing process and the entire dealership shopping experience, use our our car-buying cheat sheet.
You've been on the car lot for two hours negotiating the price with a friendly salesperson. She finally stands up, extends her hand and says, "Congratulations on your new car! You'll sign a few papers and be on your way."
You breathe a sigh of relief as she leads you toward an office in the back of the dealership. After a long wait, you meet a man in a suit who reminds you of a banker. Racks of brochures rest on his desk.
He tells you that you've made a great choice, then reaches for a brochure and spreads it out in front of you. "I'm sure you'll want to protect your investment. We have gold, silver or bronze protection packages. Which one do you want?" he asks.
This is the first of many products and services that the F&I guy will try to sell you. And asking which of the three packages you want — rather than asking if you want one at all — is one technique he might use to persuade you to buy from him.
Auto loans from our partners


The products and services sold in the F&I room are always changing and vary from one dealership to the next. They tend to be overpriced, and you're not obligated to buy any of them. Here are some common offerings:
Warranties. Virtually every dealership sells an extended warranty, and you might be pitched others, including tire warranties. Most are from the carmaker — called factory warranties — but some might come from third parties.

Leasing warranties. When you lease, there's no need to consider an extended warranty because you'll be returning the car in three years. But you'll probably be offered a warranty to protect you from excess wear and tear charges.

Car alarms. Dealerships often offer anti-theft products even if your car already has them. If you accept, the dealership will disable the factory-installed alarm and replace it with a more expensive one. In other cases, you'll be offered tracking devices to recover your car or even products designed to locate pieces of your car if it's taken to a chop shop.

Protection packages. F&I managers often suggest fabric and paint protection packages to "protect your investment." Fabric protection is just a spray, and your car already has a durable paint protectant called "clear coat."
Here are several strategies for navigating this crucial step in buying a car without overspending:
Know what's coming. After negotiating with the salesperson, you might be mentally exhausted. This can be compounded by the wait to meet the F&I manager, often an hour or more on busy weekends. But save your energy and stay alert so you can make informed decisions about financing and extra products once you're in the office. The meeting itself can take an hour.

Be ready to say no. You'll be offered several products and services. Research the products you'll be offered and what they are worth ahead of time. Consider calling the F&I manager to find out what products you'll be pitched.

Compare interest rates. If you have a preapproved loan, the F&I manager will probably offer to beat its terms. See if he or she can get a better interest rate, but make sure all the other loan terms are the same.

Be clear on warranties. All cars come with a three-year/36,000 mile bumper-to-bumper warranty. Often, they also have a powertrain warranty, which covers the parts that make the car drivable. That typically lasts up to 75,000 miles. You might decide you want an extended warranty, but you can always buy one later, before the other warranties expire. And why tie up your money now on something you won't need for three years?

Have the car delivered. If you shop through the internet department, some dealerships will deliver your car to your home or office. In such cases, you skip the F&I room, and the sales contract arrives along with the car.
Take your time reviewing the contract. Don't let yourself be pressured into signing it just to end the ordeal. It will include the agreed-on sales price, interest rate and monthly payment, as well as these figures:
State and local sales taxes. These are based on a percentage of the cost of the car.

Documentation fee. Believe it or not, the dealership charges you for creating the sales contract. This "doc fee" is capped in some states. In others, such as Florida, dealerships have been known to charge as much as $700.

Registration fees. A dealer has the ability to register the car for you, which is convenient.
Some dealerships might include additional fees, and they aren't all necessarily legit. If the finance manager can't explain a fee in the contract, ask to have it removed.
Get more smart money moves – straight to your inbox
Sign up and we'll send you Nerdy articles about the money topics that matter most to you along with other ways to help you get more from your money.