How Borrower Defense to Repayment Works
Borrowers defrauded by their schools may seek loan forgiveness through borrower defense to repayment.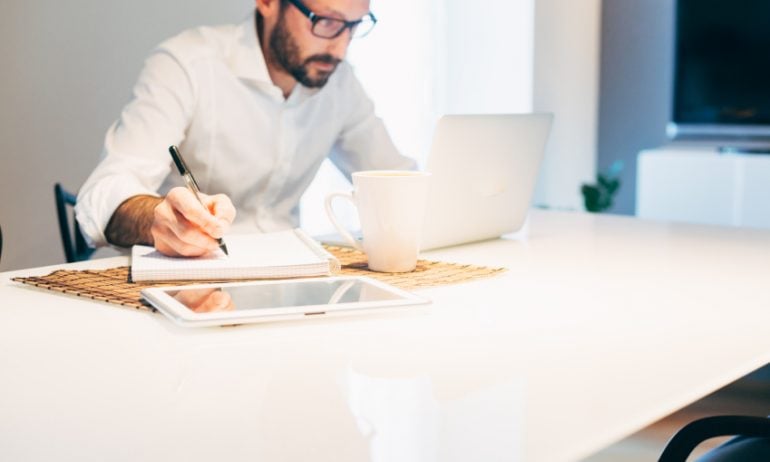 Many or all of the products featured here are from our partners who compensate us. This may influence which products we write about and where and how the product appears on a page. However, this does not influence our evaluations. Our opinions are our own. Here is a list of our partners and here's how we make money.
Borrower defense to repayment gives loan forgiveness to student loan borrowers if they were defrauded by their schools. Borrowers can also get relief if their schools closed before they could complete a degree.
Throughout 2021, the Department of Education has extended borrower defense debt cancellation to more and more defrauded borrowers. And in March of 2021, the department announced several rule changes to borrower defense to repayment, meaning that borrowers whose claims were approved can now expect:
• Full discharge (100%) of federal student loans.
• Reimbursement of any amount paid toward the loan according to regulations.
• Requests to remove negative credit reporting with the credit bureaus.
• Reinstatement of federal student aid eligibility for those who lost it.
Those approved for borrower defense debt cancellation received good news on March 18, 2021, when the Department of Education announced it would rescind the previous administration's calculations for partial relief for federal student loan borrowers approved for borrower defense debt cancellation and instead grant full relief to those borrowers. The education department says this will cancel $1 billion in loan debt for 72,000 borrowers.
On June 16, 2021, the education department announced it would cancel debt for 18,000 borrowers who previously attended ITT Technical Institute, a for-profit chain of schools shut down in 2016 following federal sanctions. The move is estimated to provide $500 million of relief to these borrowers.
On July 9, the Department of Education announced 1,800 new borrower defense claims were approved for borrowers who attended three schools: Westwood College, Marinello Schools of Beauty and the Court Reporting Institute. All borrowers approved received full loan discharge for a total of $55.6 million in cancellation. The education department said this was the first time since 2017 that borrower defense claims were approved for students attending schools besides Corinthian Colleges, ITT Technical Institute and American Career Institute.
And on August 26, the Department of Education announced that another 115,000 students who attended ITT Tech would have their student loan debt discharged. The relief totals $1.1 billion.
The education department, under Secretary Miguel Cardona, says it plans to pursue additional actions, including re-regulation of changes made under former Secretary Betsy DeVos that tightened eligibility requirements and placed a larger burden on the borrower to prove the school committed fraud.
These changes remain in place until the Department of Education acts:
You might qualify for federal loan forgiveness under this program if you believe your school defrauded you in one or both of the following ways:
You can submit a claim and even if you're eligible for other loan forgiveness programs. You can't submit a claim for private loans or costs you paid out of pocket.
Not sure if you should apply? Find out if your school has been the subject of legal action by the federal government, state attorneys general or the Consumer Financial Protection Bureau. "The biggest indicator is if the college has been sued or are they currently facing legal action for their practices," says Robert Kelchen, assistant professor of higher education at Seton Hall University in South Orange, New Jersey.
If your loans disbursed before July 1, 2020, a judgment against your school can be grounds for a successful borrower defense. Under the new rule a judgment against your school can be used as evidence for your claim, but – without additional support – probably won't be sufficient for loan forgiveness.
You can submit a borrower defense to repayment claim application electronically at or by filling out a PDF and returning it to the Education Department via email or regular mail. Submission details are available on the .
To strengthen your claim, submit a detailed explanation of why your loans might qualify, along with any supporting evidence. This could include:
For loans disbursed before July 1, 2020, you can also submit written accounts of verbal conversations with school officials. "Just because it was verbal doesn't mean [the borrower] shouldn't provide a narration of that," says Betsy Mayotte, president and founder of the Institute of Student Loan Advisors. "If they felt … pressured to sign something quickly, for example, they should include that information because it's taken into consideration."
For help with your claim, find clinics in your area, such as local nonprofits, law schools or legal aid, suggests Suzanne Martindale, a senior attorney for Consumers Union. You may also contact the National Consumer Law Center, suggests Ben Miller, senior director for postsecondary education at Center for American Progress, a nonpartisan policy institute.
Be wary of that ask for money to submit your application. You can complete this process yourself for free.
You can choose to put your loans in – which will halt payments and collections – as part of your claim. After you submit your application, the Education Department will send you a confirmation with more information about your forbearance via email. Although the process should be automatic, you should contact your to make sure they received your forbearance notification and are processing it appropriately.
A borrower defense claim can result in full loan forgiveness, partial loan forgiveness, or no loan forgiveness. The new rule sets a high bar for full loan forgiveness and leans more toward partial relief based on financial damages. Interest will accrue while the Education Department evaluates your application and you will be responsible for interest on any part of your loans that is not cancelled.
Borrower defense to repayment: A federal student loan forgiveness program for borrowers whose schools violated certain laws, or defrauded or misled students. Borrowers can also get relief if their school closed before they could complete a degree. New rules for eligibility and forgiveness amounts make successful claims more difficult, but you should still make a claim if you believe you've been defrauded.
Forbearance: A period of authorized nonpayment for up to 12 months at a time. Interest accrues on all loans in , so it's usually not a good option unless you can't pay your loans and don't qualify for deferment. An income-driven repayment plan is a better option if you won't be able to make your payments for an extended period.
Student loan forgiveness: Government programs that cancel federal student loan debt for borrowers who meet specific requirements. and are examples of student loan forgiveness programs. Borrowers with private student loans are not eligible for programs, but have other options to manage their debt.
Student loan servicer: The private company that manages your federal student loan payments until they are repaid. might not always offer the best repayment options, so it's important to ask questions and advocate for yourself.