How to Become an Electrician
Electricians nationwide earn a median salary of $56,900 per year.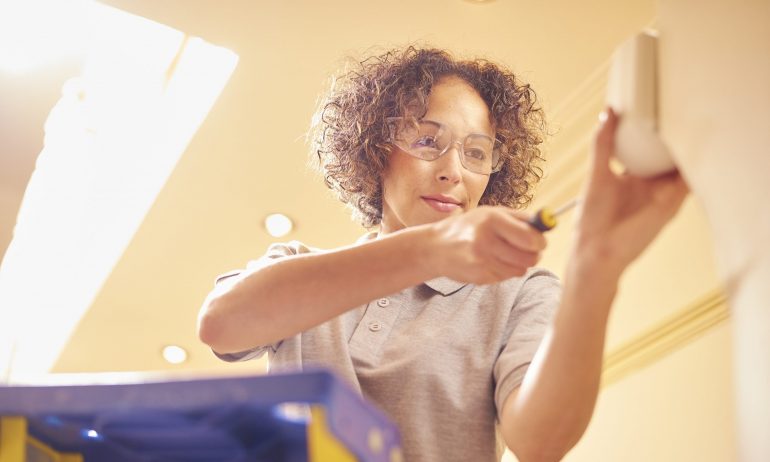 Many or all of the products featured here are from our partners who compensate us. This influences which products we write about and where and how the product appears on a page. However, this does not influence our evaluations. Our opinions are our own. Here is a list of our partners and here's how we make money.
Electricians typically work in various locations such as homes, businesses, factories and construction sites to install, maintain and repair electrical power, communications, lighting and control systems. Electricians need a high school diploma before entering into a paid apprenticeship program that typically lasts four or five years. Electricians will also need to be licensed to work in their state.
Student loans from our partners

The following information comes from the most recent nationwide data (May 2020) by the Bureau of Labor Statistics.
Median pay: $56,900 per year or $27.36 per hour.
Total number of jobs in 2020: 729,600.
Projected employment growth from 2020-2030: 9%.
10 cities and metropolitan areas with the highest concentration of electrician jobs:
Mount Vernon-Anacortes, Washington.

Gulfport-Biloxi-Pascagoula, Mississippi.

Bremerton-Silverdale, Washington.

Florence-Muscle Shoals, Alabama.

Kennewick-Richland, Washington.
Education and training required
Training needed: Electricians typically learn their trade through a full-time, paid apprenticeship program that lasts four or five years. However, some electricians may first attend a technical program at a technical school or community college to shorten the length of their apprenticeship. You can use apprenticeship.gov to find apprenticeship opportunities.
Licensing needed: Most states require electricians to be licensed. Electricians need to pass a licensing exam and continue taking courses to maintain their licenses.
How to pay for your education
Financial aid availability: Apprenticeship programs offer paid on-the-job training. If you choose to start your training through an electrician program at a school, you might need financial aid.
If you attend a community college, you typically can access federal aid dollars through Title IV funding. First, submit the Free Application for Federal Student Aid to access need-based aid and federal student loans. If you have a financial gap to fill, consider private student loans. Former service members can use veteran-specific scholarship programs or the GI Bill to pay for training.
If you attend a private technical school with electrician training, you may find the school offers its own loan programs or the equivalent of a "buy now, pay later" financing option. Use these with caution since rates may be much higher than federal student loans. Compare the program available at these schools with any offered by a nearby community college.
Typical cost to become an electrician: There should be no costs if you become an electrician solely through an apprenticeship program. However, if you want to pursue a training program, the cost will vary by program. Electricalschool.org says training program costs typically range from $1,000 to $11,000.
Loan forgiveness available: Electricians are unlikely to receive student loan forgiveness through a specific forgiveness program. However, you are likely to have low or no costs for your education if you enter into an apprenticeship program.
Hours: Full-time schedule that may include evenings and weekends. Working overtime is common.
Where you'll work: Indoors and outdoors at various locations, including homes, businesses, factories, and construction sites. Electricians often work alone but sometimes collaborate to complete jobs.
Risks: Electricity is inherently dangerous to work with, so electricians must wear protective gear and take precautions against injuries and accidents, including electrical shocks, falls and burns. Electricians may also be required to work in cramped spaces, outdoors in the elements and at great heights.
Benefits: The availability of health insurance, retirement and other benefits such as bonuses and profit-sharing plans will depend on the employer. Self-employed electricians must obtain their own insurance. Apprentice electricians get paid less than fully trained and licensed electricians, but their pay increases over time. Electricians may join local or national unions such as the International Brotherhood of Electrical Workers. Electricians can also join trade associations such as the National Electrical Contractors Association and local groups.
Get pre-qualified in just 3 minutes with Credible
Check multiple student loan lenders to get accurate, pre-qualified rates with no impact to your credit score.
Spot your saving opportunities
See your spending breakdown to show your top spending trends and where you can cut back.