How to Become a Truck Driver
Truck drivers nationwide earn a median salary of $47,130.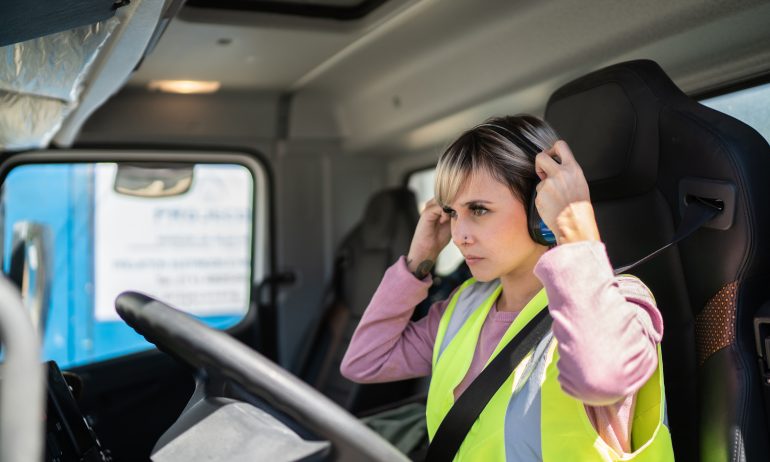 Many or all of the products featured here are from our partners who compensate us. This influences which products we write about and where and how the product appears on a page. However, this does not influence our evaluations. Our opinions are our own. Here is a list of our partners and here's how we make money.
Drivers of heavy and tractor-trailer trucks transport goods nationwide — more than 70% of all freight in 2019, according to the American Trucking Associations. In 2021, the U.S. was likely short around 80,000 drivers, a number the group anticipates will double by 2030.
To become a truck driver, you'll need professional training and a commercial driver's license and typically have a high school diploma.
The following information comes from the most recent nationwide data (May 2020) by the Bureau of Labor Statistics.
Median pay: $47,130 or $22.66 per hour.
Total number of jobs in 2020: 1,951,600.
Projected employment growth from 2020-2030: 122,100.
10 cities and metropolitan areas with the highest concentration of truck driver jobs
Fayetteville-Springdale-Rogers, Arkansas-Missouri.

Sioux City, Iowa-Nebraska-South Dakota.

Fort Smith, Arkansas-Oklahoma.
Education and training required
Minimum education required: Certificate from a professional truck driving school.
Training needed: Heavy and tractor-trailer truck drivers typically attend a professional truck driving school at a community college or private technical school. On-the-job training is also common after completing truck driving school. Annual health exams are required for truck drivers to maintain their licenses.
Licensing needed: Commercial driver's license or CDL.
How to pay for your education
Financial aid availability: If you attend a community college with a transportation training program, you typically can access federal aid dollars through Title IV funding. First, submit the Free Application for Federal Student Aid to access need-based aid and federal student loans. If you have a financial gap to fill, consider private student loans. Former service members can use veteran-specific scholarship programs or the GI Bill to pay for training.
If you attend a private technical school with truck driver training, you may find the school offers its own loan programs or the equivalent of a "buy now, pay later" financing option. Use these with caution since rates may be much higher than those on federal student loans. Compare the program available at these schools with any offered by a nearby community college.
Typical cost to become a truck driver: The cost of becoming a truck driver will vary by the cost of a training program. For example, at Tillamook Bay Community College in Tillamook, Oregon, the cost of the program is $5,000, but it's not eligible for federal student aid.
To compare the costs of associate degree programs in ground transportation, you can use the Department of Education's College Scorecard to search by "Field of Study." This will show median debt, graduation rates and salaries at U.S. schools.
Contact your state department of motor vehicles to find out the cost for a CDL, which could include fees for the CDL application, road test, skills test and license.
Loan forgiveness available? Truck drivers are unlikely to receive student loan forgiveness through a specific forgiveness program. Individual companies may sponsor CDL training with pay.
Hours: Full-time hours are common. Truck drivers may work regular hours if their route is consistent, or may have long-haul trips that last days or weeks at a time. It can be a demanding lifestyle choice since truck drivers often work holidays and weekends. Truck drivers must adhere to Federal Motor Carrier Safety Administration regulations that limit working hours, which include driving and unloading or loading freight.
Where you'll work: In a heavy or tractor-trailer truck and usually driving alone.
Risks: Truck driving is physically demanding; drivers are on the road for many consecutive hours in variable weather conditions and some must load and unload cargo. Fatalities are uncommon, but due to the potential for traffic accidents, truck drivers have a higher rate of fatal injury compared with other occupations.
Benefits: Truck drivers who own their own trucks and are contract workers rarely get benefits. Full-time truck driver benefits, including health insurance, will largely depend on the employer. There are trade associations, as well as national and local unions for truck drivers, including the Teamsters union. But the majority of truck drivers aren't unionized.
Spot your saving opportunities
See your spending breakdown to show your top spending trends and where you can cut back.