VA Loans: How They Work, Who Qualifies
VA loans are for current and veteran service members, and eligible spouses. VA mortgages have competitive interest rates and usually require no down payment.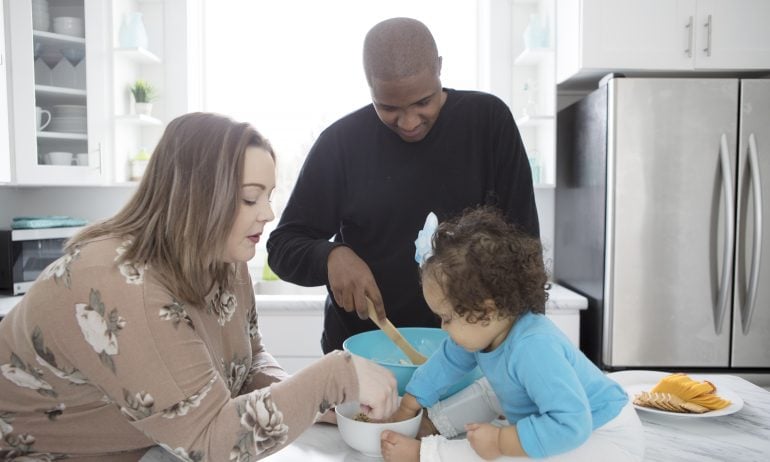 Some or all of the mortgage lenders featured on our site are advertising partners of NerdWallet, but this does not influence our evaluations, lender star ratings or the order in which lenders are listed on the page. Our opinions are our own. Here is a list of our partners.
If you've served in the military and need a mortgage, then a VA loan might be right for you, whether you're buying a home or refinancing. Here's what to know.
A VA loan is a mortgage guaranteed by the U.S. Department of Veterans Affairs and issued by a private lender, such as a bank, credit union or mortgage company. A VA loan can make it easier to buy a home because it typically doesn't require a down payment.
Only qualified U.S. veterans, active-duty military personnel and some surviving spouses are eligible for VA loans. The GI Bill of Rights created the VA home loan program in 1944 to help veterans get a foothold in civilian life after World War II.
The VA's guarantee means the government will repay the lender a portion of a VA loan if the borrower doesn't make payments. This assurance reduces the risk for lenders, which makes it possible for them to offer favorable terms and require no down payment.
If eligible, you can complete the VA mortgage application process through a lender of your choice. Many, but not all, lenders offer VA loans, and some lenders specialize in serving VA loan borrowers.
Looking for a mortgage? Get the best rates when lenders compete for your business
Answer a few questions and get personalized rate quotes from NerdWallet's top lenders in minutes.
You're an active-duty military member or veteran who meets length-of-service requirements.

You're the surviving spouse of a service member who died while on active duty or from a service-connected disability and you have not remarried or remarried after age 57 or Dec. 16, 2003. Spouses of prisoners of war or service members missing in action are also eligible.

You meet the lender's requirements for credit and income. The VA doesn't set a minimum credit score for VA loans, but lenders can set their own minimum standards. The lender will also consider your income and debts to evaluate your ability to repay the mortgage.

The property you want to buy meets safety standards and building codes and will be your primary residence.
What is the VA loan limit?
The VA loan limit is the maximum amount you can borrow without having to make a down payment. In 2020, limits were eliminated for current members of the military and veterans who have access to their full VA loan entitlement. However, loan limits still apply to borrowers who already have a VA loan or have defaulted on a VA loan.
In 2023, the standard VA loan limit is $726,200 for a single-family home in a typical U.S. county, but can run as high as $1,089,300 in high-cost areas. It's possible to get a VA loan even if the home price exceeds the county limit, but you'll be required to make a down payment.
The VA loan program offers a variety of options, including purchase and refinance mortgages, rehab and renovation loans and the Native American Direct Loan. Here's an overview:
Allows qualified service members to buy a home with no minimum down payment.

Replaces VA or conventional mortgage with a VA loan.

An option to turn home equity to cash.

Replaces current VA mortgage with a VA loan to lower interest rate or to refinance from an adjustable to a fixed rate.

Finances the cost of home improvements.

Native American Direct Loan (NADL)

Helps eligible Native American veterans buy, build, improve or refinance a home on federal trust land.
Here are the biggest advantages of VA loans compared with conventional and FHA loans:
No down payment or mortgage insurance required: Other loan types require down payments and can include an extra cost for mortgage insurance. FHA loans require mortgage insurance regardless of the down payment amount and conventional loans usually require mortgage insurance if the down payment is less than 20%.
Competitive interest rates: Average 30-year mortgage rates were lower for VA home loans than for FHA and conventional mortgages in December 2021, according to mortgage data provider ICE Mortgage Technology.
Limited closing costs: Closing costs are the various fees and expenses you pay to get a mortgage. The Department of Veterans Affairs limits the lender's origination fee to no more than 1% of the loan amount and prohibits lenders from charging some other closing costs.
Disadvantages of VA loans
Every type of loan has drawbacks for some borrowers. Here are potential disadvantages of a VA loan.
VA loan funding fee: Although VA loans don't require mortgage insurance, they come with an extra cost called a funding fee. The fee is set by the federal government and covers the cost of foreclosing if a borrower defaults. As of April 7, 2023, the fee ranges from 1.25% to 3.3% of the loan, depending on your down payment and whether it's your first VA loan. You can pay the fee upfront or fold it into the loan.
Purchase loans only for primary homes: You can't use a VA loan to buy an investment property or a vacation home.
Not all properties eligible: A VA-approved appraiser will evaluate the home you want to buy to estimate the value and make sure it meets the VA's minimum property requirements. Some fixer-uppers may not meet the VA's minimum standards.
How many times can you use a VA loan?
Getting a VA loan isn't a one-time deal. After using a VA mortgage to purchase a home, you can get another VA loan if:
You sell the house and pay off the VA loan.

You sell the house, and a qualified veteran buyer agrees to assume the VA loan.

You repay the VA loan in full and keep the house. For one time only, you can get another VA loan to purchase an additional home as your primary residence.
Getting ready to buy a home? We'll find you a highly rated lender in just a few minutes.
Enter your ZIP code to get started on a personalized lender match
How to apply for a VA loan
Obtain a certificate of eligibility: A VA certificate of eligibility shows a mortgage lender that your military service meets the requirements for a VA loan. A VA-approved lender can obtain the document for you, which is needed before the loan can close. You can also request the certificate from the VA online or by mail.
Find the right lender: Some VA lenders are tailored for borrowers with weaker credit, while others offer a larger variety of VA loan types. Get preapproved with more than one VA mortgage lender to compare their qualification requirements and mortgage rates.
Find a home: To purchase a primary residence with a VA loan, it must also meet minimum property requirements to ensure it's clean, safe and structurally sound. Once you put in an offer on the house you want, the mortgage lender will evaluate your finances and order a VA appraisal to make sure the home meets all the requirements. Once your application and appraisal are approved, the final steps are to close on the loan and move into the house.
Get more smart money moves – straight to your inbox
Sign up and we'll send you Nerdy articles about the money topics that matter most to you along with other ways to help you get more from your money.