7 Best Fitness Apps for iPhone and Android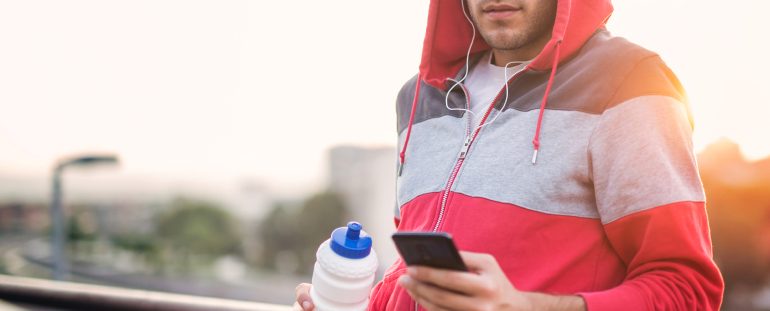 Many or all of the products featured here are from our partners who compensate us. This may influence which products we write about and where and how the product appears on a page. However, this does not influence our evaluations. Our opinions are our own. Here is a list of our partners and here's how we make money.
With spring and summer approaching, many people are inspired to get in shape. And these days, fitness motivation is only a smartphone download away.
We've picked our seven favorite fitness apps that are compatible with both iPhones and Android devices to help you reach your activity goals.
1. 7 Minute Workout Challenge
Between your busy work life and packed social calendar, finding time to work out can seem nearly impossible. Enter the 7 Minute Workout Challenge app.
Designed to be performed anywhere at any time, the app guides users through 12 exercises that don't require any equipment. Do jumping jacks, lunges and more easy-to-learn drills for 30 seconds each with 10 seconds of rest in between.
You'll enjoy the structure of a high-intensity workout program and the encouragement of a virtual trainer for $2.99.
You won't need to purchase an activity tracker if you bring your phone — and the Map My Run app — with you on your morning jog.
The free app uses the GPS from a paired smartphone to track activity. You can track your performance, view your workout summaries and load the app onto your Apple Watch if you're an iPhone user.
If you choose to pay for the premium MVP app experience, you'll get ad-free access and added features, such as personal training, that basic members don't have.
3. Runtastic Workout Timer App
Keep your workouts on track with the free Runtastic Workout Timer App. Part of the popular line of Runtastic fitness apps, this download puts a new twist on a traditional stopwatch.
It allows athletes to design their own workouts, down to rest periods, reps and sets. Set a desired time for each of these phases according to your needs, then let the app hold you accountable for completing them.
Users can also create and save timers, choose music and set music volume.
4. Strava Running and Cycling
The Strava app is like social media for athletes.
Use the free download to record your runs and rides, track your performance in leader boards and watch the progress of your friends who are also using the app. You can even leave kudos or comments as you watch the workouts your friends are logging.
If you really like the download, pay for Strava Premium to enjoy added features, including heart rate analysis, live tracking of your friends' activity and more.
Not looking for a full body workout? Strengthen just your core by perfecting your pushup form. The premise is simple: Over the course of six weeks, work your way up until you're able to perform 100 pushups.
There are plenty of pushup-oriented apps out there, so pick one that suits you.
Perhaps best known for being featured on ABC's "Shark Tank," the free Sworkit app gives you the visual help you need if you don't know how to perform certain exercises. Customize the workout to your liking, from 5 to 60 minutes, and watch trainer videos to ensure your form is on point.
The app incorporates strength, cardio, yoga and stretching. Users can upgrade to Sworkit Premium to remove the app's ads, add exclusive pre-built workouts and access an "ask a trainer" feature.
Getting in shape is dependent on both diet and exercise. If you're looking to lose weight, the Lose it! app may be the perfect way to help you set a goal and stick to it.
Some of the standout features include: calorie counting, barcode scanning for tracking foods, recipe builder and weight loss goal setting. With a premium upgrade, users can also enjoy meal and exercise planning, among other features.
Compare other popular fitness products here:
---