How to Start a Meal Prep Business: A Step-by-Step Guide
Passionate about food but unsure how to start a meal prep business? Get your startup to the table with these steps.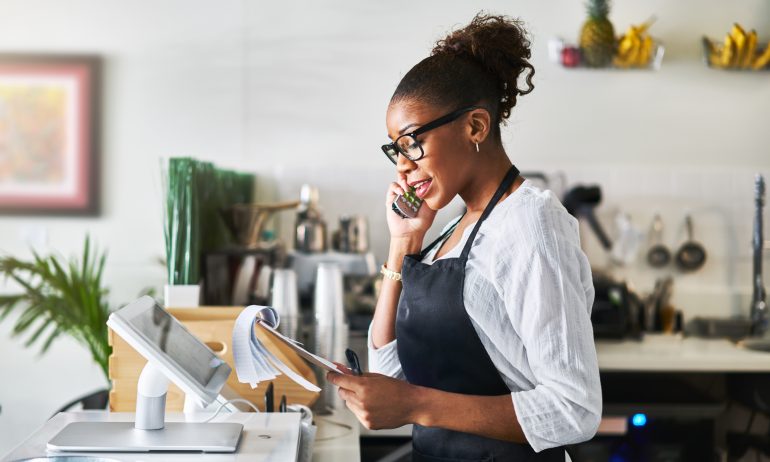 Many or all of the products featured here are from our partners who compensate us. This influences which products we write about and where and how the product appears on a page. However, this does not influence our evaluations. Our opinions are our own. Here is a list of our partners and here's how we make money.
As people around the globe became busier, our food became easier to obtain than ever before. Frozen meals and fast food reigned supreme. Quick. Delicious. Cheap. What's not to love? But as the world has evolved, so has our nutritional knowledge. Now more than ever, people still want fast, tasty and affordable food. But they also want it to be healthy.
So if you have a passion for food and want to start your own business, you should consider starting a meal prep business.
How to start a meal prep company in 7 simple steps
Learning how to start a meal prep business can be a lot of work, but it can also be a very rewarding experience. Bringing delicious and healthy food into the homes of your customers is something to be proud of. Before you fire up the stove, you might want to consider following these seven steps that will teach you how to legally start a meal prep company. That way you'll have all of your logistical ducks in a row and put yourself onto the right path toward success.
You have options for what type of meal prep business you want to start and it's best to choose a niche early on so you can perfect your products and services. There are a few popular formats worth considering, but of course, you can always branch out and create a meal prep business that's completely unique to you.
One popular option is uncooked, yet prepared meal ingredients — think HelloFresh or Blue Apron. These meal-making kits generally consist of a delivery of all the ingredients required for a recipe — in the exact right portions — with easy-to-follow cooking instructions provided. These types of meal kits are fun for foodies who like to try new recipes or for busy singles who struggle to make meals without having tons of leftovers go to waste.
Another option for a meal prep business is to offer pre-made and fresh meals. You can do all the cooking yourself and deliver a week's worth of salads, soups and other tasty meals right to your customers' doors. You do the cooking, and all they have to do is heat up their tasty food.
A third option would be to host meal prep workshops. You'll provide and prepare the ingredients for a tasty recipe, as well as the workspace to cook the meals. Your customers will cook their recipes onsite and take their meals home.
A well-thought-out business plan can help your business stay on the path toward success. Your plan will organize your research, pinpoint your demand within the market, outline your plans for growth, and show your value to any potential investors or lenders. If you're not sure where to start, a business plan template can make the task that much easier.
When you are writing your business plan, you should also decide what to call your business. A good business name can be a game-changer, but only if it's still available. You'll want to double-check that your desired name isn't already taken by consulting your secretary of state's website. Generally, doing a simple Google and trademark search will also give you an idea of name availability. If your name is available, you might want to act quickly and scoop up your domain name and social media handles before someone else does.
When writing your business plan, you will need to outline the legal structure of your business. If you haven't chosen a business entity yet, now is the time to start researching which type is right for you. For some, that may be a sole proprietorship or general partnership. For others, it could be a limited liability company or a corporation.
If you're unsure which direction you want to head in, consider consulting a business attorney or tax expert about what entity they believe is best. This step may cost a little extra cash but can save you money fixing mistakes later if you find you chose the wrong entity. After you've decided upon a business entity, you should register your meal prep business with the required federal and state agencies.
Identify your products and services
When you defined your niche earlier, you probably had a good idea of what types of products and services you want your meal prep business to provide. To dig a bit deeper into this topic, ask yourself a few simple (but important) questions:
What type of goods or services will you sell?

How much will you charge for them?

What will the supplies cost?

What will the production process cost?

How much time and money will be required to research and develop your products?
Take your time during this process; your completed business plan will act as a road map that can guide you when times are tough.
3. Get the proper licenses, permits and insurance
While this step may not be the most exciting, it is crucial. It's time to make sure you have all the proper licenses, permits and forms of insurance required to run your business. Your location, business type and business structure will affect what you need to register for. You should make sure you obtain the proper business licenses at the state, federal and local level. If you need help unraveling this process, the SBA offers helpful resources to get started.
You should also check with your local chamber of commerce to see if they have any business requirements you must meet. And because you're handling and distributing food, expect there to be a significant amount of hoops to jump through. Some of the licenses and permits you may encounter while starting a meal prep business can include a sales privilege license, food handler's license, catering license, health department permits, or zoning permits.
If you're planning on hiring employees, you'll also need an employer identification number. This is required for tax purposes, but there are additional benefits of getting an EIN you should consider. You should also research what types of business insurance you will need. If you do choose to hire employees, you may need unemployment, workers compensation, or disability insurance. Beyond those policies, you'll want to make sure you're covered in the worst-case scenario that someone gets sick from your food. Consulting with a business lawyer may be the easiest way to help ensure you have your insurance needs covered.
4. Decide how to sell your meals
As mentioned before, you have options regarding what type of meal prep business you can start. That means you can also take control of how you sell your meals. You may have dreams of a nationwide empire that ships meals straight to hungry homes. But if having multiple commercial kitchens and fulfillment centers to manage isn't for you, you might want to have a local storefront where customers pick up meals. You could even sell meal kits at your local farmers market each weekend. If you want to save on a storefront and start a meal prep business from home, you can also build a great e-commerce website to sell your goods online.
5. Obtain small-business funding
Starting any type of business can be expensive, but especially so when you need a lot of supplies. In order to build and grow a meal prep business, you'll likely need some small-business funding. We've outlined a few popular options for funding, but remember to trust your gut and choose what's best for you and your business.
No matter how much funding you have, you'll want to keep your business and personal finances as separate as possible. One way to keep your business income, funding and expenses separate from personal ones is by opening a business bank account. You'll have two options to choose from. A business savings account or a business checking account. Newer businesses may prefer a business checking account for ease of access. More established businesses with extra cash on hand will want to take advantage of a business savings account to help their money grow with interest.
6. Find and manage your supplies
Starting a meal prep business will require a lot of supplies. If all goes well, you will need a constant influx of fresh food, packaging and shipping materials. Because your business will be so dependent on having the right ingredients around, you'll need to find a way to keep your costs down. Buying your food in bulk from a wholesale supplier is a smart way to save on your supplies. Before you order anything, you should figure out how much inventory you'll need on hand. Overstocking shipping supplies might not be a big deal, but if you buy more food ingredients than you can sell, you may run into trouble when it starts to go bad.
After you've ordered your supplies (or ideally beforehand if you really want to be on top of things) you might want to consider using a handy inventory management app to keep track of your incoming and outgoing supplies. That way, you're never without the ingredients that make your dishes shine.
7. Create a marketing plan
You've settled on what you want to name your business and what type of brand you want to build, now you need to get your hard work in front of people's eyes. That's right, you need to create a marketing plan. When you're building your marketing plan, you'll want to consider how you can best prove the value of your meal prep offerings. Will your products help families save money? How about saving precious time during the busy work week? Do children love your vegetable dishes? Try to capitalize on what makes your meals so irresistible. This is called your unique selling proposition, or USP. You'll use your USP as the foundation of your promotional efforts.