Shippo Review: Pricing, Features, Top Alternatives
Shippo's list of features includes convenience, cost containment, real-time tracking, returns and integrations.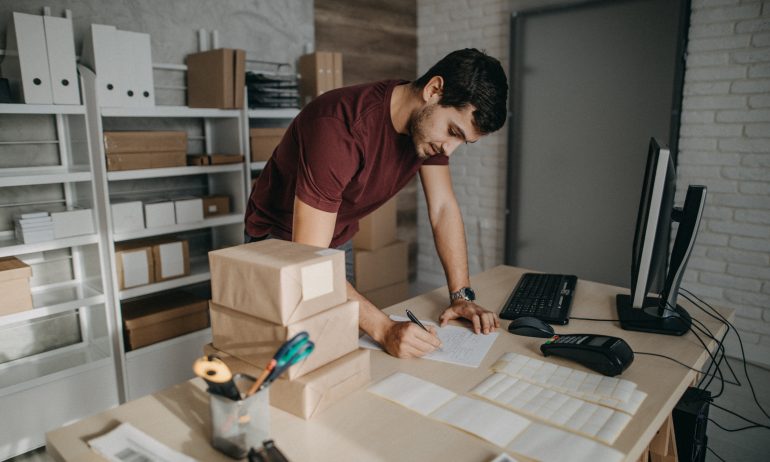 Many or all of the products featured here are from our partners who compensate us. This influences which products we write about and where and how the product appears on a page. However, this does not influence our evaluations. Our opinions are our own. Here is a list of our partners and here's how we make money.
Running an ecommerce business involves so many moving parts it takes top-notch organization skills to keep up. You've figured out how to sell online, and if you sell tangible goods that need to be shipped, you're no stranger to frequent trips to the post office or shipment center—and the price of shipping too.
There are some shipping services out there to help you manage all of your shipments, but choosing one can be difficult. Shippo is one service that you can use to make your shipping and returns practices easier and less expensive than working directly with shipping providers.
Shippo is a shipping software provider that offers discounted shipping rates and the ability to track packages, schedule pickups and print shipping labels. Below we'll go over all of the services that Shippo has to offer and what you can get from them as a business if you're looking to improve your shipping processes.
When choosing a shipping service—whether Shippo or another provider—you'll want to consider how fast you need your packages delivered, whether you want them picked up from your office or home, tracking preferences, customer communication and price, of course. Once you know which of those factors is most important to you, it'll be easier to decide whether Shippo might be right for your business needs. Plus, this Shippo review will also provide some top alternatives so you can get a more complete picture of your options. Let's get started.
Shippo is a platform that offers shipping solutions for small businesses that need to streamline their shipping processes. They even integrate with a number of popular ecommerce platforms like Shopify and Etsy to help shop owners more easily manage their shipping needs—from printing shipping labels to tracking shipments to managing the customer experience. San Francisco-based Shippo was founded in 2013 and boasts a client base of over 35,000 brands and over 100 million annual shipments.
The features Shippo offers can make your day-to-day business tasks easier, saving you some significant time and money. Let's take a closer look at what exactly you can expect if you use Shippo.
A shipping software provider should, first and foremost, offer shipping services. With Shippo, you can create and print labels for your shipments from wherever you work and ship at your own convenience. If you're shipping using USPS or DHL Express you can also schedule to have packages picked up, so you don't have to waste time driving to one of their centers. You can also print other items via Shippo, like return labels and branded packing slips.
The Shippo platform allows you to compare the rates of different carriers to find the best deal for your shipments. Plus, Shippo offers discounted rates of up to 90% off, according to their website. Shippo also provides address validation so you can reduce the risk of returned or undelivered packages.
Shippo works most major carriers, so you can likely find your preferred shipping solution working with Shippo. For national delivery Shippo works with:
United States Postal Service.
Additionally, Shippo partners with several carriers for international shipping, as well as tracking-specific companies. If any documentation is required by a carrier or customs, Shippo will identify and pre-fill all the necessary information. You also have the option to pre-fill package weight and insurance amount, when applicable.
For your own peace of mind, as well as your customers', Shippo offers robust shipment tracking capabilities, including real-time updates and an estimated time of arrival (ETA) so your customers can prepare for delivery. No matter which carriers you choose, you can implement standardized tracking to keep the shipping process consistent. And if you send any packages outside of Shippo, you can still track them through Shippo.
You can also create branded tracking pages through Shippo to stay consistent with your customers and create customized email notifications.
While you hope your customers will keep every item they purchase from you, that likely won't be the case. But by offering quick and easy returns, you can still create a positive experience with those customers and increase the likelihood of them shopping with you again.
Shippo allows you to create return labels for all of your orders, as well as purchase labels for any shipments you create outside of Shippo. Plus, you'll only pay for labels once a customer uses them.
Shippo works with a host of other companies, including ecommerce platforms, marketplaces, inventory management apps, finance software and more, so you can streamline your operations.
Some of Shippo's most popular partners are Shopify and Weebly (now Square Online). But they also partner with online store builders Wix, BigCommerce, Squarespace, WooCommerce, GoDaddy, ChannelAdvisor, Commerce7, Virid, CubeCart, ePages, Selz, Craft Commerce, Magento, Spree Commerce, Arcadier, Reaction Commerce, Volusion and Stripe.
When you use one of these platforms you can automatically import orders, compare shipping rates and print labels. The same process goes for the marketplaces Mercari, Amazon, Etsy, eBay and Vinted.
You also have the option to import orders to Shippo via a CSV file or orders endpoint (API).
Keep track of your shipment operations with Shippo's analytics and reporting features, which include tracking how much you've spent on shipments, either since you started using Shippo or for a specific time period; average price per package; and the number of labels purchased daily, weekly, monthly, or another specific time period.
You'll also have access to your complete shipping history so you can dig into the data and uncover any trends or pain points you want to work on in the future.
Shippo offers several channels through which customers or inquiring parties can receive support. In fact, while writing this Shippo review, we used their online chat function twice and were able to chat live with a real person both times. The responses were quick and in-depth and the customer service representatives were friendly and knowledgeable.
Shippo also offers a help center, resource center, developer resources and a Shippo blog to answer frequently asked questions and provide educational resources. If you prefer, though, you can also contact them directly with any questions. If you're not a customer, you'll be put in contact with Shippo's sales team. Once you are a customer, you can contact the support team via email.
Shippo offers three plan options for their services and a significant pro is that their pay-as-you-go plan is a commitment-free option with no monthly subscription fee. With this option, you pay $0.05 per label plus the cost of postage. You will also have access to email support, USPS discounts and unlimited label volume.
Shippo's next option is their Professional plan, which can be customized depending on your shipment volume. All of the Professional plans come with no per-label fee, the option to create a branded customer experience, five user accounts, USPS discounts, and email and live-chat support. Each Professional plan has a monthly fee, which increases depending on how many labels you'll need each month. The least expensive option is $10 a month for 75 or fewer labels, the next plan up is $25 a month followed by $35, $50, $75, $100 and $125 for nearly 5,000 labels a month. Beyond that, you have the option to create a custom plan that includes more labels. You also have the option to start a 30-day free trial of the Professional plan before you commit.
The last plan option is Shippo's Premier account, which comes with 15 user accounts, technical implementation assistance, dedicated customer support, plus the features of the Professional plans. Pricing for this option is quote-based and you will need to contact Shippo's sales team to learn more.
Shippo reviews: What customers are saying
Shippo has fairly good ratings online from review sites and users highlight that the software is easy to use. On G2 Crowd they have a 4.3 out of 5-star rating and on Capterra they have a 5 out of 5-star rating.
Positive Shippo reviews highlight the fact that users can compare the shipping prices right on the Shippo platform so they know where they'll get the best deal. Some users also say that they find Shippo is better for shipping small products and boxes than some other shipment services. They also like that Shippo automatically gives their customers tracking and delivery estimates, removing the need for customers to directly contact the sellers themselves. This can be a big time saver and help you prioritize the most important emails from customers.
While negative Shippo reviews are few and far between, some users find the ease of use on mobile to be lacking, while others would prefer if customer support could be accessed via phone, instead of email or live chat.
Depending on what you're looking for in shipping software, Shippo may not be the best solution for you. If that's the case, a Shippo alternative may be more ideal. Let's look at some other options that may satisfy your needs better than Shippo.
Our first Shippo alternative, Easypost, is a flexible API that allows you to add shipping and tracking capabilities to your ecommerce platform. They work with more than 100 different carriers and also offer a pay-as-you-go plan that offers shipping labels and delivery estimates as well as tracking and reporting. This plan costs $0.01 per package, plus a 1% insurance fee, with a $1 minimum.
Besides these costs, Easypost doesn't charge any setup, support, or cancellation fees. However, you do have the option to pay an additional fee for domestic and international address verification, the cost of which will depend on how many lookups you plan to use each month.
Easypost also has good reviews from users who highlight the API's ease of use.
Another Shippo alternative is ShipStation. They offer many of the same options; however, their Enterprise plan, which lets you send unlimited shipments, is just $159 per month.
ShipStation integrates with just about any ecommerce platform, like Squarespace, Shopify, Etsy, Square and more, so you can start shipping in minutes. And you can automate your shipping processes, while also allowing you to customize when you need to. Like Shippo, ShipStation offers a 30-day free trial so you can try it out before committing.
There is, of course, the option to go directly with the carrier instead of using a middle man. If you ship most of your packages via USPS, you might want to just work directly with them instead of opting for a third-party service like Shippo.
With USPS Small Business you can pay for and print all the shipping labels you need online and have the packages picked up right from your door. You can also use them for marketing purposes with direct-mail advertising. They offer some of the best prices for smaller packages—generally anything that weighs less than five pounds—but they also offer flat-rate shipping that can also be a cost-effective solution.
Whatever method you choose, USPS Small Business offers several options when it comes to shipping time, package size and package type. And while they'll pick up your packages, if you ever need to visit a location in person, you'll find one in your area.
If you're looking for a company to help you streamline your shipping processes and free up your time for other things, Shippo is a great option. Printing labels, tracking packages, communicating with your customers, facilitating returns, analyzing the data and more are all possible with Shippo.
Every business's needs are different, though, so if you're not sure whether Shippo is the best choice for you, it's a good idea to sign up for their free trial to test-drive their product before you commit. It's also worth checking out their competitors, like Easypost, ShipStation and USPS Small Business to see if one of these solutions better fits your needs.
This article originally appeared on Fundera, a subsidiary of NerdWallet.