5 Tax Tips for Military Members and Veterans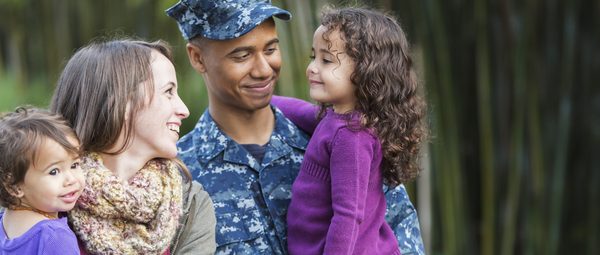 Many or all of the products featured here are from our partners who compensate us. This may influence which products we write about and where and how the product appears on a page. However, this does not influence our evaluations. Our opinions are our own. Here is a list of our partners and here's how we make money.
Military life is extraordinary in many respects; even the taxes are different. Here are five tips the pros say can help members of the military and their families at tax time — including a few for veterans, too.
1. Keep records of your moving expenses
Why: The recent changes to the tax law suspended the tax break for moving expenses in 2018 — but not for active-duty military members who have orders to relocate.
"A lot of soldiers and their families are moving, say, once every three or four years. So if you spend 25 years in, you could literally make eight moves. And then if you're moving overseas, that becomes quite expensive," says Robert Clark, a certified public accountant in Key West, Florida, who specializes in military tax services.
What to do: According to the IRS, if your reimbursements or allowances are less than your actual moving expenses, you probably can exclude them from income. Expenses that are more than your reimbursements are generally deductible.
2. Scrutinize your pay records
Why: Regular military pay is usually subject to federal income tax, but combat pay generally isn't. Other types of compensation and allowances may be excluded from income for federal tax purposes, too. IRS Publication 3 has the details.
What to do: Check your Leave and Earnings Statement, or LES, to make sure your earnings are accurately reported, says Hannah Bigej, a CPA at Aldrich CPAs + Advisors in Lake Oswego, Oregon. "It's not uncommon for that to have errors in it," she says.
3. Be choosy about tax prep and look for discounts
Why: Current and former members of the military often have unique tax circumstances. Also, there lots of deals on tax software.
What to do: Find an experienced tax professional with the resources to do tax returns for military families, and meet before year-end, while you still have time to make adjustments, says Brian Murray, a CPA at accounting firm Murray & Roberts in Appleton, Wisconsin. Also, some software providers and even Uncle Sam offer breaks on tax software. The IRS' Free File program offers free software to people with adjusted gross income below certain thresholds, and the Military OneSource MilTax program can connect service members with free software and human help.
4. Embrace your home sale
Why: The IRS typically allows people to exclude up to $250,000 of capital gains on the sale of a house ($500,000 for joint filers), though getting that tax break usually requires owning and living in the house for at least two of the five years before the sale.
What to do: Military members usually don't have to meet the five-year test if they're on qualified official extended duty, Clark says. This typically applies if the duty station is at least 50 miles away or if you have to live in government housing for more than 90 days.
5. Check your state residency status
Why: Your state residency status, even if only on paper, can determine which state's tax rules apply to your income. State residency is also important for veterans, Bigej says. Some states don't tax military retirement pay, for example; others may give breaks on property taxes, she says.
What to do: "You really want to pay attention to that LES and make sure that it has the right state on it," Bigej says. Also, research your state's military-related tax rules, and tell your tax preparer you were or are in the military. "The states have a lot more leeway ... but there's so much variety," she says.