How Much Does a Cruise to Alaska Cost?
The base price isn't the only cost to consider — extras add up fast when you're on the water.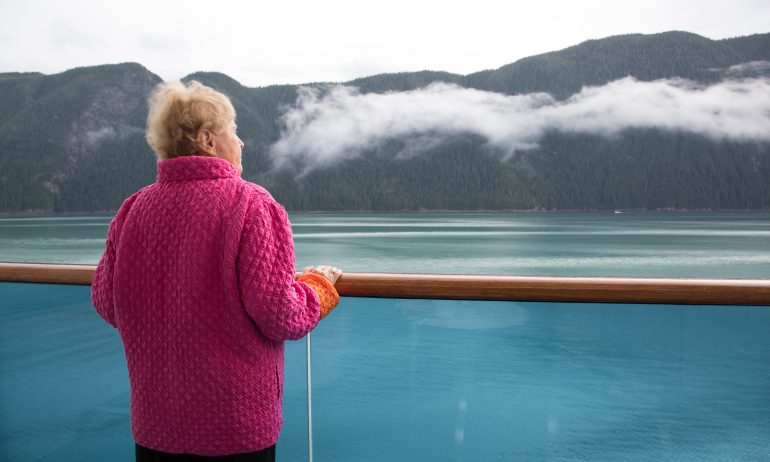 Many or all of the products featured here are from our partners who compensate us. This influences which products we write about and where and how the product appears on a page. However, this does not influence our evaluations. Our opinions are our own. Here is a list of our partners and here's how we make money.
Many travelers dream of taking an Alaskan cruise, but they often fear how much it will cost. But the truth is, Alaskan cruise prices can be more affordable than you think. There are simple ways to reduce Alaska cruise prices to fit almost any travel budget.
In this article, we'll share expected Alaskan cruise prices in 2023, additional unexpected costs to factor in and tips for saving money on your trip.
What to expect on an Alaska cruise
Your experience on an Alaskan cruise will vary based on the time of year you travel. The scenery, wildlife and foliage change by season, so many travelers return at different times of the year to experience it all.
One of the favorite things to do on an Alaskan cruise is to see wildlife. Cruise passengers have opportunities to see animals at sea and on land. Pay close attention throughout your journey because you may see:
While many travelers assume that Alaska is cold year-round, that isn't necessarily true. The weather can change multiple times in a single day. Travelers may enjoy warm sunshine one minute, then chilly rain the next. Because of this, it is wise to dress in layers and bring clothing that's suitable for different types of weather.
Hours of sunshine also vary widely throughout the year. Alaska cruise season is from April to October, which avoids the coldest and darkest times of the year.
Cruises around the summer solstice may enjoy around 20 hours of sunshine since the days are so long.
How much are Alaskan cruise prices?
Alaskan cruise prices vary widely based on travel dates, length of trip, cabin style and other factors. To illustrate what you might expect to pay for an Alaskan cruise, we priced out trips for a family of four from a few of the most popular cruise companies.
The trip departs from Seattle and takes place in June.
| | | Taxes, fees & port expenses | | |
| --- | --- | --- | --- | --- |
| | | | | |
| | | | | |
| | | | | |
| | | | | |
* The Disney Cruise departs from Vancouver since it does not offer a Seattle departure.
What affects the cost of an Alaskan cruise?
When figuring out how much an Alaskan cruise is, travelers need to understand that many factors determine the price. The total cost of an Alaskan cruise is more than just booking the cruise. Here are some of the costs that you need to keep in mind when booking a trip.
The base cruise fare is the price you'll often see advertised when researching Alaska cruises. This is the basic cost of getting on the ship and securing your room.
In addition to the base cruise fare, all cruisers must pay port taxes and fees. Even if you find a "free cruise" through some promotion, you'll still pay these extra charges. The cruise company pays these taxes and fees to the ports and destinations you visit throughout your trip.
Many travelers choose to upgrade their experience by booking a larger room, a better view or a room with better features. Base cruise fares often include an interior room. Depending on the cost, upgrading to an exterior room with a window can be a good idea.
Most cruise travelers don't live within driving distance of the departure city. Because of that, you'll need to factor in how you'll get to the departure port. Many travelers fly to the departure city, which can increase the cost of your trip.
You may want to extend your trip to factor in travel time and avoid issues in case of a delayed or canceled flight. Additionally, this provides time to enjoy the city for a few days before or after the cruise travel dates.
When staying in the departure city, you'll need a place to stay. Booking a hotel room, short-term rental, hostel or other accommodation is key because you won't be able to stay on the cruise ship during this time.
During your cruise, your ship may stop in several ports along the way. At each stop, you can get off the ship to explore local attractions, tours and cuisine as part of a shore excursion.
These excursions have a wide variety of prices depending on the destination, admission cost and other factors. The excursion price typically includes transportation to and from the attraction.
Some travelers explore the port city on their own. You may be able to save money this way. However, you're responsible for organizing and paying for your transportation, admission and other items along the way.
Onboard entertainment and gambling
Most onboard entertainment is included in the price of your cruise. However, some exclusive events or VIP seating may cost extra. Many cruise ships also offer spa treatments and gambling, which aren't included in the cruise price.
While most cruises include all-you-can-eat and drink in the cruise price, alcoholic beverages generally cost extra. You can pay for each drink individually. However, some cruises offer a flat price for unlimited beer, wine and other alcohol.
Premium meals offer higher-end cuts of meat and gourmet specialties. Depending on the cruise ship company, premium meals may be included or cost extra. Factor this in when comparing Alaska cruise options.
While most meals are covered on the cruise, once you depart, you're on your own for meals. Even if your shore excursions include food, you may not like what they offer. Alternatively, you may want to try local eateries to enjoy dishes you can't get at home.
Part of the experience of traveling is buying goodies to bring home. You may find local food or cultural items that you can't find at home. Or these items can serve as a reminder of fond memories.
Many travelers use vacations as an excuse to update their wardrobes. When traveling to different climates, you may also need to buy new clothes to be comfortable in varying conditions. Additionally, you may need formal clothes to dine at the higher-end restaurants on the ship.
Although many cruise ships are all-inclusive, it is common practice to tip the staff for a job well done. Additionally, extra tipping can be useful to secure prime meal times or spots on excursions.
Travelers should budget $14 to $19 per day per person to cover gratuities. However, some cruise lines include gratuities in your package price.
How to save money on an Alaskan cruise
With so many items to factor into the cost of an Alaskan cruise, savvy travelers look for ways to save money. Here are a few ways our readers have saved money on their Alaska cruise vacations.
Travel off-peak. Booking during slower periods can reduce the cost of your cruise or provide additional incentives from the cruise company.

Book last minute. Last-minute reservations can save money because once the cruise ship departs, they cannot sell that cabin. Some travel websites specialize in last-minute travel deals.

Use travel rewards. Cruise travelers often use airline miles to fly to their cruise and hotel points to stay in the departure city. Additionally, flexible points can be a solid option to cover the cost of the cruise.

Book early. Cruise lines often offer deals and incentives to travelers who book early.

Work with a cruise agent. Travel agents who book cruise vacations often have access to deals and promotions not available anywhere else.

Stay in an interior room. While balcony or exterior rooms provide better views, consider how often you will be in your room.

Book excursions directly. Cruise lines often mark up the cost of excursions when selling them to passengers. Book directly to reduce the cost.

Skip the beverage package. While many people enjoy an alcoholic drink or two, will you drink enough to justify the daily fee? To save money, it can be worth skipping the inflated drink prices.
Prices for an Alaskan cruise recapped
Many travelers dream of taking an Alaska cruise with friends or family. Alaskan cruise prices vary widely depending on many factors. These factors include the cruise line selected, cabin type, the time of year and how long your trip is.
Additionally, extras like excursions, gambling, alcohol and premium meals may also affect the price. You can save money on your Alaska cruise by traveling in the off-season, booking at the last minute or using your credit card rewards.
---
How to maximize your rewards
Get more smart money moves – straight to your inbox
Sign up and we'll send you Nerdy articles about the money topics that matter most to you along with other ways to help you get more from your money.