7 Ways a Cheap Cruise Gets Pricey Fast — and How to Deal
Many cruises tout tantalizingly low price tags, but excursions, Wi-Fi, alcohol and other amenities add up fast.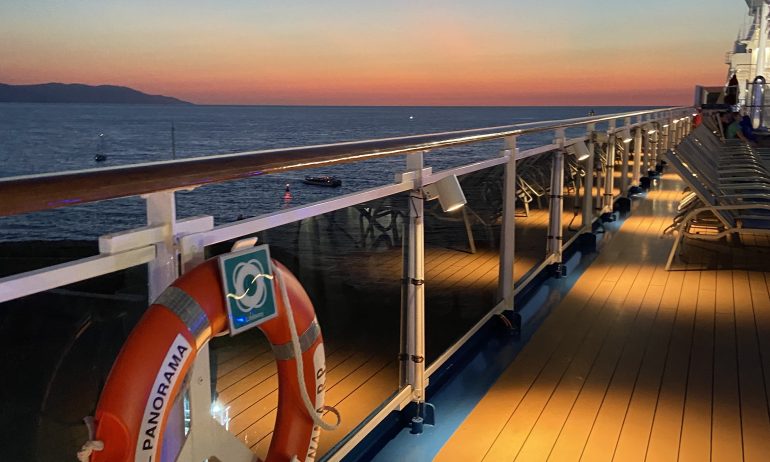 Many or all of the products featured here are from our partners who compensate us. This influences which products we write about and where and how the product appears on a page. However, this does not influence our evaluations. Our opinions are our own. Here is a list of our partners and here's how we make money.
If you've been looking into cruises, chances are you've come across some deals that sound almost too good to be true. Maybe you've even been lucky enough to score a cruise offered for as little as $100 by leveraging hotel elite status matches.
But once you put down your deposit and start looking into all the extras, you'll find that what you actually end up paying for your cruise vacation can easily be many multiples of the advertised rate that initially lured you — especially once you factor in flights and hotels.
Cruise companies, like airlines, make a lot of their money off ancillary fees. But there are ways for you to avoid some of these pesky surprises. Here's how to save money on a cruise.
Potential added cost: $600-$1,200 (3 full-day excursions for 2 people at $100-$200 each, per person).
Frugal alternative: DIY at a level you're comfortable with.
From the moment you book your cruise to the days you're sailing, you'll hear and see a lot of pitches for cruise excursions, which can be a tempting way to fill your hours in port while leaving every small detail to the cruise line.
But you'll pay a huge premium for that convenience.
Assuming you're open to some (extra) adventure, many excursions can easily be replicated for a fraction of the cost.
For example, on a recent Mexican cruise, a friend and I walked about 20 minutes from the cruise port along a well-maintained sidewalk to undertake a mountain hike for free that had been offered as an excursion for $60 per person. We figured we were already hiking anyway, so why not tack on an extra mile or so? A local bus would have done the trick, too.
Not quite so adventurous? Look into taking taxis, which are generally easy to find at any cruise port. Even that would have cut the price from $60 per person to roughly $5-$10 per person.
Here are a few other overinflated offenders you can easily replicate on your own or by booking ahead of time with well-rated local vendors:
Transport and entry to a beach club.
Pretty much anything offered in port can be put together independently. And local vendors are very much aware of ship times, so don't worry about getting left behind. Their reputations depend on getting you back safely.
Sometimes, cruise excursions are worth the cost — for instance, accessible tours for those in wheelchairs, or things impossible to replicate yourself, such as behind-the-scenes ship tours that take you to the bridge and the engine room.
Potential added cost: $300-$600+ ($15-$30 or more per day, per person, on a 10-day cruise for 2 people).
Frugal alternative: Free Wi-Fi in port.
For those of us who are always online, some of the most difficult — and mystifying — charges to swallow are cruise Wi-Fi fees. Making matters worse is that cruise lines often require you to purchase a package for the whole cruise, so you can't do, say, one day on and one day off.
The most obvious workaround, especially if your cruise has many more port days than sea days, is to simply spend an hour or so in port catching up on your internet needs.
A local library is your best bet, but often the port facilities themselves will offer free Wi-Fi. Bars and cafes generally offer Wi-Fi too, which allows you to take in some local flavor while you're scrolling your Instagram feed.
Even if you're not buying an internet package, log on to your ship's Wi-Fi connection anyway and just see what happens. On two recent cruises, I was immediately able to use iMessage, and in one case I even had full internet access at certain times (but not at others). If it works for you, consider it a pleasant surprise.
A more complicated route would be to purchase a SIM card for your phone that works for each destination, but it's unlikely to work while at sea.
Potential added cost: $1,000-$2,000 ($50-$100 per day, per person, on a 10-day cruise for 2 people).
Frugal alternative: Bring your own booze.
Many cruise lines allow you to bring a limited amount of alcohol on board. Here were the allowances for a few of the more popular cruise lines at last check:
Carnival: One 750-milliliter bottle of sealed/unopened wine or champagne per person age 21 or older in your carry-on luggage upon departure. No alcohol otherwise.

Celebrity: Two 750-milliliter bottles of wine per person of legal drinking age at departure. No alcohol otherwise.

Norwegian: Any amount of wine or champagne, as long as it isn't boxed wine. No alcohol otherwise.

Princess: One 750-milliliter bottle of wine or champagne per adult. Extra bottles are allowed for a nominal fee per bottle. No alcohol otherwise.

Royal Caribbean: One sealed 750-milliliter bottle of wine or champagne, but no boxed wine or other alcohol. 
You might have to pay a small corkage fee if you consume your own alcohol in an onboard restaurant, so be on the lookout for that.
What about nonalcoholic drink packages? They're cheaper, as you'd expect, but again, you can generally bring some on board instead. (Coffee and tea are often available for free throughout the ship.)
Here's the rundown of how many nonalcoholic beverages you can bring on board some popular cruise lines:
Carnival: Up to 12 sealed, unopened cans/cartons of 12 ounces each or less, per person, in your carry-on.

Celebrity: Their terms don't explicitly mention non-alcoholic beverages. On a recent cruise, I took that to mean there was no limit; I brought two 2-liter bottles on board with no problem.

Norwegian: Not allowed, with limited exceptions.

Princess: Up to 12 sealed, unopened cans/cartons of 12 ounces each or less per person. 

Royal Caribbean: Up to 12 standard cans, bottles or cartons per stateroom.
One underappreciated thing about bringing your own drinks: It's a lot more convenient to serve yourself than it is to wait to be served at a bar.
If you're tempted to try splitting a drink package with multiple people, don't bother. Cruises generally only serve you one drink at a time, and they have their ways of knowing the purchaser is the one getting served (for instance, via wristband or scanning your onboard card that shows your ID).
Potential added cost: $100-$200 or more per treatment at sea.
Frugal alternative: Skip the treatments or get them in port.
Lots of things are typically included on cruises — most food, entertainment, pools — but spa treatments are generally extra. (Probably a good thing: If everyone on the ship got bottomless massages, that's about the only thing many of us would want to do the whole week.)
Although there might be no such thing as a free spa day, cruise lines will occasionally offer short "sample" treatments meant to entice you into paying for more. If you can resist a sales pitch, give it a shot, though these free offerings tend to fill up very fast.
Here's another case where getting your fix in port can save you a bundle. While cruising in the Caribbean recently, I paid the equivalent of $30 for what turned out to be a world-class massage. It might have been just as great on board, but it would've cost about five times as much.
On two recent sailings I was able to access the onboard spa's common areas for free throughout the week. So, if you want "spa-adjacent" goodies — like a sauna, heated loungers or extra-comfy chairs — just wander a bit and see what you find.
Potential added cost: $100 ($5-$10 per item, or a set delivery fee).
Frugal alternative: Pack your baggies.
More and more, cruise lines are charging for room service that used to be free. (For instance, on Carnival and Celebrity, only continental breakfast is included for most guests now.)
Room service items generally aren't expensive, but a few cases of the midnight munchies can add up quickly. One alternative is to bring a few clear plastic bags so you can "pack" easy-to-carry items from elsewhere on the ship.
At dinner, order that extra cheese plate, bag it up and stick it in your room fridge. Or if you have a sweet tooth, grab some cookies from the buffet.
Made-to-order sandwiches can travel well, too — so well that you could bring a couple with you on your port days, as we did on a recent cruise. But don't get too carried away. After all, you might not want to miss the local cuisine.
Generally speaking, the room service menu isn't going to be that memorable anyway, so you're probably not missing much by not partaking. And besides, free food is never more than a few minutes away on most cruise ships.
Potential added cost: Roughly $100-$300 on average for taxes; roughly $10-$25 per person per day for tips (so figure $200-$500 total for a 10-day cruise for 2).
Frugal alternative: Score an onboard credit to help lighten the blow of these mandatory extras.
As cruise ship fees go, there are only two sure things: tips and taxes. Even the least expensive cruise offers will tack on both, and generally you won't see either fee mentioned upfront when you're first starting to book.
Port taxes vary based on the length of your cruise and where you're stopping, but on average you can expect to pay $100 to $300 on top of the cost of your room.

Tips are a baked-in way of saying thanks for the service you've received on the cruise from front-line workers such as your room steward, wait staff and guest services. Charges vary wildly but range from $10 to $25 a day in many cases.
Port taxes generally must be paid no matter what, but tips (or any other costs mentioned above) can generally be covered in full using onboard credits. Cruises often offer such credits to entice you to book. In one case, I received $100 in onboard credit on a line I hadn't cruised before simply by calling and requesting it, citing the fact that I was a new customer. (Motto: It really never hurts to ask.)
7. Flights to the cruise port
Potential added cost: Easily hundreds of dollars, plus hotel costs as needed.
Frugal alternative: Use points and miles.
In the heat of booking that dream cruise, one of the easiest expenses to overlook — but one of the costliest — is the travel to and from the cruise port.
If you aren't lucky enough to live within easy transit or driving range of your departure port, you'll need to factor in costs for flights. And unless you like living dangerously, you'll want to fly in a day in advance, which means budgeting for at least one hotel night.
Any number of travel rewards credit cards come with sign-up bonuses that, alone, could more than cover the cost of your transit in the form of hotel points or airline miles. For the best value, focus on cards that earn reward currencies in the American Express, Capital One, Chase or Citi ecosystems. These points can be transferred to a wide variety of airline or hotel programs.
For a different kind of flexibility, consider cards that offer the ability to redeem points toward "erasing" any travel purchase you make with the card, such as the Aeroplan® Credit Card from Chase or the Capital One Venture Rewards Credit Card. You could even use such cards to pay for, then erase, those pesky port fees referenced above.
That cruise you're seeing marketed for just a few hundred dollars (or less) can easily balloon to many multiples of that amount if you're not careful.
But with the right travel rewards credit card, a healthy sense of adventure and some good old-fashioned resourcefulness, you can fully enjoy the vacation you've earned while resting assured that you haven't broken the bank.
(Top photo by Brad Walters)
---
How to maximize your rewards
Cards for Cruises from our Partners
Chase Sapphire Preferred® Card
Rewards rate
1x-5x
Enjoy benefits such as a $50 annual Ultimate Rewards Hotel Credit, 5x on travel purchased through Chase Ultimate Rewards®, 3x on dining and 2x on all other travel purchases, plus more.
Points
---
Intro offer
60,000
Earn 60,000 bonus points after you spend $4,000 on purchases in the first 3 months from account opening. That's $750 toward travel when you redeem through Chase Ultimate Rewards®.
Points
on Bank of America's website
Bank of America® Premium Rewards® credit card
Rewards rate
1.5x-2x
Earn unlimited 2 points for every $1 spent on travel and dining purchases and unlimited 1.5 points for every $1 spent on all other purchases.
Points
---
Intro offer
60,000
Receive 60,000 online bonus points - a $600 value - after you make at least $4,000 in purchases in the first 90 days of account opening.
Points
U.S. Bank Altitude® Connect Visa Signature® Card
Rewards rate
1x-5x
5X points on prepaid hotels and car rentals booked directly in the Altitude Rewards Center. 4X points on travel, gas stations, and EV charging stations. 2X points on streaming services. 2X points at grocery stores, grocery delivery, and dining. 1X point on all other eligible purchases. Points never expire.
Points
---
Intro offer
50,000
Earn 50,000 bonus points when you spend $2,000 in eligible purchases within the first 120 days of account opening. That's a $500 value redeemable towards travel, gift cards, cash back, merchandise and more.
Points
See more cards for cruises
Get more smart money moves – straight to your inbox
Sign up and we'll send you Nerdy articles about the money topics that matter most to you along with other ways to help you get more from your money.