Inside the Little-Known American Express Lounge at the Las Vegas Convention Center
Access to the American Express Business Lounge at the Las Vegas Convention Center comes with certain credit cards.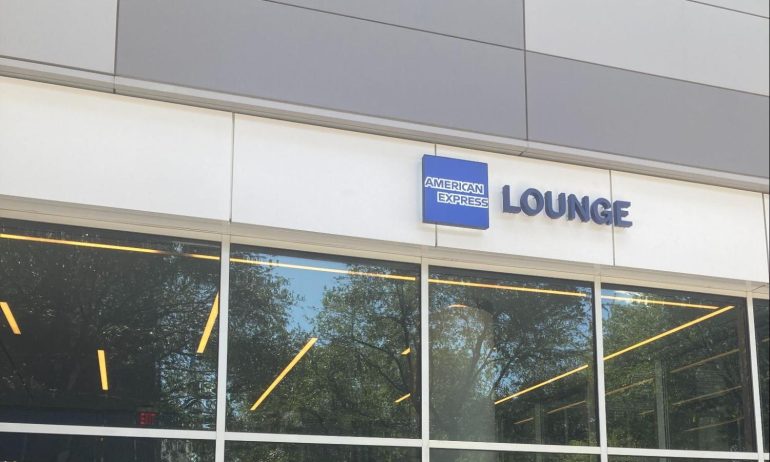 Many or all of the products featured here are from our partners who compensate us. This influences which products we write about and where and how the product appears on a page. However, this does not influence our evaluations. Our opinions are our own. Here is a list of our partners and here's how we make money.
One of the best-known benefits of The Platinum Card® from American Express is Centurion Lounge access — which admits you into a luxurious world of free food and comfy seats at a handful of major airports. But one of the least-known, and hardly-advertised benefits of that card is American Express Business Lounge Access. Terms apply.
There are currently two American Express Business Lounges in the world: one at the Las Vegas Convention Center, and the other at Jacob K. Javits Convention Center in New York City. Inside you'll find complimentary snacks, free Wi-Fi and myriad outlets to recharge your electronics — all in a place to recharge yourself with plentiful plush couches.
Your ticket in? Simply holding certain American Express cards. We headed inside the American Express Lounge at the Las Vegas Convention Center to learn everything you need to know about this customer benefit, including what to expect and how to get in.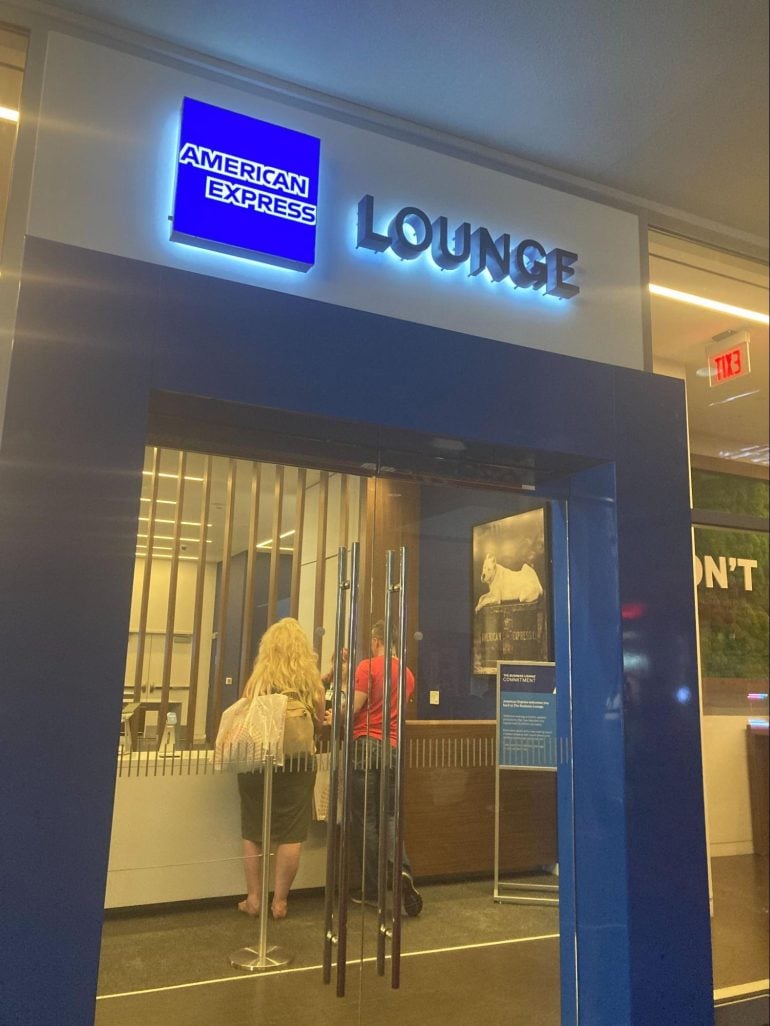 How to get into the AmEx lounge
Lounge access is complimentary for American Express customers who hold either a Business Card or a Corporate Card from American Express, as well as those who hold either The Platinum Card® from American Express or the Centurion Card from American Express. Terms apply. Once inside, you'll have to flash your card, as well as a government-issued ID card.
Guests are allowed, too. Each cardmember can always bring up to one other guest with them. An American Express spokesperson said that up to two guests per cardholder would be admitted when space permits. (So three people total in your group are allowed on low-traffic days.) Children are welcome, though a parent or legal guardian must be present with anyone under the age of 18.
As far as hours, well, they're vague. The official word from AmEx is that the lounge is open "during busy days at select conferences and trade shows." A spokesperson from American Express clarified to NerdWallet that the lounge operates during show hours, which are typically 9 a.m. to 5 p.m. If there are multiple shows running at the same time, the lounge would open when the earliest show's trade show floor opens and close when the floor closes for the latest show.
So there's hope that hours could be extended during the biggest Vegas events. But on days when there's nothing going on, the lounge might be closed.
What to expect inside the AmEx lounge
The American Express Lounge is a sort of antithesis of your standard trade show or conference. It's roughly 3,500 square feet of relative calm, with an abundance of power outlets and free coffee.
Instead of being accosted by exhibitors trying to shove yet another free keychain in your swag-filled hands, you'll be gently offered a drink or snack, served in an individually packaged bag for you to eat there or save for later.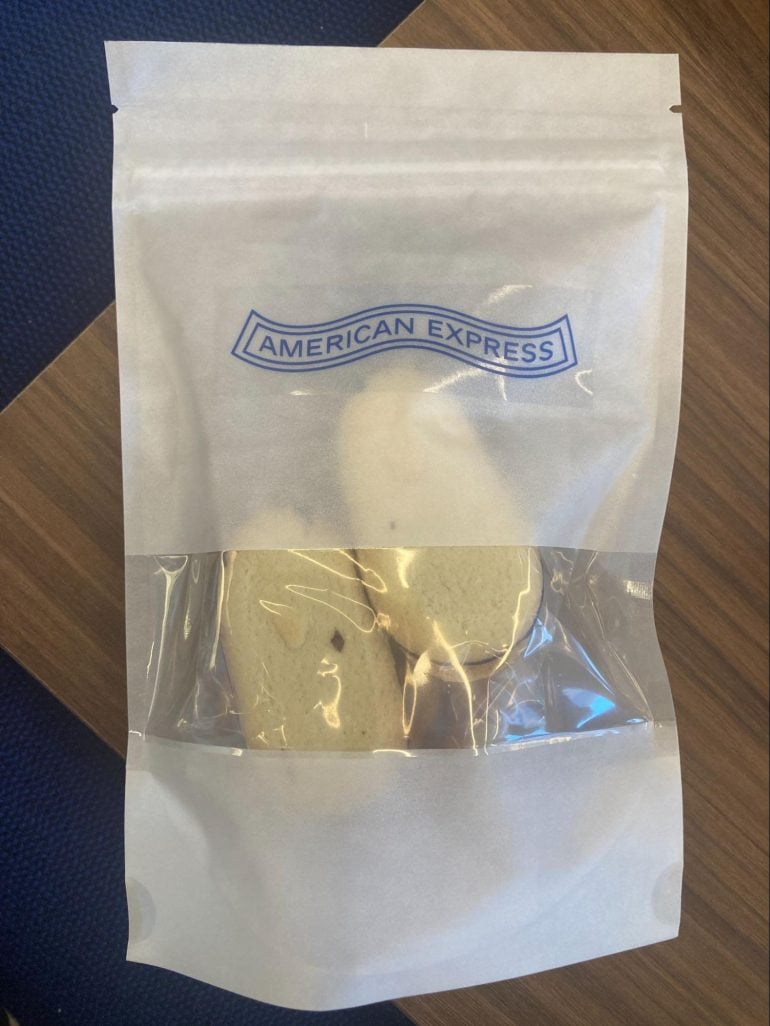 When we visited, the snack bag had a small assortment consisting of chocolate sandwich cookies, pretzel sticks, dried bananas and malt balls.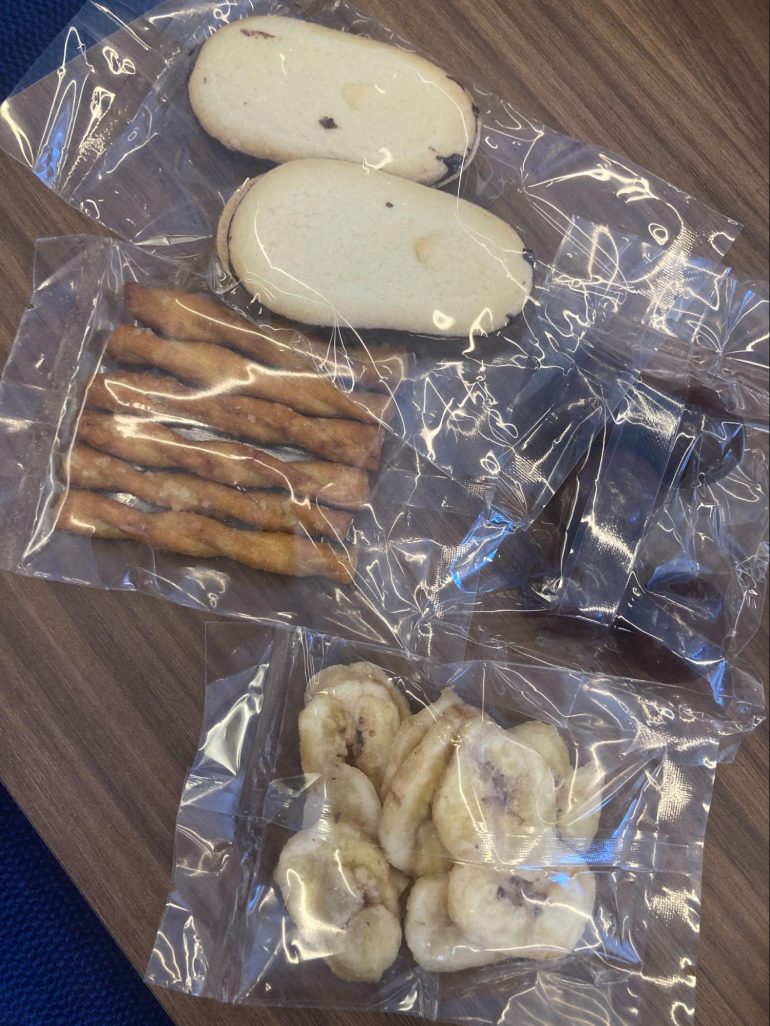 There's a station to grab beverages, including tea and sparkling water. There's also one of those automatic espresso machines that'll make you a latte or cappuccino.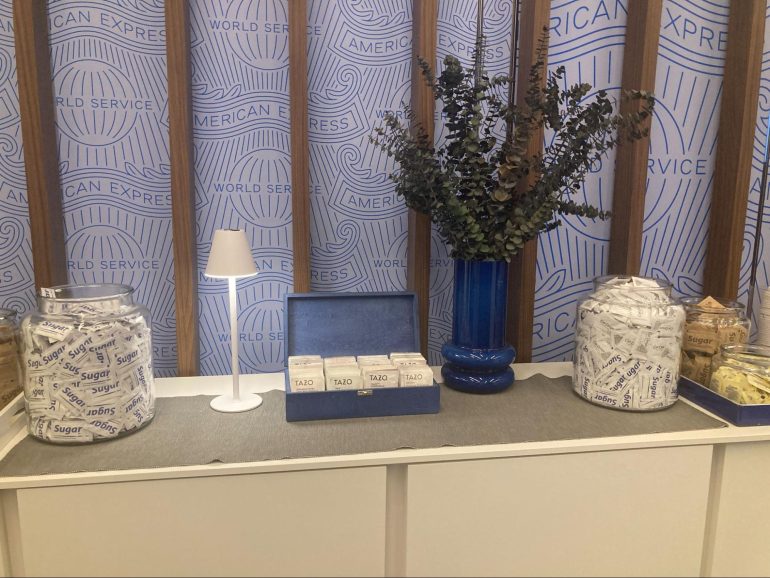 As far as setup goes, there's plenty of couch seating. When you're exhausted from networking with people, you might opt to zone out and watch TV.
If you've got work to do, bring your laptop, as there are plenty of outlets. Pre-pandemic, the lounge offered guests free use of wireless printers and laptops. Those never returned when the lounge reopened after shutting down at the start of the pandemic, but a spokesperson for American Express told NerdWallet that those amenities would return again soon (though did not specify a date).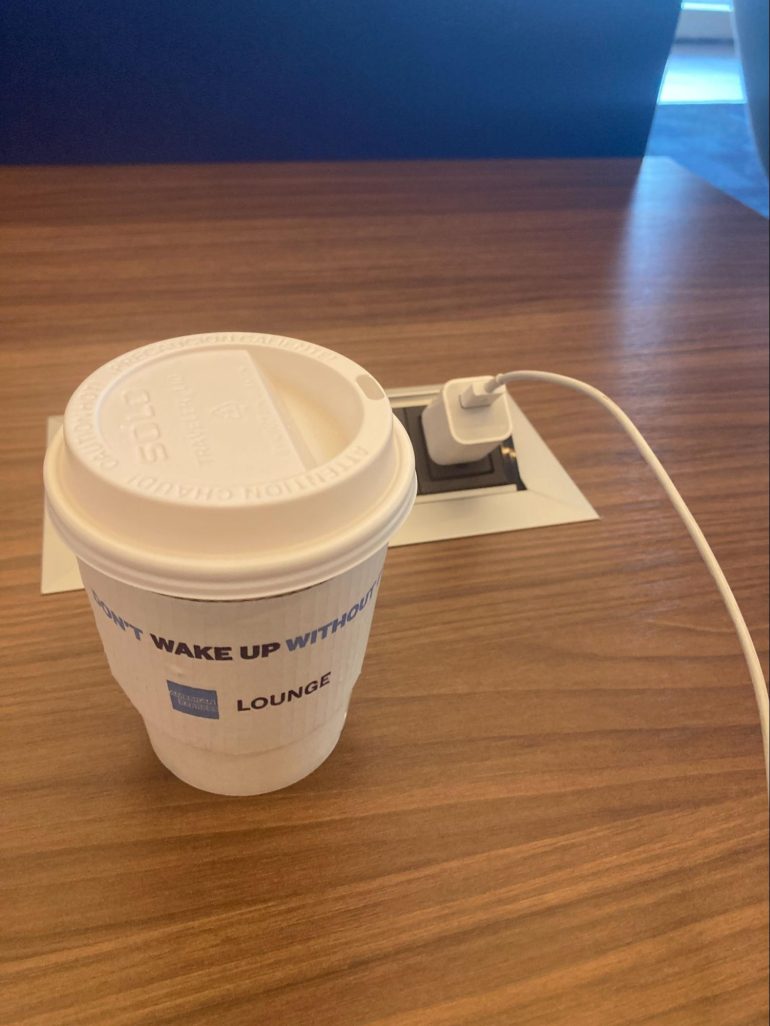 Perhaps most delightful, though, is the lounge's free Wi–Fi. Sure, free Wi-Fi is the norm almost everywhere these days — but Las Vegas is no normal place.
While there is free Wi-Fi in some spots of the Las Vegas Convention Center, it's mostly limited to lobby and registration areas. For free Wi-Fi throughout, you'll have to pay up.
During a visit to the Las Vegas Convention Center in July, here were the Wi-Fi options: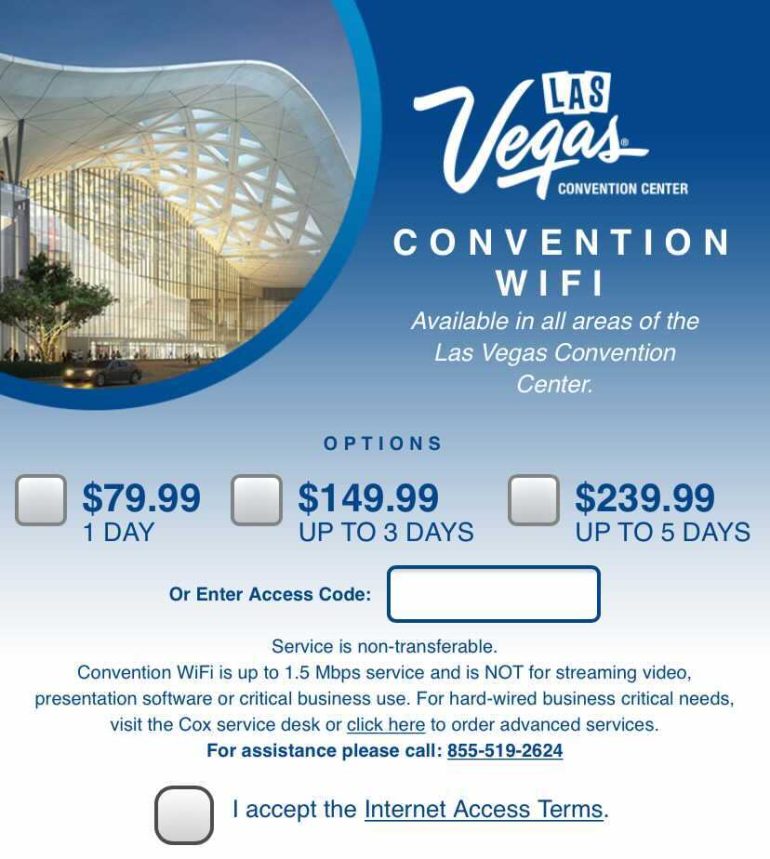 That's no typo. That's $80 for one day of Internet access.
While the free American Express Lounge Wi-Fi will only help you while you're in the lounge (it won't work out on the show floor), people needing Wi-Fi will almost certainly prefer to duck into the lounge to access the Internet than to pay $80 for it throughout the convention center.
How to find the American Express Lounge at the Las Vegas Convention Center
The lounge is located on Las Vegas Convention Center property and is tough to miss, as it's situated at the main entrance of Central Hall, just off of Convention Center Drive.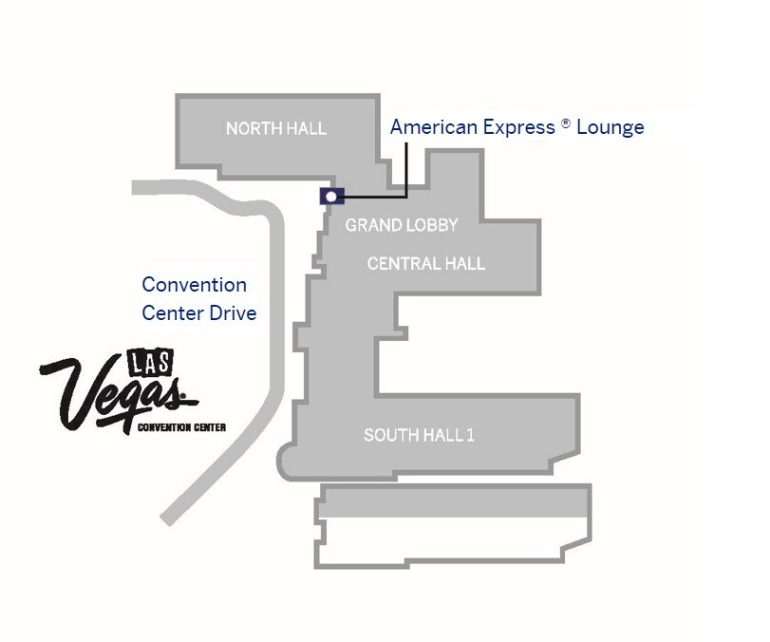 That said, the convention center is huge, and Central Hall might be more than a short stroll, depending on where you're coming from — especially if you're wearing your fancy (and uncomfortable) business shoes and it's triple-digit temperatures.
For those of you who aren't trying to get some cardio in mid-conference just to get some free snacks and a coffee, try the Tesla tunnel.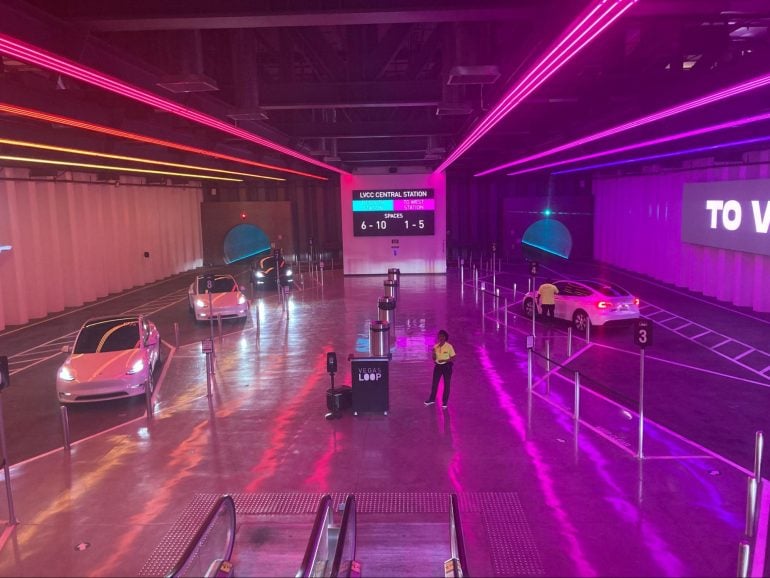 Officially dubbed the Las Vegas Convention Center Loop, the tunnel was built by The Boring Company, which was founded by Elon Musk. The only traffic inside is a series of Tesla cars that drive you through the tunnel. The tunnel has a few stops, including Resorts World (which is Hilton-owned and one of the newer hotels on the Las Vegas Strip).
In addition to the Resorts World stop on the west side of the convention center, there's also a stop on the south side. From the West Hall, which is one of the newer parts of the convention center, having opened in 2021, it can take about 25 minutes to walk to the American Express Lounge.
Or, you can hop in a car (there's usually no wait) and tell your driver that you're headed to the Central station. Soak up that Tesla ambience quickly, as the journey from West Hall to the lounge takes roughly two minutes.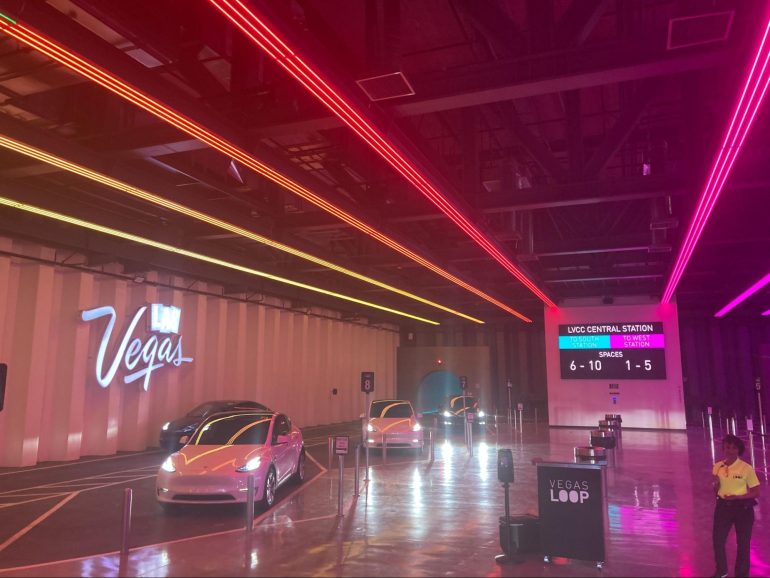 The lounge is also just a couple hundred feet from the Convention Center Monorail Station, which connects the convention center with the Las Vegas Strip. It runs as far north as the Sahara Las Vegas and as far south as the MGM Grand, with stops along the way that include the LINQ.
Monorail tickets are $5 per ride or $13 for a one-day pass.
How AmEx Centurion Lounges compare
When most people think of AmEx lounges, the luxurious airport lounges (dubbed Centurion Lounges) likely come to mind. There are a few ways to gain entry to these lounges, but it's most common to get in by holding The Platinum Card® from American Express. Terms apply.
These oases are known for offering civility that contrasts with the hectic nature of airports. Instead of overpriced airport food, you'll dine on a chef-curated buffet, entirely for free (though of course you did pay $695 for the card's annual fee).
In lieu of a firm, oddly-inclined seat certainly not designed for a human, you're afforded a plush armchair or perhaps a desk. Some even offer sweet amenities such as video games, foosball tables, spa treatments, showers and Peloton bikes.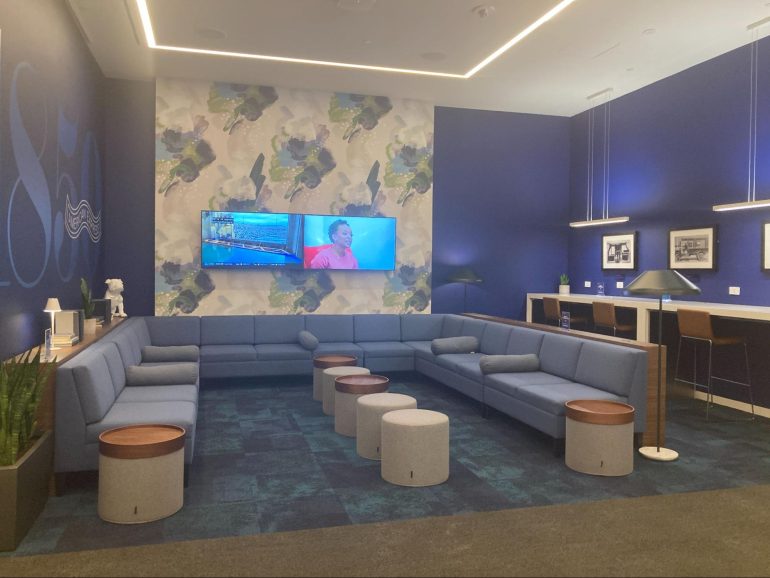 The convention center lounges are far simpler — and far fewer. While there are more than a dozen Centurion Lounges in airports around the world, there are only two convention center lounges.
Besides the Vegas outpost, there's one at the Jacob K. Javits Convention Center in New York City, tucked past the Starbucks at the 11th Ave entrance on the 4E Terrace.
At the convention center lounges, the refreshment options are limited, and there's no Peloton to get your sweat on. But if you need Wi-Fi, and you just want a quick replenishment of your glucose stores or a jolt of caffeine before you slug through another networking session, having an AmEx lounge in the convention center might be your saving grace.
And hey, once you've conferenced until you can conference no more, you'll likely head off to Las Vegas' McCarran International Airport. And once there — assuming you hold The Platinum Card® from American Express — you can swipe yourself into the Centurion Lounge, too. Terms apply.
The information related to the Centurion Card from American Express credit card has been collected by NerdWallet and has not been reviewed or provided by the issuer of this card.
---
How to maximize your rewards
Get more smart money moves – straight to your inbox
Sign up and we'll send you Nerdy articles about the money topics that matter most to you along with other ways to help you get more from your money.