Is Clear Worth the Cost?
Clear can be an affordable convenience if you take advantage of credit card or airline loyalty program discounts.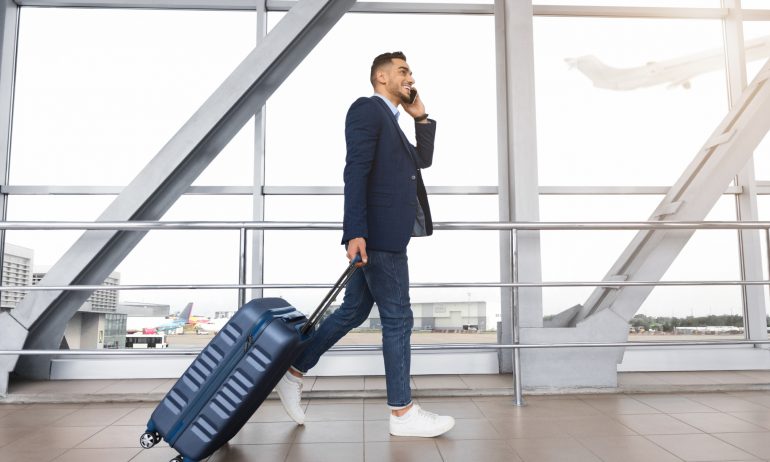 Many or all of the products featured here are from our partners who compensate us. This may influence which products we write about and where and how the product appears on a page. However, this does not influence our evaluations. Our opinions are our own. Here is a list of our partners and here's how we make money.
Are you thinking about getting a Clear membership? The private biometric screen company lets paying members bypass part of the security line at some stadiums and the Transportation Security Administration checkpoint for identification at airports, which can often be the longest part of the line. If you're a frequent traveler, using Clear can save a lot of time at the airport.
But is Clear worth the price? Or better yet, is it worth enrolling if you can get it for free?
The answer to that question depends on a number of factors, including your travel habits and level of patience. Importantly, it also depends on how much a Clear membership would actually benefit you.
How much does Clear cost?
The standard price for an annual Clear membership is $189. Unlike government programs such as TSA PreCheck and Global Entry that offer several years of membership with a single fee, Clear's fee is annual.
On the surface, $189 is a huge price to pay for a little convenience. Thankfully, there are two ways to knock that price down to more reasonable territory.
Note: Clear is available only to U.S. citizens and legal permanent residents age 18 and older with valid government ID.
Ways to lessen the cost of Clear membership
Holding elite status in certain airline loyalty programs or specific credit cards can get you access to a Clear membership at a discount.
1. Become a United or Delta frequent flyer member for a $60 discount
Clear partners with Delta SkyMiles and United MileagePlus to offer discounted annual rates for members. The current rate is $119 per year for both programs, with a further $10 discount for members with status or those who hold an airline-branded credit card.
What's more, each airline's top elite status level (Delta Diamond Medallion and United Premier 1K) members receive a free Clear membership. The $119 offer is for all members, not just elite status holders, which means there's no reason not to take advantage of these rates, since both programs are free to join.
Here are the sign-up pages:
2. Get an AmEx Green card to save $100
One of the biggest perks of the American Express® Green Card is its $100 annual Clear credit. This credit nearly covers the cost of Clear membership when combined with the airline promotion described above, bringing the effective cost down to $9 or $19 per year (depending on your elite status level or if you hold a co-branded Delta or United credit card).
That's a great deal, especially assuming you'll get plenty of other value from the card's $100 LoungeBuddy credit and 3x earning rate on travel and restaurants to offset the card's $150 annual fee. Terms apply.
3. Add an AmEx Platinum card to your wallet for free Clear membership
You do not need to enroll in this benefit. All you need to do is pay for your Clear membership using your card and the statement credit should appear on your bill within 2-4 weeks.
What does Clear membership get you?
Clear uses biometric data (fingerprints and eye scans) instead of traditional ID documents, like driver's licenses or passports, to verify traveler identification. This lets you skip the TSA PreCheck line, which can sometimes be even longer than the regular line at the airport. Note, Clear members still have to pass through security screening just like everybody else.
Since Clear is completely separate from TSA PreCheck, it doesn't provide access to the PreCheck line. Once you've gone through the Clear line, a Clear employee will escort you straight to security.
Nerdy tip:
If you regularly fly out of a busy airport or one that has been known to have long TSA PreCheck lines, Clear may be a compelling option.
Clear is available at over 51 locations, including airports and stadiums. So the service will provide far less benefit for those who live near smaller airports.
What is Clear Sports and how does it work?
Unlike the regular Clear membership, Clear Sports is free and offered at some sports stadiums. Clear Sports allows you to enter stadiums faster by leveraging Clear's biometric technology.
Current Clear members automatically receive access to Clear Sports, and non-Clear members aren't charged to enroll in the program.
You can enroll in Clear Sports by downloading the app, tapping "Sports and Events" on the main screen and logging in or creating a free account. You'll then need to take a selfie to confirm your identity and select the stadium where you'll use Clear.
When you arrive, visit the Clear lane, take your photo at the Clear pod and you'll be granted entry.
At first glance, $189 is a big price tag for cut-in-line privileges at some airports. Yet it's easy to knock $60 off this price by using your Delta or United membership number, and fairly easy to knock another $100 off with the American Express® Green Card.
If you hold The Platinum Card® from American Express or The Business Platinum Card® from American Express, the cost of Clear will be covered for you. Terms apply.
In the end, whether Clear is worth it to you depends on a number of factors:
Do you fly a lot? Even someone who takes 10 round-trip flights per year is still spending about $6 per use at the lower $119/year price.

Does Clear support your home airport (and preferred terminal)? If not, it's almost certainly not worth it.

Do you have or are you considering getting the American Express® Green Card? That $100 credit moves Clear to the "worth it" category for many. Terms apply.

Do you have The Platinum Card® from American Express or The Business Platinum Card® from American Express? Enrolling in Clear is a smart move since you'll get an annual statement credit for the full cost of membership. Terms apply.
To view rates and fees of The Platinum Card® from American Express, see this page.
To view rates and fees of The Business Platinum Card® from American Express, see this page.
All information about the American Express® Green Card has been collected independently by NerdWallet. The American Express® Green Card is no longer available through NerdWallet.
---
How to maximize your rewards
Get more smart money moves – straight to your inbox
Sign up and we'll send you Nerdy articles about the money topics that matter most to you along with other ways to help you get more from your money.