What is a 'Type P' Passport?
Type P Passports are the most common — designed for personal use.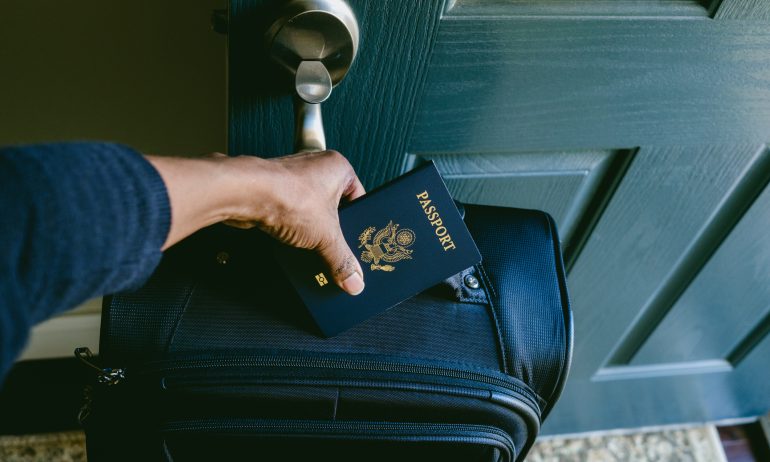 Many or all of the products featured here are from our partners who compensate us. This influences which products we write about and where and how the product appears on a page. However, this does not influence our evaluations. Our opinions are our own. Here is a list of our partners and here's how we make money.
When you travel internationally, a passport is required to enter a foreign country or to return home. These government-issued documents verify your identity and enable you to travel freely. 
But did you know that there are multiple types of passports? And the most common type is referred to as Type P. 
A Type P passport is the standard passport that Americans use as identification when traveling internationally. This government-issued identification can also be used within the United States as an alternative to a driver's license as proof of identity.
Learn more about the Type P passport, how to get one, and when it expires.
5 different types of U.S. passports
In the U.S., there are five types of passports available. Each passport type is for a different kind of traveler. However, only the Regular "Fee" passports can be used for personal travel.
Regular "fee" passports. These blue passports are the most commonly issued. They are also known as "tourist" or Type P passports because they are for personal use.

Diplomatic. Black diplomatic passports are for foreign service officers and others with diplomatic statuses, such as the president of the United States.

Official. These passports are maroon and are issued to officials and employees of the U.S. government who travel on official duties. Military members also receive official passports when required by the country they're stationed in.

Service. These gray passports are issued on a limited basis to contractors supporting the U.S. government in a foreign country when a Type P passport won't work.

No-Fee Regular. These passports are identical to Type P, but the traveler does not pay standard fees. They are issued to certain U.S. Department of Defense employees, American Red Cross and Peace Corps volunteers assigned overseas.
Benefits of having a passport
A passport provides travelers with numerous benefits while traveling abroad and at home. Here are a few benefits of having a U.S. Type P passport:
Traveling internationally. When you travel internationally, you need a passport to enter a foreign country and upon returning to the U.S.

Prerequisite for visas. Some countries require a visa to enter. Travelers must have their passports to apply for a visa.

An Alternative to a Real ID. Starting May 7, 2025, travelers must have a Real ID to fly, even on domestic flights. However, if you have not upgraded your driver's license or ID card by then, your passport will be an acceptable alternative.

Lost or stolen ID. You can use your passport as a government-issued ID when your other identification is lost, stolen, or misplaced.

Jobs or school in a foreign country. You're not restricted to your local area in today's global economy. With a passport, you can travel globally for jobs or education in other countries.
The U.S. State Department has a simple process for people to apply for a Type P passport. Follow these steps:
Complete the application form (DS-11) for a U.S. passport. You can download the form or fill it out online.

Gather proof of U.S. citizenship. You'll need to submit proof of citizenship along with your passport application. You must submit an original or certified copy of a U.S. birth certificate, valid U.S. passport, certification of birth abroad, or certificate of naturalization or citizenship.

Bring current identification. When you submit your passport application, an official will review your identification to ensure the application is for you. Acceptable forms of ID include a driver's license, previous or current passport, military identification, certificate of naturalization or citizenship, or federal, state or city government employee identification.

Get passport photos. Attach a 2-inch x 2-inch color photo to your application. The photo should have been taken within the last six months, with your head facing the camera. Wear everyday clothing and do not wear a uniform. Do not smile, remove eyeglasses and head coverings.

Pay application fees. Applicants can pay the passport fees with a personal check, cashier's check or money order made payable to the "U.S. Department of State." The execution fee charged by the acceptance facility must be paid separately. For those 16 and older, the application fee is $130. It's $100 if the applicant is younger than 16. Execution fees run $35 regardless of age. 

Receive passport. You may receive your passport and proof of identity in two separate packages. If you're also applying for a passport card, that may arrive in another package. Standard processing times are six to nine weeks, while expedited processing takes three to five weeks.
If you're getting a Type P passport for your child, both parents must attend the application appointment. Otherwise, the parent unable to attend must provide a notarized statement of consent to the issuance of the passport.
When do passports expire?
The expiration date of your passport depends on what type of passport you have. For example, blue Type P passports for adults are good for ten years from the date of issue, whereas Type P passports issued for children under 16 expire after five years.
The U.S. Department of State may revoke your passport earlier if you owe money to the U.S. government, have a history of lost or stolen passports, or cannot provide the required documentation.
Special issuance passports have different expiration dates based on which type you have. However, all special issuance passports have a maximum duration of five years.
Yes, a Type P passport for an adult can be renewed if you apply when it is still valid. Passports for children under 16 expire five years after issuance and cannot be renewed.
Do I need to update Global Entry when I get a new passport?
Global Entry is a membership program that expedites your entry into the U.S. when returning from international travel. Your membership is based on your current passport. When you get a new passport, you must log into your Global Entry account and update your passport information.
Whether you have an international trip already planned or are considering booking one, now is the time to get your passport. While it may sound ominous, applying for a Type P passport means getting a personal passport for international travel. 
The process is relatively simple and the fees are reasonable given that adult passports are good for ten years. However, it takes around two months to get your passport back, so you should apply now to avoid paying extra fees to expedite your passport.
Frequently asked questions
How much does a Type P passport cost?
Do I need a passport ID card?
Where can you get a passport photo?
Can I get a Type P passport if I also have another type?
What do passport colors mean?
---
How to maximize your rewards
Get more smart money moves – straight to your inbox
Sign up and we'll send you Nerdy articles about the money topics that matter most to you along with other ways to help you get more from your money.