Is Global Entry Worth It?
Consider enrolling if you travel internationally. With the right card, it might not even cost you anything.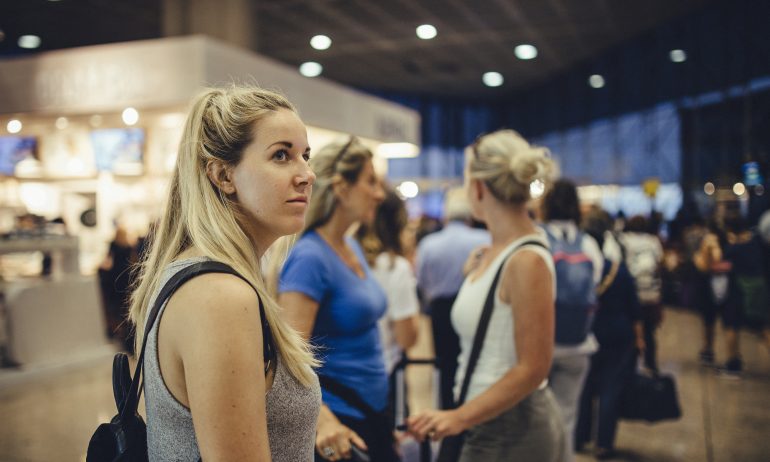 Many or all of the products featured here are from our partners who compensate us. This influences which products we write about and where and how the product appears on a page. However, this does not influence our evaluations. Our opinions are our own. Here is a list of our partners and here's how we make money.
If you've traveled internationally, you've probably experienced a line or two at immigration when coming home. Although the time you'll wait will differ depending on where and when you arrive, nobody likes spending time in a queue — especially after a long flight.
Global Entry aims to expedite this process, allowing eligible travelers to skip the immigration line in favor of dedicated kiosks. But is Global Entry worth it? Let's take a look at the cost of this service, its best benefits and how to know if it's right for you.
Global Entry is a Trusted Traveler Program operated by Customs and Border Protection that allows you to take advantage of separate lines at immigration within a variety of U.S. airports. There are even some overseas locations offering Global Entry to returning travelers.
This means that when you get off of the plane, you'll head for the Global Entry line where kiosks will rapidly identify you and send you on your way.
There are different ways that this is accomplished. The old method included scanning your passport and your fingerprints, as well as answering some questions. Newer kiosks don't require this. They can use facial recognition, much like Clear, to identify who you are.
Be aware that being approved for Global Entry can take some time. You'll need to complete the application, which includes personal information such as your work history and past travel. Once conditionally approved, you'll need to complete an in-person interview in order to receive your Global Entry membership.
Many U.S. airports offer Enrollment on Arrival, allowing those who are conditionally approved for Global Entry to complete their interviews once they land rather than needing a separate appointment.
How much does Global Entry cost?
Global Entry isn't free; the cost for a five-year membership is $100. However, this fee also includes TSA PreCheck. The cost is the same whether you're applying for the first time or renewing Global Entry.
The biggest advantage of Global Entry is that you'll have access to expedited immigration lines when you return to the U.S. after international travel. You'll be able to use Global Entry kiosks that will verify your identity, instead of having an immigration officer spend time checking your passport.
The amount of time it'll save you entirely depends on how busy your port of entry is. It might only save you a few minutes if the airport immigration lines are short or it might save you hours if the line at a border crossing is long.
The best Global Entry benefits
Global Entry comes with a variety of benefits — not just expedited immigration.
TSA PreCheck. TSA PreCheck is a program that allows you to speed through security at the airport. This means leaving your laptops in your luggage, your liquids in your bags and your shoes on your feet. TSA PreCheck normally costs $78 for a five-year membership.

SENTRI. Having SENTRI allows you to pass from Mexico into the U.S. through land borders at dedicated, expedited lanes. If you register your vehicle with SENTRI during your Global Entry application, there is no fee.

NEXUS. NEXUS is the joint Canadian-American Trusted Traveler program. While Global Entry won't get you access to NEXUS, it does allow you to use the NEXUS lanes when re-entering the U.S. through the land border.
How to know if Global Entry is right for you
Global Entry may not be worth your time and effort if you're not putting it to use. Here are some things to consider if you want to sign up.
1. Do you need Global Entry?
There are multiple Trusted Traveler Programs available to you, but not all of them provide the same benefits. Here are the most common:
Fast (for commercial truck drivers).
If you're not traveling internationally, or you almost exclusively use the land borders, Global Entry may not be the best fit for your needs. Frequent travelers across the Canadian border will be better served by a NEXUS card, whereas those traveling primarily to Mexico overland will be better served with a SENTRI Pass.
2. How expensive is your time?
Immigration lines can be lengthy, especially if you're flying into a larger airport, such as Los Angeles. If you're in a hurry, Global Entry can help speed you along your way — especially if you haven't checked a bag.
Global Entry is a program designed to serve international travelers, but it also includes TSA PreCheck. At a cost of just $22 more than PreCheck, you'll make up the cost if you fly abroad only once or twice during your five-year membership.
4. Do you already hold a travel credit card?
How can I get a Global Entry fee credit?
If you're interested in having your Global Entry costs reimbursed, you're in luck. A Global Entry fee credit is a very common benefit for many different travel credit cards. Here are some of the cards that will reimburse the $100 fee for your Global Entry application:
Cards that reimburse Global Entry fees
Note that most of these cards will reimburse either an application fee from Global Entry or TSA PreCheck. Meanwhile, Chase's cards will also reimburse you for a NEXUS application, which can provide you expedited entry to Canada.
So, is Global Entry worth it?
Whether or not Global Entry is worth it will depend on your personal situation. If all your travel is domestic, Global Entry may not fit your needs. But if you have international travel plans within the next five years, Global Entry can save you a lot of time at the airport. Considering that it includes TSA PreCheck and many travel credit cards reimburse this fee, it's easy to make a case where Global Entry is worth the effort.
---
How to maximize your rewards
Get more smart money moves – straight to your inbox
Sign up and we'll send you Nerdy articles about the money topics that matter most to you along with other ways to help you get more from your money.