Magnum Cash Advance sells itself as "smarter than a payday loan." Their website is plastered with the catchphrase, bringing to life the adage about those who talk much, but say little.
Explore payday loan alternatives
To be clear, saying you're smarter than a payday loan isn't saying much at all. Payday loans are historically unfavorable to the consumer. While they can help individuals in need of a one-time cash infusion who may not have access to other lines of credit, in general, payday loans are a terrible deal, regularly carrying triple digit APRs.
So when Magnum Cash Advance sells itself as "smarter than a payday loan," they're setting the bar incredibly low. And when you set the bar that low, it's especially impressive when you fail. A quick look at MCA's posted interest rates and estimated APRs show they are actually worse than most payday loan options.
What's short-term installment loan?
Not that this deters MCA. The company goes to considerable lengths to emphasize that they don't deal in payday loans. Rather, they provide "short-term installment loans." What does that actually mean? It all comes down to how you repay the loan. According to MCA, the repayment plans they offer are all paid in small installments over a longer period of time.
For example, most payday lenders operate on two-week, fixed sum repayment schedules. In contrast, MCA starts most borrowers with a 60-day loan period, and they say they charge you only for the days you borrowed the money i.e. you can save money by paying your loan back early.
No matter how you do the math, it still works out to a terrible deal. That's not immediately apparent on the MCA website, however. MCA provides the least amount of information on their rates possible, reserving a full disclosure of their rates, late fees, and penalties for you to read once you receive a loan agreement form.
They do note, however that "A $500 loan from Magnum Cash Advance set-up for 4 bi-weekly installment payments will have an approximate APR of 604.06%." That's one of the higher APRs you'll see for this sort of loan, and nearly double the 391% average usually seen in the payday loan industry. It should serve as a flashing, red light: stay away.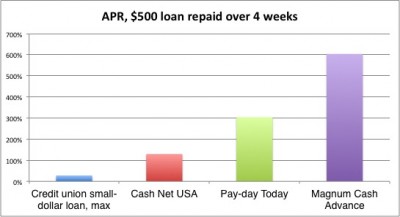 *Estimated APR for a $500 loan repaid over a 4-week period
Island Paradise
Have you ever wanted to take a trip to an exotic island destination? Now you can! All you have to do is visit the website of Magnum Cash Advance and sign up for a loan. Buried within the legal disclosures section of their site is this little gem:
If you do not want to enter into a consumer loan agreement based on the laws of the British Virgin Islands (BVI), you should apply for a loan at a provider located in the city, state, or country where you live. All aspects and transactions on this site, including your loan approval will be deemed by ICA to have taken place in the BVI. This transaction shall be regarded by ICA as governed in accordance with the laws of the BVI without regard to its conflicts of law principles, regardless of the order in which the parties agree.
That's right. By signing up for a loan on MCA's website, you are agreeing to be held to the laws of the British Virgin Islands, as though your transaction took place in the BVI.
The legality of MCA's international loan making is murky at best, but a search of open or pending lawsuits against MCA (or their parent company International Cash Advance) turns up no results. There are, however, numerous complaints from individuals who claim that MCA turned to that little bit of fine print to exempt themselves from consumer protections enacted on a state level.
Meanwhile, the state of New Hampshire Banking Department (MCA bases its call centers in New Hampshire) has taken matters into their own hands, and issued cease and desist order against MCA.
Steer Clear of MCA
If you find yourself contemplating taking on a payday loan, it's worth taking a moment to evaluate your options. Payday loans can get the job done, but can drag you into a cycle of high interest obligations. They're also incredibly expensive, especially compared to some of the other options available:
Small-dollar loans from credit unions. Many credit unions, especially community development credit unions, make loans of $200-$1,000 with an APR of 28% or less and an application fee of $0-$20. That's a lot better than the close to 500% APR you could be paying with Advance America. A credit union loan works a little different, too. Instead of two weeks, the loan is usually paid between one and six months, encouraging longer term financial planning and helping you build credit.
The Capital One 360 checking account has an overdraft line of credit that lets you pay more than your available balance on your checking account, but instead of charging an overdraft fee, levies a low interest rate of 11.5%. However, they run a credit check when qualifying you for the overdraft line of credit, and you might have a low limit.
Cash advances on credit cards. This can be a fairly expensive option if you need to borrow for an extended period of time. You'll probably have to pay a cash advance fee, 3-5% of the amount advanced, and most credit cards have higher cash advance interest rates than regular purchase rates. But once again, credit unions come to the rescue. Many credit unions have cards with low cash advance interest rates and no fee. For example:
Spectrum Federal Visa Platinum
No cash advance fee
9.99%-17.99% cash advance APR
Anyone can join with a $5 donation to the Financial Fitness Association.
Northwest Federal FirstCard Visa Platinum
Meant for those who need to build up their credit history
Requires you to take a 10-question financial literacy course
No cash advance fee
Anyone can join with a $10 donation to the Financial Awareness Network.
Get on track for financial fitness
Payday loans can be great for getting through emergencies or unexpected financial surprises. But if you find yourself relying on payday loans to make it through each month, it may be worth talking to a financial counselor or advisor. They can help you take a good long look at your finances and start you on the path toward long term financial stability.  You may consider some of these options:
The National Foundation for Credit Counseling lists agencies that provide free and low-cost financial help.
On NerdWallet's Ask an Advisor site, you can get advice from certified financial advisors who'll answer your questions for free.
If you or a family member is in the military (active duty, Guard or Reserve), you can get up to 12 free financial counseling sessions per issue per year with Military OneSource.
Contact a local financial empowerment agency for counseling.
You might also enjoy reading: