Advertiser Disclosure
How to Request a TransUnion Credit Freeze
TransUnion requires that you set up a password-protected account before you can request a credit freeze online. Phone and mail options are available, without an account.
The best way to keep fraudsters from using your credit data is to get a credit freeze.
Related stories
This safeguards your records and keeps identity thieves from being able to use your credit identity to open new accounts. Unless you know you will soon need to access your credit, a credit freeze, also known as a security freeze, is worth considering. But if you anticipate needing to grant access to your credit data soon — for instance, you're applying for a new account, job or apartment — a fraud alert may be a better option.
Credit freezes have to be set up individually with each credit bureau: Equifax, Experian and TransUnion. Lifting freezes also has to be done individually.
» MORE: Monitor your credit score for free while your report is frozen
All three bureaus allow you to do this online, by mail or by phone. Here's a step-by-step guide for freezing credit with TransUnion:
TransUnion credit freeze online
If you do not already have a TransUnion account, you will have to establish one in order to freeze your TransUnion credit online. However, you do not have to have a TransUnion account to place a security freeze by mail or by phone.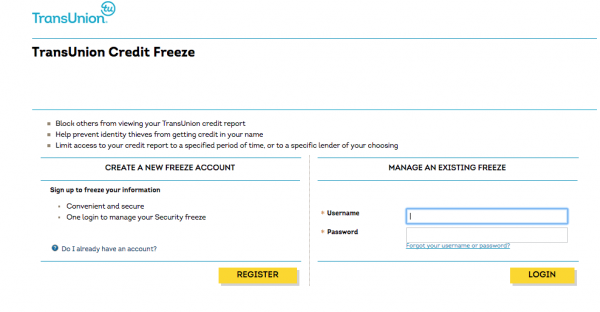 To open an account, or to freeze, you will be required to provide your name, Social Security number, address and birthdate.
You will then be asked some identification questions, such as street numbers for past addresses, when credit accounts were established or approximate payment amounts on loans. The site checks your age and state, and whether you are a victim of identity theft, then generates the cost of the freeze for you. Freezes will become free on Sept. 21, to comply with federal law.
To open an account, or to freeze, you will be required to provide your name, Social Security number, address and birthdate.
Important: While there are many monitoring products that can be purchased on the site, be careful to sign up for only the freeze, if that is what you want. You should see the words "security freeze" in the upper left.
Once you pay the fee, if required, you can place the freeze and choose a PIN. If you do not choose a PIN, you will be assigned one.
You will need the PIN to unfreeze your credit file if you want someone to be able to access your credit data, say, for a loan decision.
If you are concerned about possible child identity theft, you'll use a different form to start an investigation by TransUnion. If you end up needing to freeze your child's credit, that has to be done by mail because of the documents required. TransUnion details the procedure and necessary documents here.
TransUnion credit freeze by postal mail
To freeze your credit by mail, send your request to TransUnion LLC, P.O. Box 2000, Chester, PA 19016. You will need to include your legal name, address, birthdate and Social Security number, along with copies of documents verifying your identification and address, such as driver's license, passport, utility bills, etc.
Freezing TransUnion credit by mail is the only choice that does not allow you the option of choosing a PIN.
You'll also need to include payment. You can check online to see what a freeze will cost, and whether you could provide supporting documents to get a free freeze. The cost can vary by age, geographic location and whether you have been a victim of identity theft. Payment can be made via check, money order or credit card.
TransUnion notes that mail is the slowest way to freeze credit. It also is the only one that does not allow you the option of choosing a PIN. Once a freeze is in place, you will get a randomly generated PIN in the mail.
TransUnion credit freeze by phone
Consumers may also initiate a freeze by calling 888-909-8872. You can complete the process using an automated system or opt to speak with an agent. Basic information — full name, any suffixes such a Jr., address, birthdate and Social Security number — will be required, and you may have to answer authentication questions as well. Payment, if a fee is due, can be made during the call.
Consumers who opt for the automated system will get a randomly generated PIN, but those who speak with a live agent will be able to choose, a TransUnion representative said.
Hang on to your PIN
Knowing — or knowing where to find — your PIN is key to being able to lift a freeze. Keep it in a secure spot that you can remember. If you find yourself wanting to apply for credit, or for a job or an apartment that requires a credit check, you'll need the PIN to lift your TransUnion freeze.
Credit freezes must be lifted individually with each bureau, and there may be a cost. If you're making a single credit application — say, getting preapproved for a car loan or an apartment — you may be able to find out which credit bureau's data is used and unfreeze just that one.