Fidelity Go, the robo-advisor from online broker Fidelity Investments, brings a different pricing model to the market, charging an all-in fee that includes investment expenses.
New this year, the company recently revealed an all-in fee structure for both taxable and tax-advantaged accounts: an annual advisory fee of 0.35% of the value of your account. Fidelity Go uses index funds, primarily its own, to build portfolios that a human investment management team monitors and rebalances. The advisor also dropped its minimum for opening its account to $0, with a balance of $10 necessary to begin investing.

---

Quick Facts
Management fee: 0.35%, includes investment expenses.
Account minimum: $0 to open, $10 to start investing.
Fidelity Go is best for:
Current Fidelity customers
Hands-off investors
Low-cost investment management
Human oversight
Fidelity Go at a glance
Overall



Account minimum
$0 to open, $10 to start investing
Account management fee
0.35% for retirement accounts; up to 0.40% for taxable accounts. Includes investment expense ratios
Investment expense ratios
Included in all-in fee
Account fees (annual, transfer, closing)
None
Portfolio mix
Portfolios can be built from more than 10 investments, primarily Fidelity Flex index funds
Accounts supported
• Individual and joint non-retirement accounts
• Roth, traditional and rollover IRAs
• No 401(k) management
Tax strategy
Not offered
Automatic rebalancing
Free on all accounts; rebalancing is done by investment managers rather than automatically
Customer support
Phone support and live chat Monday - Friday 8 a.m. to 8 p.m. Eastern
Promotion
None
Where Fidelity Go shines
Low cost: A Fidelity Go account will cost 0.35% for retirement and taxable accounts, which primarily consist of Fidelity Flex funds. These proprietary mutual funds generally hold domestic stocks, foreign stocks, bonds or short-term investments and they have zero expense ratios.
This change means Fidelity is one of the first online advisors to offer its service for an all-in fee. You know exactly what you're paying when you sign up for this service. (It's fair to assume many people sign up for a robo-advisor not realizing they'll be paying investment expenses in addition to the advertised management fees.) 

That said, some customers could incur additional expenses associated with a particular fund in the short-term portion of their holdings (if it has a more traditional expense structure), though such expenses can be offset by a variable fee credit.
Fidelity integration: Fidelity Go customers are integrated in the company's existing retail managed business, which holds more than $2.2 trillion in managed assets. Customers who already have an IRA or taxable account with Fidelity can easily take advantage of the company's robo offering. Fidelity Go is not available for 401(k)s held at the company, though you can roll over your old 401(k) into a Fidelity Go account.
Online advisory clients also get access to Fidelity's financial planning tools and apps, as well as the company's customer support and educational resources, both of which are strong. And investors can fund their accounts with the 2% cash-back rewards earned from the Fidelity Rewards Visa Signature card.
Human management: It's common among this new crop of broker-launched online advisors to pair computer algorithms with dedicated financial advisors. Fidelity Go takes a different approach: The day‐to‐day investment and trading decisions for your portfolios are handled by a team of humans from Geode Capital Management, an institutional investment advisor. The advisors also rebalance portfolios when a customer's portfolio moves outside of the asset allocation or risk tolerance preferences they specified.
That oversight makes Fidelity Go a good choice for those who are reluctant to hand off all of the control to a robot — though it's worth noting that those advisors aren't there to answer your phone calls. Fidelity Go has live chat phone support staffed by customer service representatives who have professional licenses in the financial industry.
Like other advisors, Fidelity Go uses a questionnaire, designed to gauge risk tolerance, goals and financial standing, and computer algorithms to match investors to a portfolio.  Before signing up, users get a portfolio recommendation and an estimated future value of that portfolio, based on information about planned monthly contributions submitted in the questionnaire.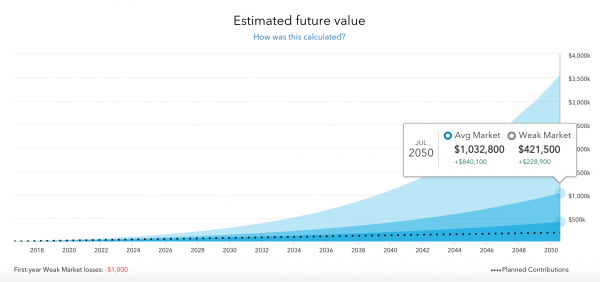 Account minimum: Fidelity recently slashed its account minimum from $5,000 to $10 to begin investing (and $0 to open an account). That makes it incredibly competitive, on par with top picks Betterment and Wealthfront, which require no initial investment. But Fidelity Go's minimum is lower than some other big players: Vanguard Personal Advisor Services requires $50,000 and Schwab Intelligent Advisory has a $25,000 minimum.
Where Fidelity Go falls short
Tax strategy: There isn't one, essentially. The company doesn't offer tax-loss harvesting, one of the features that makes robo-advisors stand out for taxable accounts. Fidelity does use its proprietary mutual funds and tax-advantaged municipal bond funds in taxable accounts, which can help minimize your taxes.
Cash funding only: The company doesn't allow transfers of securities in kind, even by existing Fidelity customers who already hold the funds used in Fidelity Go's portfolios. You must sell all securities before enrolling in the service.
How Fidelity Go stacks up
Is Fidelity Go right for you?
If you've been wanting to test the robo-advisor waters but you feel more comfortable with an established broker, Fidelity Go has a lot to offer. The fees are competitive, and the portfolios are well-diversified and closely monitored by real live humans. There's also a low account minimum to help you get in the door, especially compared with other broker-owned online advisors.
Investors with taxable accounts, however, will miss the tax-loss harvesting offered by other robo-advisors. Also, we wish Fidelity Go would make it easier to transfer securities — or at least facilitate the sale of them before transfer, as E-Trade Adaptive Portfolio does — especially from existing Fidelity accounts.