About 1 in 7 Americans who have investment accounts (15%) use a robo-advisor — an automated investing service that uses computer algorithms to build and manage clients' investment portfolios — to manage their investment accounts, according to a new NerdWallet survey. Still, given the option, 84% of Americans would rather work with a human financial advisor to invest their money.
A human financial advisor is a good option for some investors, particularly those with $250,000 or more in assets who want full-service financial planning instead of investment management only. But for those who have less than $250,000 in assets and want a cost-effective, easy-to-use alternative, a robo-advisor may be the way to go.
Here are four reasons a robo-advisor could be worth consideration to help manage your investments.
1. Robo-advisors are affordable
More than half of Americans who use a robo-advisor to manage their investment accounts (56%) do so because it's cost-effective. Many robo-advisors charge a small management fee — often a percentage of your portfolio from 0% to 0.5% or a flat annual or monthly fee. This is likely a lot less than human financial advisors charge, which could be about 1% of your assets per year, sometimes higher for smaller accounts.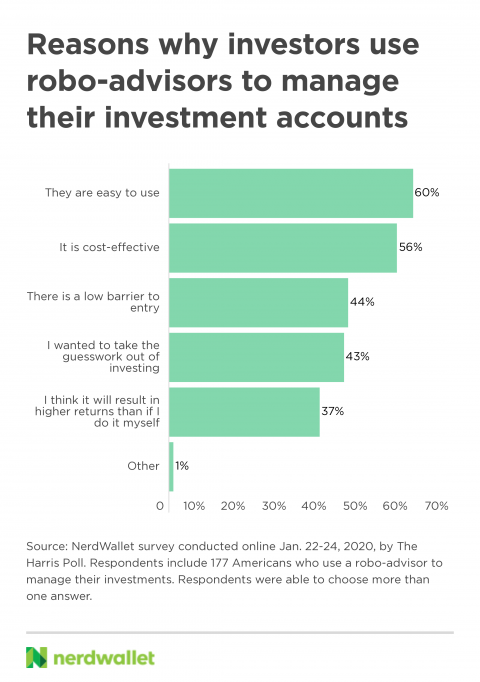 2. Robo-advisors don't require a lot of money to get started
Over 2 in 5 Americans who use a robo-advisor to manage their investments (44%) say it's because there's a low barrier to entry.
Human financial advisors often want to take on clients with a certain amount of assets, but robo-advisors are more accessible. Many robo-advisors have $0 account minimums, but some companies require hundreds or thousands of dollars to start.  And investing even small amounts of money can pay off over time.
Let's say you open an investment account with an initial deposit of $100, then save $100 a month, earning a 6% return. In 30 years, your earnings would be more than $65,000, simply because the money was invested.
3. Robo-advisors are easy to use, freeing up time and brainpower
The No. 1 reason those who use a robo-advisor to manage their investment accounts (60%) do so is because they're easy to use. Generally, robo-advisors invest in low-cost funds and choose the allocation — the amount invested in stocks versus bonds, for example — based on your financial goals, how long you have to reach those goals and how comfortable you are with risk. This means that investors don't have to stress about picking good stocks or meeting with an advisor — they can just set up auto-deposit and let it accumulate.
Ease of use and low costs could help explain why parents are more likely to use robo-advisors — 23% of parents of children under 18 use one vs. 9% of those without kids under 18 — as time and money are two things that many parents have in short supply. Of those Americans who don't use a robo-advisor, parents of children under 18 are also more likely to be open to it than those who aren't parents of children under 18: 61% vs. 36%, respectively.
4. Robo-advisors offer useful perks
Many robo-advisors offer benefits such as tax-loss harvesting, a strategy that helps offset taxable investment gains, and automatic rebalancing, which ensures that the mix of investments in your portfolio continues to match your goals and risk tolerance. They may also help you identify your goals and investment strategies that fit your needs, and some might even give you access to a human financial advisor for one-off questions. You can learn more about which robo-advisors offer these perks with NerdWallet's guide to the best robo-advisors.