What Is a Brokerage Account and How Do I Open One?
A brokerage account is an investment account you open with a brokerage firm. You can use it to buy investments.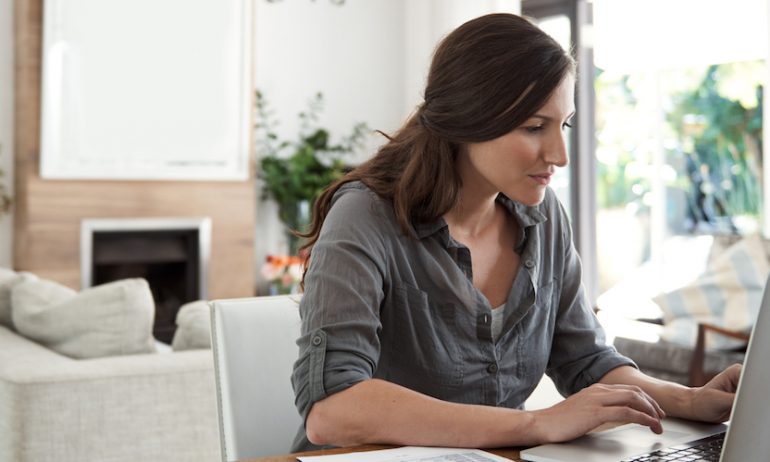 At NerdWallet, we strive to help you make financial decisions with confidence. To do this, many or all of the products featured here are from our partners. However, this doesn't influence our evaluations. Our opinions are our own.
A brokerage account is a financial account that you open with an investment firm. Unlike a bank account, you can use a brokerage account to purchase investments, including stocks. If you want to invest in the stock market, you need a brokerage account.
There are a range of licensed brokerage firms — from pricier full-service stockbrokers to low-fee online discount brokers — where individuals can set up a brokerage account. We'll go through the details of what a brokerage account is, how it works, and how to open one.
What is a brokerage account?
A brokerage account is a specific type of account that allows you to purchase investments. You can open and fund a brokerage account with an investment company or brokerage firm, then use the money you've deposited to buy investments. (See our recommendations for brokerage firms.)
You own the money and investments in your brokerage account, and you can sell investments at any time. The broker holds your account and acts as an intermediary between you and the investments you want to purchase.
Brokerage accounts offer you access to a range of different investments, including stocks, bonds and mutual funds. Many brokers also offer more complex investments, like options, forex or futures, as well as safer investments like CDs and cash management accounts.
How do brokerage accounts work?
Many brokers allow you to open an account quickly online. You can fund the brokerage account by transferring money from your checking or savings account, a process that takes a few days to a week. You can also transfer money from one brokerage account to another if you decide to change brokerage firms.
You generally do not need a lot of money to open a brokerage account — many brokerage firms will allow you to open an account with no initial deposit. However, you will need to fund the account before purchasing investments.
There is no limit on the number of brokerage accounts you can have, or the amount of money you can deposit into a taxable brokerage account each year. There should be no fee to open a brokerage account.
Brokerage accounts vs. retirement accounts
A standard brokerage account is often called a taxable account, which means there are no tax advantages for investing through the account — in most cases, your investment earnings will be taxed. On the plus side, that means there are very few rules for these accounts: You can pull your money out at any time, for any reason, and invest as much as you'd like. (Here are our picks for the best brokerage accounts.)
But if you're investing for retirement, you'll want to open a retirement account rather than a taxable brokerage account. A retirement account, such as a Roth or traditional IRA, is a tax-advantaged investment account specifically designed for your retirement savings. Because of that, unlike taxable brokerage accounts, retirement accounts place restrictions around when and how you can withdraw the money, as well as how much you can contribute each year. (Here are our picks for the best IRA accounts.)
Note: You may already be investing for retirement through your employer — many companies offer an employer-sponsored plan like a 401(k) and match your contributions. You can still open an IRA, but we recommend contributing at least enough to your 401(k) to earn that match first.
How to choose a brokerage account provider
Once you've decided whether you want a retirement account or a taxable brokerage account, you'll want to choose an account provider. There are two main options that meet the needs of most investors: online brokers and robo-advisors. Both offer retirement accounts and taxable brokerage accounts.
If you want to purchase and manage your own investments, a brokerage account at an online broker is for you.
An investment account with an online brokerage company enables you to buy and sell investments through the broker's website. Discount brokers offer a range of investments, including stocks, mutual funds and bonds.
Managed brokerage account
A managed brokerage account comes with investment management, either from a human investment advisor or a robo-advisor. A robo-advisor provides a low-cost alternative to hiring a human investment manager: These companies use sophisticated computer algorithms to choose and manage your investments for you, based on your goals and investing timeline.
Robo-advisors are likely a good fit for you if you'd like to be largely hands-off when it comes to your investments. We have a full list of the best robo-advisors, but here is a comparison of our top picks:
How to open a brokerage account
Once you've opened the investment account, you'll need to initiate a deposit or funds transfer. The broker will walk you through the process. Once the transfer is complete and your brokerage account is funded, you can begin investing.
You might be asked if you want a cash account or a margin account. A margin account allows you to borrow money from the broker in order to make trades, but you'll pay interest and it's risky. Generally, it's best to stick with a cash account at first.
Given a long time horizon, money invested in the stock market can grow tenfold, compared to sitting in cash or a low-rate savings account where you run the risk of actually losing purchasing power to inflation.
But despite that, 39% of Americans say they aren't investing, according to a 2018 online survey commissioned by NerdWallet and conducted by The Harris Poll. Of them, 32% say they prefer to have money in cash versus investing because it's easier to access their money, and 28% say they prefer to hold cash because they don't know how to invest (that's where the aforementioned robo-advisors can come in handy). Another 28% think investing is too risky. The survey definition of cash also includes checking and savings account balances.
In reality, when you're investing for a long-term goal like retirement, not investing is risky — most people simply can't save enough to fund their retirement needs. Stock market returns pick up the slack.
According to NerdWallet's survey, Americans on average currently hold $32,286 in cash. (Worth noting: The median amount Americans have in cash is just $2,000, suggesting some wealthy savers are skewing the average figure.)
While everyone should have some emergency cash on hand, anyone who keeps excess cash is doing so at a cost. Our calculations show that over 30 years, every $10,000 kept in cash instead of investing amounts to roughly $44,000 in lost returns.
Curious what your excess cash is costing you? Run your own numbers with the calculator.
Methodology
This survey was conducted online within the United States by The Harris Poll on behalf of NerdWallet from June 14-18, 2018, among 2,024 U.S. adults ages 18 and older. This online survey is not based on a probability sample and therefore no estimate of theoretical sampling error can be calculated. For complete survey methodology, including weighting variables and subgroup sample sizes, please contact Julianne Rowe at [email protected]
Dive even deeper in Investing
We want to hear from you and encourage a lively discussion among our users. Please help us keep our site clean and safe by following our
posting guidelines
, and avoid disclosing personal or sensitive information such as bank account or phone numbers. Any comments posted under NerdWallet's official account are not reviewed or endorsed by representatives of financial institutions affiliated with the reviewed products, unless explicitly stated otherwise.