LOOKING FOR THE 2014 KMART AD? CHECK IT OUT HERE. FOR A FULL LIST OF BLACK FRIDAY AD SCANS, CHECK OUT NERDWALLET'S BLACK FRIDAY AD LEAKS PAGE.
NerdWallet continues to investigate the highs and lows of the Black Friday sales season with a look at Kmart's latest ad scan. Keep checking in for more leaked ads from the most popular stores!
Kmart Black Friday 2013
The Kmart Black Friday 2013 ad leak is in! They've not only released a 12-page Thanksgiving Day ad, but they've also provided 68 pages worth of deals for their customers. Contrary to popular rumors, the store will not be open for 41 straight hours. Their sales will last from Thursday until Saturday, but they'll be punctuated by 2 and 3 hour breaks. Scroll down for details on store hours and the best Kmart Black Friday deals of 2013.
See all current Kmart coupons and deals
Earlier News
Kmart jumped on the Grey Thursday bandwagon last year, but this year it's challenging the rest of the Black Friday competition by staying open a solid 41 hours! The retail giant announced that it will be opening its doors on Thursday morning at 6 a.m. and will remain open until 11 p.m. on Black Friday. Stay tuned for more Kmart Black Friday 2013 updates.
Kmart Black Friday Ad Scans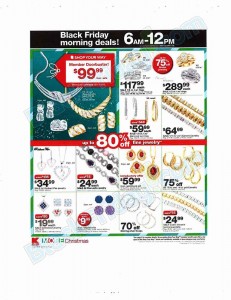 Kmart Thanksgiving Ad Scans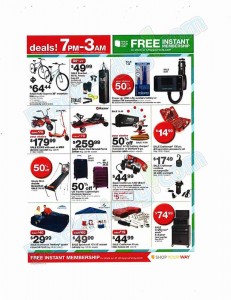 Kmart Best Black Friday Deals 2013
Kmart's best Black Friday deals of 2013 include:
Thanksgiving Day:
Seiki 50″ Class LED 1080p HDTV: $399.99
Xbox 360 4GB w/Kinect: $199.99
Mongoose Booster or Slyde 20″ BMX Bikes: $74.99
Dora Cooking Adventure: $49.99
7″ Android Tablet: $39.99
Sesame St. LOL Elmo: $19.99
Disney Princesses Doll Assortment: $6
Barbie Mermaid, Princess, and Fashionista: $5
All Fisher-Price Little People: Buy one, get one free
All Board Games: Buy one, get one free
All fine jewelry: up to 80% off
Holiday Editions costume jewelry: 60% off
Holiday Decor: 50% off
Kenmore Upright Vacs: $59.99
Polaroid iF045 Dual-View Digital Camera: 49.99
Black Friday deals:
RCA 60″ Class LED 1080p 120Hz HDTV: $799.99
RCA 46″ Class LED 1080 HDTV: $399.99
Seiki 32″ Class LED HDTV: $169
Craftsman 5-drawer tool center: $84.99
Craftsman C3 19.2-volt drill/driver: $49.99
All fine jewelry: up to 80% off
All bridal jewelry: up to 75% off
Boxed costume jewelry: 50% off
Jewelry wall-storage unit w/8-photo collage or Meg jewelry armoire: $39.99
All footwear: BOGO free
Attention hooded pea coats: $24
All Attention, Route 66, Jaclyn Smith, and Basic Editions women's apparel: 40% off
Men's and women's sleepwear: BOGO free
Kids' and baby apparel: 40% off
Kids' and baby sleepwear: BOGO free
 Furby Boom: $29.99
Big Hugs Elmo: $49.99
All Cars, Planes, & Toy Story toys: BOGO 50% off
Fisher Price Laugh and Learn toys: BOGO free
Holiday decor & trees: 50% off
Best Kmart Black Friday Deals from 2012
Kmart knows a thing or two about cultivating enthusiasm for their Black Friday Event. At 47 pages, the store's 2012 ad seemed to have something for absolutely everyone, with doorbusting bargains on TVs, bed and bath products, clothing basics and toys. The fine jewelry selection was small, but the discounts were noteworthy at up to 80% off. Ultimately the TV selection stood out for its variety, while shoppers looking to stock up on cookware were likely disappointed.
For a store that doesn't focus solely on electronics, Kmart offered a terrific selection of discounted TVs for almost every price range:
55" LG LED: $899.99
50" LG Plasma: $549.99
40" Samsung LED: $429.99
40" Toshiba LCD: $379.99
51" Samsung Plasma: $479.99
32" Toshiba LCD: $249.99
42" RCA LCD: $239.99
22" Seiki LED: $139.99
The toy selection was also both extensive and deeply discounted:
Singer Zig Zag sewing maching: $10.99 (50% off)
Graco doll playset: $22.99 ($10 off)
Baby Alive Dressed for School: $21.99 ($8 off)
Lalaloopsy Doll Assortment: $16.99 ($8 off)
Plus, for $10 each, shoppers could choose any of the following products:
Barbie Sisters Sleep Out
Barbie doll and couch
Barbie Princess stylin' head
Disney Princess 3-pack ballerina dolls
Disney Princess favorite moments 4-pack
Kitchenware didn't fare quite as well. Among the meager selection of less astoundingly priced items were a wire-rack baker or condiment server for $4 off, and a Kenmore bread maker or George Foreman grill for $39.99. A basic Black & Decker hand mixer, iron, coffee maker and Hamilton Beach slow cooker were each available for $9.99, a nice price for some stocking stuffers. And at $19.99, the 16-piece Basic Essentials cookware set (orig. 49.99) was a solid deal.
The store opened its doors at 8pm on Thanksgiving until 3am Friday morning, reopening two hours later to frenzied crowds across the country.
How excited were customers about this sale? Oh, pretty excited. Just ask the man who threatened to stab fellow shoppers as the line to enter the store became increasingly unruly. Or the man who left his girlfriend's two-year-old son in his car while he shopped for a giant TV, then snagged a ride home from a friend, leaving his car in the freezing parking lot with the child still inside. To Kmart's credit, it was their employees who found the boy and brought him to a hospital.
Last year's Black Friday sale was obviously hotly anticipated – here's hoping this year's event is defined more by the markdowns than the madness.
For more of the best Black Friday deals on everyday essentials, don't forget to check out our ad scans for Walmart and Target.
Kmart Black Friday Store hours
Kmart plans to begin its Black Friday store hours at 6 a.m. Thanksgiving Day, and they'll stay open until 5 p.m. The store will reopen from 7 p.m. on Thursday until 3 a.m. the following day. Then doorbuster deals will continue from 6 a.m. on Friday until noon. For details on on other stores' opening hours, be sure to check out NerdWallet's Black Friday Store Hours page!
Kmart store from Shutterstock