Strollers are one of the most important purchases you'll make for your child.
The one you pick needs to be comfortable and safe for baby, yet easy for you to maneuver and store. And there are other factors to consider: How heavy is it? Do you need it to hold a car seat? Do you need a double (or triple)? What kind of terrain will you be navigating?
If you're looking for a stroller that will give your baby a smooth ride, no matter what kind of road you're strolling on, the BOB Revolution SE is a solid choice.
But the ride isn't the stroller's only plus. Read on to find out if the BOB Revolution SE suits your needs.
Design
The BOB Revolution SE is built for all-terrain strolling and jogging. It has two large rear tires and a swiveling front wheel, so it's easy to maneuver. It also has a state-of-the-art suspension system so baby gets a smooth ride, and an adjustable canopy keeps him or her protected from the elements. If you want to snap in a BOB car seat, an adapter is available separately.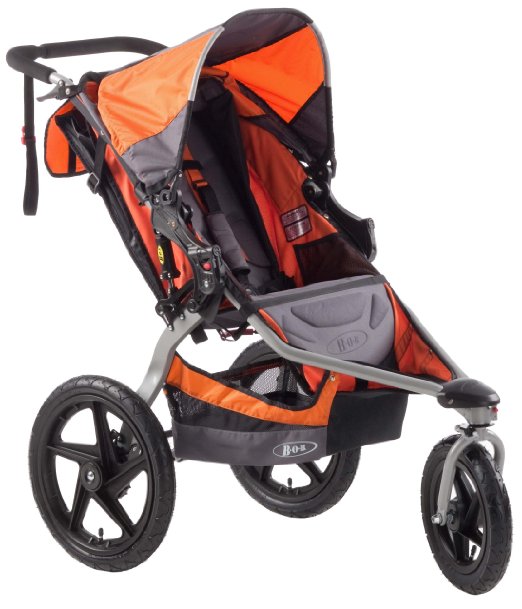 Padded handlebars make the stroller comfortable to push, and a safety strap keeps you securely connected to your little one, even during a downhill sprint. You can easily adjust the tracking of the front wheel in case you find the stroller veering off course. And when you're ready to park the stroller for a while, just hit the hand brake.
Though it's listed for $459.99, the Bob Revolution SE is available for less at a variety of retailers, including Amazon.
» MORE: BOB Motion vs. BOB Revolution SE
The reviews
To see how the BOB Revolution SE stacks up against other strollers, we evaluated expert opinions from well-known review sites, such as The Sweethome and Good Housekeeping. Next, we analyzed user reviews and broke the critiques down, scoring them from 1 (worst) to 10 (best).
Based on our analysis, the Bob Revolution SE scored a respectable 8.4 overall, which made it eighth out of nine in our ranking of best jogging strollers. Users love the smooth ride, but were less enthused by the fact that accessories have to be purchased separately. It got a 10 for its noise level, but just a 1.7 for customer service.
The pros
Users loved that the BOB Revolution SE's adjustable suspension system gives babies a smooth and quiet ride, whether walking or jogging and regardless of terrain. The expansive canopy keeps kids safe from harmful UV rays and dry if it rains, and its clear vinyl window lets parents keep an eye on their progeny.
Safety is obviously very important, and parents felt reassured by the BOB Revolution SE's five-point safety harness, easy-to-employ brake, and wrist strap.
Anyone who's ever had to wrangle a toddler knows how crucial it is that a stroller open and fold easily. The Revolution SE scored high in this department, with users lauding its one-hand open and two-step, quick-fold action.
» MORE: BOB Revolution SE vs. Baby Jogger City Mini GT
The cons
While the BOB Revolution SE opens and folds easily, at 25 pounds, it's also a bit heavy. And some users found it bulky, even when folded. This makes squeezing it into compact car trunks difficult.
Users were also frustrated by the lack of cup holders and other accessories, as well as the relatively small and inaccessible storage basket. And when users needed to report problems or get replacement parts, they complained that customer service had limited hours and wasn't very helpful.
The verdict
If you're a fitness-minded parent looking for a stroller that will give your child a comfortable, smooth ride whether you're out for a walk or run, the BOB Revolution SE is a good option.
If you're looking for something a little lighter, try the easy-to-fold Baby Trend Expedition Jogger. And if you're looking for something with more storage space, consider the Joovy Zoom 360.
More from NerdWallet
The best jogging strollers
4 things you should know before buying a stroller
The best travel system strollers
---
Top image via BOB.