NerdWallet Special Report
It's the 'Wild West Out There'
By Kevin Voigt
October 13, 2016
The merchant cash advance industry runs largely unregulated. People who take out these high-interest loans often put their livelihood and business at risk as they struggle to keep up with the payments.
As Cory Elliott's business boomed, her debt spiral began.
After a successful career in health care facility management, the St. Louis mother of four jumped into entrepreneurship at age 40 to start her own construction business. The risky move paid off: Last year, her 17-employee company, CMT Roofing, landed a marquee project that opened the door for expansion.
But Elliott needed financing to grow the company. Ten banks turned her away. "Because our business was a newer business, I was having trouble getting a loan and a line of credit that I really needed to fund the operations and the growth of the company," the 44-year-old says. "I had explored every option I could think of."
She hired a financial consultant, who suggested an alternative: a merchant cash advance. It was a terrible mistake, Elliott says. Six months later, she was paying over $14,000 a month to service debt of $130,000, which included the first merchant cash advance and a second one to cover debt payments as well as payroll at her company.
And there are plenty of merchant cash advance companies looking to connect her with more money. She receives calls every day — a nuisance and a nagging reminder of the debt hanging over her head. "It is very distracting," Elliott says.
As part of the larger alternative lending industry, merchant cash advances are marketed as a way to help small businesses invest in their future. But, like Elliott, some small-business owners say this cash brought them to the brink of ruin.
Unlike bank loans, cash advances are the financing company's purchase of future sales. While bank loan applications require mountains of paperwork and weeks of effort for an uncertain result, a merchant cash advance can provide money within days — even for businesses with poor credit or a short track record, and collateral and personal guarantees aren't required.
In this report, NerdWallet found that many small-business owners who turn to merchant cash advances don't understand the negative impact this quick form of funding can have on their cash flow. Comparison shopping among merchant cash advance offers is difficult, since terms can vary widely, and lending practices banned by regulators for other types of financing — including hidden fees and not disclosing the annual percentage rate — are rife.
I'm not dumb. I felt so taken advantage of.

Cory Elliott,

Owner, CMT Roofing

How merchant cash advances started
The merchant cash advance industry was pioneered by a Connecticut woman who owned children's play centers.
Read the story here.
As options dried up, industry boomed
The merchant cash advance industry has boomed in recent years as traditional small-business bank loans have shriveled. Some critics worry the growth is being fueled by financing companies with lax credit standards and brokers motivated by quick profits over the long-term financial health of their clients.
NerdWallet interviewed small-business owners, nonprofit lenders, merchant cash advance providers and brokers across the country to understand this form of financing.
Elliott's cash advances were handled by her financial consultant, and she discovered too late that the interest rate was 41% annually. Meanwhile, she says her financial consultant got hundreds of dollars for brokering the financing.
"I'm not dumb," Elliott says. "I felt so taken advantage of."
When Elliott got a merchant cash advance, she entered lawless lands for consumer protection, small-business advocates say. Alternative lenders, including merchant cash advance providers, often aren't required to disclose interest rates, total fees or terms commonplace in other forms of lending. As a purchase of a business's future sales for a lump sum of money, merchant cash advances fall outside lending laws.
"It's the Wild West out there," says John Arensmeyer, CEO of the Small Business Majority, a national advocacy organization.
A rush of merchant cash advance providers has jumped into the business over the past decade, growing from a handful of players to hundreds of companies, industry watchers say.
Billions in cash to businesses since 1998
Business appears to be booming: CAN Capital, which pioneered the merchant cash advance trade when it started in 1998, has delivered $6 billion in small-business financing — with $1 billion in the past year alone, according to the company.
Yellowstone Capital, a merchant cash advance company that launched in New York seven years ago, started with six employees who "barely had enough pocket change to get on the subway," Isaac Stern, the CEO of its parent company Fundry, says in a video. In 2015, the company surpassed $1 billion in funded loans, ending the year with $420 million in new loans on its books.
Merchant cash advance providers say they are champions of the nation's small businesses, the primary engine of U.S. job creation. Small businesses employ nearly half of all Americans and create 60% of all new jobs, according to government data.
"It's really more like a mini venture capital investment in a Main Street business," says Parris Sanz, chief legal officer at CAN Capital.
It's really more like a mini venture capital investment in a Main Street business.

Parris Sanz,

Chief legal officer at CAN Capital
A March report by the Federal Reserve found that 7% of small-business owners in a 26-state region applied for a merchant cash advance last year. In Florida, for example, that figure is nearly 1 in 5 (18%) small businesses. Over 7 in 10 (71%) business owners were approved for a merchant cash advance, according to the survey.
Unlike other forms of financing, merchant cash advances require daily or weekly remittances — a repayment schedule that can feel like the O.K. Corral for cash flow, some business owners tell NerdWallet.
"It was like these vultures kind of picking at you," says Len Rogers, owner of the Electric Bicycle Super Store in San Francisco, who received two merchant cash advances that totaled $72,000 with interest and made weekly repayments of nearly $1,800. "They were just getting their beakful of meat every week."
» MORE: Find a better alternative to a merchant cash advance
There are growing calls that the merchant cash advance industry, and online small-business lending as a whole, needs a sheriff. Across the country, nonprofit organizations that help small businesses refinance debt have seen a wave of entrepreneurs like Elliott and Rogers come in for help after getting merchant cash advances, which can have triple-digit annual percentage rates (the true cost of a loan including all fees) as high as 350%, according to several studies.
"We see echoes of the early days of the subprime mortgage boom, in which rapidly growing nonbank mortgage lenders innovated in the worst possible way: by loosening credit standards, layering significant and multiple forms of risk, and causing financial harm to borrowers who could ill afford to repay the loans," Gerron Levi, director of policy at microlender National Community Reinvestment Coalition, said at a U.S. House subcommittee hearing in July.
Later this year, lawmakers in Illinois may tackle these concerns when they consider the nation's strictest rules on merchant cash advances and other online lending. Small-business advocates say the legislation could be a model as other state and federal regulators seek to rein in a fast-growing industry that has almost no oversight and draws comparisons to predatory payday consumer loans.
Merchant cash advance industry officials argue that the proposed bill is overkill, aimed at a small number of bad actors.
"This is a lot of election year noise," says David Goldin, president of merchant cash advance trade group Small Business Finance Association and CEO of Capify, which provides such financing. "Without access to these products and this capital, I think you're going to see a lot of businesses go under, a lot of jobs lost and families affected."
Meanwhile, federal regulators are getting into the arena, with the Consumer Financial Protection Bureau and the Treasury Department taking a hard look at online small-business lending in recent months.
Entrepreneurs left out in the cold
After Elliott started her roofing business in 2012, she discovered the hard way that one vital part of the economy had not recovered after the financial crisis: government-backed bank lending to small businesses.
Community banks, the traditional centers of lending to small businesses, have seen their share of U.S. banking assets drop 50% in the past two decades, according to a 2015 Harvard study. That decline accelerated in the aftermath of the Great Recession, with the market share of banks with assets of $1 billion or less falling nearly 20% since 2010, the study shows.
Traditional banks favor big loans to established businesses. Entrepreneurs seeking loans or lines of credit under $1 million are often left out in the cold. "I was told by one bank I'd have a better chance getting a $2 million loan than a $200,000 loan," Elliott says.
Stepping into that void was the merchant cash advance providers and their nonbanking brethren, online small-business lenders. Armed with algorithmic risk models and lower overhead costs than brick-and-mortar banks, online lenders have become the go-to source for small-business cash of $150,000 or less, clearing an estimated $12 billion in financing last year, a twelvefold increase from 2010, according to a report by nonprofit small-business lender Opportunity Fund.
By comparison, bank loans of $150,000 or less backed by the U.S. Small Business Administration — the gold standard for small-business lending — have inched up from $1.5 billion in 2010 to just over $2 billion last year.
CAN Capital, originator of the merchant cash advance, was virtually alone until its patent for the technology to split up credit card sales and receive a portion of each sale was overturned in 2007. The opening of the merchant cash advance industry coincided with the entry of others in small-business lending — Lending Club in 2006, OnDeck in 2007 and Kabbage in 2009. While some industries were crippled by the financial crisis, the alternative lending space exploded.
But online lending is expensive money. Although SBA-backed bank loans have APRs below 10%, online small-business finance offerings have an average APR of about 50%, according to a NerdWallet analysis. And merchant cash advances are the costliest of all, with APRs ranging from 36% to 350%, according to a study by the Woodstock Institute, a Chicago-based research group that promotes fair lending.
The merchant cash advance industry revolutionized small-business financing by seeing future credit card or debit sales as a product that could be sold at a deep discount — like a car valued at $50,000 and purchased for $35,000. The financing company gives a entrepreneur $35,000 upfront; in return, the small-business owner agrees to pay back the full $50,000 within months.
In the beginning of the merchant cash advance industry, a business owner agreed to daily or weekly repayments based on credit or debit card sales. So if a pizza shop got a cash advance to pay for a new oven, a percentage of every slice, salad and soda purchased on a payment card went directly to the financing company until the full amount was paid off. Repayment schedules ebbed and flowed with business. In other words, if the business made more, it paid more; but if sales were down, the payment dropped, too.
Now, the majority of merchant cash advance transactions are set up on Automated Clearing House payments — direct, fixed daily debits from an entrepreneur's bank account, says Sean Murray, a former merchant cash advance broker who founded the trade magazine deBanked.
Businesses that have direct bank transfers are struggling to repay merchant cash advances because payments don't fluctuate as a percentage of credit or debit card sales, says Gwendy Brown, vice president for research and policy for Opportunity Fund in San Francisco.
"There's no wiggle room — if sales are slow, you still pay the same amount," she says.
The so-called ACH merchant cash advances opened the door for providers to market to small businesses that didn't see strong credit or debit card sales, including Elliott's roofing and construction business.
Businesses with cash advance debt woes "were a trickle" two years ago, but now account for 10% of businesses looking to refinance with Accion Chicago, says Jonathan Brereton, CEO of the nonprofit lender.
Providers are 'taking a risk others won't'
Some details on the merchant cash advance industry are murky. Because the cash isn't technically a loan, state and federal banking regulators don't collect data. The industry is dominated by private companies that aren't required to report their financial statements, adding to the guesswork about the size and scope of the financing.
Industry officials estimate merchant cash advances generate from $5 billion to $10 billion in loans a year, with default rates that run from 5% to 15%. The default rate of SBA-backed loans is estimated at 2%, according to the Coleman Report, published by an industry research firm focused on SBA lending. The SBA doesn't release default rates.
"It's very simple — the higher the price, the higher the default rate," says Goldin, the president of the merchant cash advance trade group. "Companies funding these are taking a risk that other lenders won't … but that comes at a premium."
Funding newer small businesses is especially risky since half of U.S. businesses fail in the first five years, according to SBA data.
"We only succeed if the small business succeeds, so we got really good at predicting the future risk," says Sanz, chief legal officer of CAN Capital. "We're buying these unborn receivables and bearing the risk that they ever come into being."
Unlike traditional lenders, merchant cash advance providers fund entrepreneurs with low credit scores.
"If you are an auto insurance company, who are you going to charge more," Goldin says, "a driver who has 20 years without an accident or a driver who in the past three years has had two accidents and a DUI?"
After Derrick Earls, a Chicago entrepreneur who operates a property maintenance company, applied for a traditional bank loan and was rejected, he was "bombarded" with material from merchant cash advance providers.
"It's like they smelled blood in the water," he says.
Once business owners get a merchant cash advance, more offers pour in. Elliott's phone buzzes daily with new deals. "I have asked numerous times to have my name taken off their list," she says. "I also block calls, only for the same companies to use different phone numbers to call me."
Elliott will probably never get her name off "their list," because it's widely available for those who know where to look.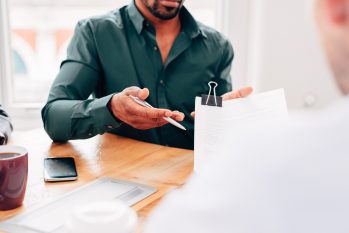 Brokers connect clients to cash
Merchant cash advances are a form of online lending, but much of the selling of these products happens offline by brokers who call and visit clients. Read the story here.
Debt stackers and brokers
The merchant cash advance industry can be broken down into three groups: funders, the companies that provide the cash; brokers, those who match products with potential customers; and lead generators, those who find and sell the names of potential customers to brokers and funders.
When Elliott took on her first merchant cash advance, the transaction was filed as a public record in her state's Uniform Commercial Code. Lead generators comb the filings to find people who already have a merchant cash advance to target them for a second one. This is known as "stacking" debts, or taking on additional financing to pay for previously borrowed cash.
Customer leads generated by the public filings are sold to brokers for about 33 cents each, says Murray, the editor of deBanked.
"But if it's a hot lead — somebody who fits the [lending] criteria, has never had an MCA or business loan before … that may be worth $200 to $300," he says, using the shorthand for merchant cash advances. "When people wonder why certain products like MCAs are expensive, just think that it could have cost $1,000 to $2,000, or perhaps even more, just to acquire that one customer."
Brokers, who range from individuals working at home to teams of independent sales organizations, match potential clients with cash providers. The brokers work for commissions from future financial products that their leads may buy, but they usually don't service the loan.
"There is no licensing required so becoming a broker is as easy as imagining that you are one," Murray wrote in a deBanked article.
Most merchant cash advance contracts prohibit customers from taking on additional financing — unless, as in Elliott's case, it's through the original provider. But in practice, lead generators and brokers can perpetuate a debt-stacking cycle. An Opportunity Fund study in California found 1 in 4 businesses with cash advance debt problems had multiple loans.
"Once you get one, it's easier to get a second and a third one," says Will Davis, CEO of Able Lending, an online lender that helps merchant cash advance borrowers refinance.
Taking out more high-interest, short-term loans to pay off previous loans is a primary reason the merchant cash advance trade draws comparisons to consumer payday loans. Those high-interest, short-term loans have trapped many consumers, often minorities and low-income Americans, in deep debt spirals.
That comparison falls flat with merchant cash advance providers. In testimony before a U.S. House subcommittee in July, CAN Capital's Sanz urged Congress to resist calls to regulate small-business lending in the same way consumer loans are regulated.
"Business loans involve risks that are materially different and substantially greater than consumer loans," he told the subcommittee.
Instead of a consumer who seeks a loan for debt consolidation or to purchase a house or car, Sanz said small businesses help the economy in more significant ways by getting loans "to buy new equipment and inventory, to upgrade facilities and expand, and to market themselves."
Crafting the toughest law in the nation
Earlier this year, legislators in Illinois began working on the nation's strictest law for alternative lending to small businesses. The bill is being crafted at the request of the city treasurer in Chicago after microlenders there reported a spike in small businesses with merchant cash advance debt problems.
"Today in Illinois, a company selling time-shares for $100 a month is required to have more clearly articulated loan terms in their contracts than an online lender would for a $200,000 business loan," Chicago's treasurer, Kurt Summers Jr., said in testimony before the state Senate in April.
"Many of the so-called four Ds of predation — deception, debt traps, debt spirals and discrimination — stem from a lack of transparency," Summers said.
The problem was especially apparent for business owners such as Elliott, whose company was named "Minority-Owned Small Business of the Year" in 2014 by Small Business Week Eastern Missouri.
The Opportunity Fund report of 104 California businesses in debt trouble found that Hispanic-owned businesses paid on average $4 in merchant cash advance debt for every $1 earned, compared with the average debt payment of $1.79 for every $1 earned for all businesses in the study.
The Illinois legislation would require lenders to clearly list all loan terms such as APR, a figure that includes all interest and fees. The bill would also require online lenders and merchant cash advance providers to be licensed by the state, prohibit misleading advertising and mandatory ACH bank transfer repayments, and limit late-payment fees.
Merchant cash advance advocates say the proposed law would decimate small-business lending in the state. They point out that opponents of the legislation include state manufacturing, retail and banking trade groups.
"This would put Illinois businesses at a huge disadvantage," says Goldin, the merchant cash advance industry advocate. He also says the push to include APR is impossible because the loan period isn't for a fixed term. "It doesn't make any sense."
Today in Illinois, a company selling time-shares for $100 a month is required to have more clearly articulated loan terms in their contracts than an online lender would for a $200,000 business loan.

Kurt Summers Jr.,

Chicago's treasurer
Industry push for regulation
Others disagree. Indeed, there's been a push within the online lending industry to take action before federal and state regulators intercede. Three of the biggest players in the small-business online financing industry — OnDeck, Kabbage and CAN Capital — announced in May the formation of a group to standardize disclosure requirements, including APR, to help consumers compare costs among products. The initiative, known as SMART (Straightforward Metrics Around Rate and Total Cost) Box, is expected to go online by the end of 2016, Sanz says.
For the first time, CAN Capital will include estimated APRs for its merchant cash advance products via SMART Box, Sanz says, but such disclosures are voluntary for each company.
"It's a watch and wait approach," the Small Business Finance Association's Goldin says of SMART Box. "We are waiting to see what the final product looks like."
Some financing companies are also trying to distance themselves from unscrupulous lead generators and brokers, which connect merchant cash advance providers and online small-business lending companies with potential clients. The number of independent brokers feeding OnDeck's loan origination was nearly 46% in 2013, but that figure dropped to just over 20% last year, according to the company's 2015 annual report.
Even though it was first in the merchant cash advance industry, CAN Capital has diversified into bank-held loans, "which today comprise more than 80% of our business," the company says.
Square Capital, despite lending over $400 million in merchant cash advances to small businesses last year, announced in a recent financial report that it was transitioning away from merchant cash advances and into loans.
Still, action by the federal government appears to be on the horizon. The Consumer Financial Protection Bureau recently hired an assistant director of small-business lending markets and is expected to begin requiring online lenders to report data — such as access to credit for businesses owned by women and minorities — within the year. In May, a Treasury Department white paper raised concerns and called for vigilance in online lending.
The issue has also come to the attention of Democratic presidential candidate Hillary Clinton. A statement on her website said that her administration would help small businesses "harness the potential of online lending platforms and work to safeguard against unfair and deceptive lending practices."
The bill in Illinois is modeled after the Small Business Borrowers Bill of Rights, a pledge by a group of online lenders and small-business advocates to improve transparency.
"We think the innovations in online lending are vital to expand small-business credit, and we're interested in seeing responsible areas of the business moving forward," Arensmeyer says. The CEO of the Small Business Majority is one of the authors of the bill of rights.
One of the keys for transparency is to provide the ability of entrepreneurs to make apples-to-apples comparisons when choosing a merchant cash advance, Arensmeyer says.
"Merchant cash advances are probably the fastest-growing area" of nonbank lending, he says. "It's become a very quick way for businesses to get funding. The obvious problem is it's risky and the actual cost is not properly disclosed."
SMART Box initiative
OnDeck, Kabbage and CAN Capital — three of the biggest players in the small-business online financing industry — recently formed a group to standardize disclosure requirements, including APR, to help consumers compare costs among products.
The initiative, known as SMART (Straightforward Metrics Around Rate and Total Cost) Box, is expected to go online by the end of 2016.
Some small-business owners would do it again
Despite the risks that come with merchant cash advances, some entrepreneurs tell NerdWallet that they would do it again.
"If I don't get that loan, my business doesn't stay open," says Earls, the Chicago property manager, who has received two cash advances in the past two years.
Not Elliott.
Her credit problems made her question her decision to start a business. But Elliott recently got a debt consolidation loan from a commercial bank, paying off all but $25,000 of her merchant cash advance debt. Now, her company is back on an upswing.
Her merchant cash advance provider, Snap Advances, didn't return calls from NerdWallet. But as of late August, company representatives were still sending emails to Elliott, suggesting that she get a third cash advance.
"Never, never again," she says.
NerdWallet staff writers Benjamin Pimentel, Jackie Zimmermann and Steve Nicastro and data analyst Jonathan Todd contributed to this report.
Kevin Voigt is a staff writer at NerdWallet, a personal finance website. Email: [email protected]. Twitter: @kevinvoigt.