Advertiser Disclosure
T-Mobile Prepaid Cell Phone Plans
T-Mobile has an unlimited data prepaid plan, a more conventional plan with two different sizes of data allotment, and an attractive pay-as-you-go plan.
---

AT A Glance
Notables: Unlimited music streaming on some plans; unlimited data prepaid plan with 3G hot spot ability
T-Mobile prepaid plans
T-Mobile One Prepaid
With the prepaid version of T-Mobile's unlimited data plan, you get unlimited talk, text and data for $75 per month.
You also get unlimited mobile hot spot usage at 3G speeds, plus unlimited plan usage in Mexico and Canada.
Streaming video is restricted to standard definition (480p) unless you buy a high definition day pass for $3.
Simply Prepaid
These plans include unlimited minutes and text messages, as well as unlimited music streaming from select services. International service is not included in these plans, but you can add voice and data coverage in Canada and Mexico for $5 per month. And for $15 per month, you can call or text to other countries from the U.S., Canada and Mexico.
Pay As You Go
This plan doesn't include data, but the feature can be added to smartphones. High-speed data packages are $5 per day for 500 megabytes or $10 per week for 1GB. Calls and texts beyond the 30 included in the plan cost 10 cents each.
$3 per month for any combination of 30 minutes and texts, sent or received
T-Mobile's prepaid network
T-Mobile prepaid customers use the same wireless network as those who opt for a traditional plan. Coverage on the carrier's Simple Choice prepaid plans mirrors that of its regular plans, with parts of Mexico and Canada included in the coverage area. T-Mobile's other prepaid plans include coverage only in the United States.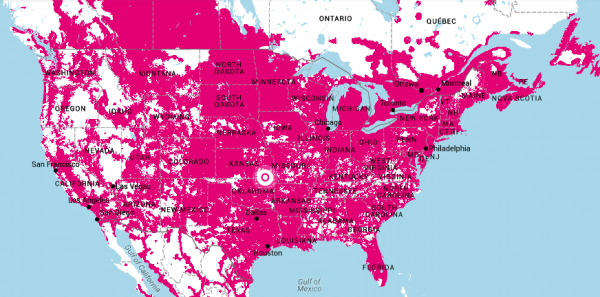 Click the map to check coverage in your area.
» MORE: How much data do you really need?
How T-Mobile's Simply Prepaid plan compares on price
Call T-Mobile's customer service at (855) 253-0992.
Kelsey Sheehy is a staff writer at NerdWallet, a personal finance website. Email: ksheehy@nerdwallet.com. Twitter: @KelseyLSheehy.
Updated June 27, 2017.