T-Mobile has an unlimited data prepaid plan, a more conventional plan with two different sizes of data allotment, and an attractive pay-as-you-go plan.
---

AT A Glance
Notables: Unlimited music streaming on some plans; unlimited data prepaid plan with 3G hot spot ability
T-Mobile prepaid plans
T-Mobile One Prepaid
With the prepaid version of T-Mobile's unlimited data plan, you get unlimited talk, text and data for $70 per month.
You also get unlimited mobile hot spot usage at 3G speeds, plus 5GB of high-speed data to use in Mexico and Canada.
Streaming video is restricted to standard definition (480p) unless you buy a high definition day pass for $3.
T-Mobile Essentials PREPAID
This pared-down unlimited plan includes unlimited talk, text, data and mobile hot spot —similar to T-Mobile One Prepaid — but does not include high-speed data in Mexico or Canada. T-Mobile Essentials is $60 per month.
Do you know where your money is going?
NerdWallet tracks your spending and spots ways to save – for free.
Simply Prepaid
These plans include unlimited minutes and text messages, as well as unlimited music streaming from select services. International service is not included in these plans, but you can add voice and data coverage in Canada and Mexico for $5 per month. And for $15 per month, you can call or text to other countries from the U.S., Canada and Mexico.
Tourist plan
T-Mobile now offers a short-term plan for people visiting the United States. The prepaid plan includes 1,000 minutes, unlimited text messaging and 2GB of high-speed data. The plan is good for 21 days and can't be refilled or extended.
Pay As You Go
This plan doesn't include data, but the feature can be added to smartphones. High-speed data packages are $5 per day for 500 megabytes or $10 per week for 1GB. Calls and texts beyond the 30 included in the plan cost 10 cents each.
$3 per month for any combination of 30 minutes and texts, sent or received
T-Mobile's prepaid network
T-Mobile prepaid customers use the same wireless network as those who opt for a traditional plan. Coverage on the carrier's Simple Choice prepaid plans mirrors that of its regular plans, with parts of Mexico and Canada included in the coverage area. T-Mobile's other prepaid plans include coverage only in the United States.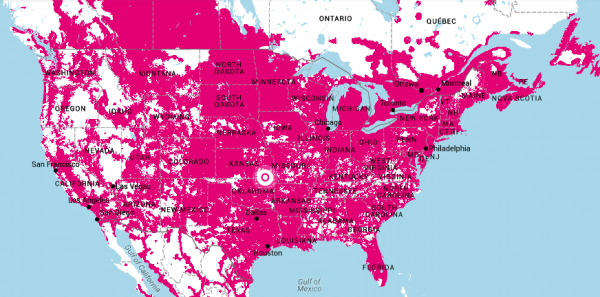 Click the map to check coverage in your area.
» MORE: How much data do you really need?
How T-Mobile's Simply Prepaid plan compares on price
1GB or less
2-4GB
5-7GB
8-10GB
Unlimited
*Project Fi customers pay $20 for unlimited talk and text. Data is billed at a rate of $10 per gigabyte.
**Republic Wireless customers pay $15 for unlimited talk and text. Data is billed at a rate of $5 per gigabyte.
AT&T GoPhone

$35 (1GB)
$50 (8GB)
$65
Boost Mobile

$35 (3GB)
$50
Cricket Wireless

$25 (talk and text only)

$30 (2GB)
$40 (5GB)
$55
MetroPCS

$30 (2GB)
$40 (10GB)
$50
Project Fi*

$20 (talk, text and Wi-Fi)

$30 (1GB)
$40 (2GB)

$50 (3GB)

$60 (4GB)
$70 (5GB)

$80 (6GB+)

$80
Republic Wireless**

$15 (talk, text and Wi-Fi)

$20 (1GB)
$25 (2GB)

$30 (3GB)

$35 (4GB)
$40 (5GB)

$45 (6GB)

$50 (7GB)
$55 (8GB)

$60 (9GB)

$65 (10GB)
N/A

Sprint prepaid
$45 (4GB)
$65
Straight Talk Wireless
$30 (1,500 minutes, unlimited texts and 100MB data)
$35 (2GB)
$45 (10GB)
$55
T-Mobile prepaid

$45 (4GB)
$50 (10GB)
$60
Verizon prepaid

$30 (500MB)
$40 (3GB)
$50 (8GB)
$70
Virgin Mobile

$35 (5GB)
$45 (10GB)
$60
A good friend alerts you to major changes. Become a NerdWallet member for free today and we'll notify you if your monthly bills increase.