Have you ever been shopping online and been concerned about handing over your credit card information to a particular merchant? If so, a virtual credit card — essentially a disposable credit card number — may provide the extra layer of security you're looking for. Using a virtual credit card allows you to transact without providing your actual credit card number, so there's less risk of it falling into the wrong hands.
» MORE: How credit cards work in Canada
What is a virtual credit card?
A virtual credit card is not a physical object. Rather, it's a randomly generated card number that is tied to an existing payment account. Virtual credit cards are designed to be used when you're shopping online or over the phone.
» MORE: How to maximize your use of credit card points
How do virtual credit cards work?
Virtual credit cards are often issued for one-time use but some can be used multiple times. You may be able to add them to your digital wallet via Apple Pay, Google Pay or Samsung Pay, depending on what kind of smartphone you use.
You use a virtual card the same way you'd use a regular credit card when completing any card-not-present transaction: by entering the 16-digit number, the expiry date and the CVV number.
Virtual credit cards can't prevent fraud from happening, but someone does try to steal your information, they provide peace of mind in two important ways: the virtual card cannot be traced back to your original credit card number and you have the ability to cancel the virtual card immediately without closing your entire account.
» MORE: How credit card fraud happens and how to prevent it
Pros and Cons of virtual credit cards
Pros:
Additional security. Seventy-three percent of Canadians believe online shopping increases their exposure to fraud, according to a 2021 survey commissioned by Moneris, a credit and debit card payment processor. If you're among them, a virtual credit card could help you feel more confident when making digital transactions.
Easy to obtain. Depending on your credit card issuer and network, getting a virtual credit card may be as easy as simply asking for the temporary number to be generated. You may even be able to do this yourself, via your online account.
Customization options. Some issuers allow you to set a specific spending limit and expiration date for each virtual card. This could be especially helpful if you have one-off purchases planned in advance, or plan to shop online while traveling.
Cons:
Returns and refunds are complicated. If you return an item or otherwise need to be issued a refund for a purchase made using a virtual credit card, you might run into problems. Retailers often require that refunds be issued to the account used to make the purchase, but if your virtual card number is no longer valid, you might be forced to take store credit, or a similar alternative.
Not great for reservations. Booking a rental car or vacation stay online with a credit card is common, but in many cases the company or hotel will want to verify the physical card when you show up. Since the virtual card number won't match your physical card, even if the accounts are connected, it could result in complications.
Best Credit Cards in Canada
Compare all different credit cards side-by-side and find out the best card that will meet your need with special perks and benefits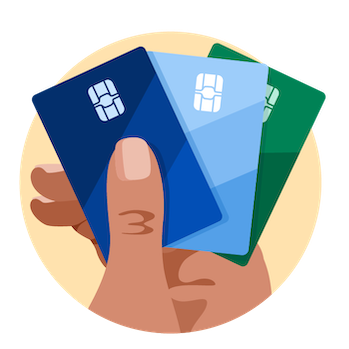 How to get a virtual credit card in Canada
If you'd like to use a virtual credit card for your next online purchase, check with the financial institution that issued your existing credit card or cards. Ask about options to general virtual card numbers, especially the ability to self-serve via your existing online account or mobile banking app.
If virtual cards aren't available through your current issuer, or you don't yet have a credit card, this is an important feature to consider when comparing the best credit cards in Canada. Issuers will often include details about virtual cards in their list of features and benefits. If not, contact them directly to inquire about it.
Some credit card networks, like Visa and Mastercard, and online-only financial companies, like KOHO and STACK, offer debit cards and prepaid cards with virtual functionality as well.
FAQs
Frequently Asked Questions
Who should get a virtual credit card?
If you make one-time purchases often or are just looking for a more anonymous way to shop online, a virtual credit card might be worth considering.
Are virtual credit cards legitimate?
Yes. Virtual credit card numbers are randomly generated by financial institutions and are often only valid for a short period of time. For those who shop online, they provide an extra layer of protection against fraud, such as in the event of a data breach or hack.
Where can I use a virtual credit card?
Virtual credit cards can be used in any card-not-present transaction, such as when buying something online, making a bill payment over the phone, or paying an invoice by mail.