Novo Review 2022: Small-Business Checking
Novo offers a free business checking account ideal for digital banking and integration with additional business tools.
Many or all of the products featured here are from our partners who compensate us. This influences which products we write about and where and how the product appears on a page. However, this does not influence our evaluations. Our opinions are our own. Here is a list of our partners and here's how we make money.
Our Take
The bottom line:
With no monthly fees, unlimited refunds for ATM charges and a focus on digital banking, Novo business checking is a great option for small-business owners on the go. But Novo cannot accommodate cash deposits, an essential feature for many businesses.
Pros & Cons
Pros
No monthly fees or minimum balance requirement.

Unlimited fee-free transactions, no ACH transfer fees and no incoming wire fees.

Refunds on all ATM fees worldwide.

Online banking with unlimited invoicing and bill pay, which includes the option to send paper checks for free.

Integration with top business tools like QuickBooks, Xero, Stripe and Shopify.

Access discounts on business software and services through your account.
Cons
Can't send domestic or international wires (international wires available via Wise integration, however.)

No recurring payments available with bill pay.

$27 fees for insufficient funds/uncollected funds returned.
Full Review
With no monthly fees, unlimited refunds for ATM charges and a focus on digital banking, Novo business checking is a great option for small-business owners on the go. Novo offers its own integrated invoicing tool as well as direct integration with top business tools, making it ideal for streamlining financial processes and managing multiple accounts in one place.
While Novo has a strong online focus, it cannot accommodate cash deposits, an essential feature for many businesses. Many competitors, on the other hand, offer the ability to deposit cash with an online-based business checking account.
Novo business checking is best for small-business owners who:
Prefer to manage their finances online and do not need to deposit cash on a regular basis.

Want to be able to use any ATM in the U.S. or internationally without worrying about fees.

Want to connect their business checking account to financial tools they already use.
Novo business checking at a glance
Minimum opening deposit requirement:
How Novo business checking works
Novo is a financial technology company that allows you to open a business checking account and manage your finances online. Novo is completely digital, with no physical branch locations, and deposit account services are provided by Middlesex Federal Savings, Novo's partner bank. Each account is insured by the Federal Deposit Insurance Corp. up to $250,000 through Middlesex Federal Savings.
How to apply: You can apply for Novo business checking by creating an account and submitting an application through the Novo website. To be eligible for a business checking account from Novo, you'll need to be at least 18 years old, a U.S. citizen or permanent resident and have a U.S.-based business.
Required information: You will need to provide information about yourself, your business and any additional business owners, as well as personal identification and legal business documents. You'll also need to provide a valid U.S. mailing address, Social Security number and mobile phone number.
Next steps: Once you've submitted your application, Novo will review it and reach out directly if it requires additional information or documentation. Generally, you'll receive a decision within two to three business days.
After you've been approved by Novo, you'll be able to fund your account, log in to online banking using the username and password you created during the application process and download the Novo mobile app for iOS or Android. You'll also be able to integrate your account with business tools you already use; Novo offers direct integrations with QuickBooks, Xero, Stripe, Wise, Shopify and Zapier.
If you opted to receive a Novo business debit card when completing your application, your card will be delivered to your designated mailing address. Although you can only have one debit card per user with the Novo business checking account, you can use the mobile app to ask to add multiple users to your account and then order debit cards for those users. Added users will have full account access, including the ability to transfer and withdraw funds.
Where Novo business checking stands out
Fee-free: Novo's business checking account has no monthly fees, no minimum balance requirements, no transaction fees and no incoming wire fees. In addition, there are no fees for incoming or outgoing ACH transfers, stop payments, debit card replacements or paper statements.
Novo business checking also includes free mobile check deposit, free bill pay with physical checks (which are mailed out from the mobile app) and free bank checks. The only instances in which you'll face fees with Novo are insufficient funds and uncollected funds returned, both of which will incur a $27 fee.
Free ATM access: Novo allows you to use any ATM in the U.S. or abroad, without charging you any fees. Additionally, Novo will reimburse all fees that you face from those banks for using their ATMs, depositing the refund directly into your account at the end of each month.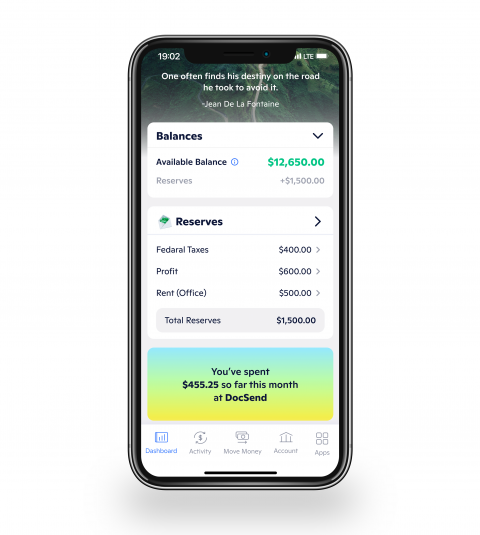 Online and mobile banking: Novo business checking is designed to make it easy for small-business owners to manage their finances regardless of location, focusing on mobile tools to avoid the hassle of visiting a physical bank. With the included online and mobile banking features, you can deposit checks, make payments, send money and even mail paper checks for payment.
In addition, you can perform transfers, track your account activity and contact Novo customer service for support. Plus, with the Novo Reserves budgeting tool, you can set aside funds within your checking account to budget for different types of expenses.
Invoicing: A particularly useful tool for freelancers and contractors, Novo's integrated invoicing feature allows you to create, send and manage an unlimited number of invoices directly within your checking account. You can accept payments by ACH transfer, or — if you're using the Novo Stripe integration — you can accept payments through your Stripe account.
Integrations with business tools: While some online business checking account competitors offer proprietary financial tools or add-ons, Novo stands out with the ability to seamlessly connect to popular tools many small-business owners already use.
Novo offers direct account integration with QuickBooks, Xero, Stripe, Shopify, Wise and Zapier. You can also connect your Novo business checking account to Square, PayPal and Wave, even though Novo doesn't currently offer direct integration with these tools. Additionally, you have the option to connect Novo to Venmo, as well as Apple or Google Pay.
Discounts on software and services: Through the Novo perks program, you can access discounts on certain business software and services with your checking account. Novo partners with providers including Stripe, QuickBooks, Gusto, Google, HubSpot and others to offer savings opportunities for account holders. For example, Novo account holders receive $20,000 in fee-free credit card processing with Stripe, as well as $150 in Snapchat ads credits.
Where Novo business checking falls short
Can't deposit cash: Novo business checking cannot accommodate traditional cash deposits. If you have cash that you'd like to deposit, instead of simply depositing it at an ATM, you'll have to purchase a money order and then use Novo's mobile check deposit feature to deposit the check into your account. Effective May 2022, Novo will automatically reimburse account holders for the cost of money orders at the end of each month, with no cap on how much the bank will reimburse.
Purchasing a money order at a post office or drug store may not be a deal-breaker if you make infrequent deposits, but businesses that deal primarily in cash should look for a business bank account that can accommodate frequent deposits. Many online business bank accounts offer the ability to deposit cash through their partner ATM networks.
No recurring payments with bill pay: Novo's business checking account does not offer recurring payments, a common feature included with online bill pay. You can save your payee's information within your Novo account for future payments, but you can't set payments to automatically send — meaning you'll need to actively monitor your bills and initiate payments before their due dates.
at Novo, Deposits are FDIC Insured
Methodology
NerdWallet's business checking reviews look at multiple factors, including monthly fee, APY, ATM access, transaction limits, cash deposit allowance, customer service, additional features and incidental fees, such as overdraft, NSF and stop payment charges.