Countingup Business Account Review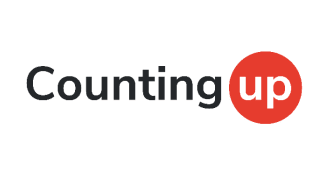 Countingup is an e-money solution for business banking. Their accounts are quick to set up with no credit checks. See below for details of Countingup business account features, or read on for a full review.
Countingup Business Account Review
Countingup offers business current account banking services with built-in accounting tools.
Through the app, you can carry out day-to-day banking transactions and manage your financial admin. This includes issuing and tracking customised invoices, expense management, instant payment notifications and tax estimates.
You can also share bookkeeping information with your accountant, which might make year-end easier for you both.
It's for sole traders, freelancers and small limited companies, and the monthly fee depends on your total monthly deposits and account activity.
We explain what a Countingup account offers and compare it with other digital challenger banks.
Pros and cons of Countingup
To help you decide if a Countingup account might suit your business, there are a few points to bear in mind.
Pros of Countingup business account
It's a quick application process and easy to set up the account.
Accounting software is built in and combined with a current account.
The first three months are free, though you may pay transaction fees for certain services.
You can share app access with your accountant.
You can make and receive international payments through Countingup's partner, CurrencyFair
You can pay in cash at the Post Office or at a PayPoint.
Cons of Countingup business account
It's an app-only account – there is no desktop version or physical branch.
Customer support is by email only.
There is no overdraft facility, as it's a prepaid account.
You can't issue or pay in cheques
You only get one Mastercard per account, even if there are two directors.
You can't integrate the account with accounting software you already use.
There are transaction and monthly subscription fees.
What plans does Countingup offer?
Countingup offers a monthly fee structure, rather than named plans. You will fall into one of three tariffs – £3 a month, £9 a month or £18 a month – depending on the amount of total monthly deposits your business makes. If your business has a quieter month, your monthly fee may be less than a busy period with lots of transactions.
Banking and accounting benefits are the same across the board, and there are charges for some transactions. In the first three months, there are no monthly subscription or transfer fees, though other transactions may be chargeable.
Some banking limits, such as the maximum account balance and daily cash withdrawal, depend on whether you are self-employed or a limited company.
What features does Countingup offer customers?
Countingup offers plenty of time-saving accounting tools for businesses, as well as day-to-day business banking services:
Integrated banking and accounting, so everything is in one place.
A bank account with a sort code and account number, and a contactless prepaid Mastercard, which works in a similar way to a debit card.
Payments are automatically categorised to help you review business performance.
You can create customised invoices, and receive instant notifications when payments are received. Payments are matched to invoices issued through the app.
Share access with your accountant, so they can see statements and receipts without you having to send them.
Get 'live' profit and loss calculations, based on what comes in and what goes out of the account.
See tax bill estimates, so you can set aside funds for the future.
Use receipt capture to organise and manage expenses digitally.
Use the app across more than one device, using another smartphone or a tablet.
Some activities, such as gambling, gaming and adult entertainment aren't allowed with a business current account.
How does Countingup compare to other digital banks?
Here's how Countingup compares to standard accounts from some other digital providers:
Tide

Starling

Cashplus

CountingUp

Mettle

Anna

Revolut

Card One Money

Acorn

Fair Everywhere

Monzo

FCA regulated

Yes
Yes
Yes
Yes
Yes
Yes
Yes
Yes
Yes
Yes
Yes

FSCS protection

Yes (with ClearBank)
Yes
Yes
No
No
No
No
No
No
No
Yes

Licensed bank

No
Yes
Yes
No
No
No
No
No
No
No
Yes

Free UK transfers

No (20p per transfer)
Yes

Yes (with limits)

No (30p per transfer)
Yes
Yes (with paid plans, limits apply)
Yes (with limits)
No
No
No
Yes

Cash deposits

Yes (for a fee)

Yes (0.7% fee, min £3)

Yes (0.5% fee)
Yes (for a fee)
Yes
Yes (1% fee may apply)
No
Yes (for a fee)
Yes (for a fee)
Yes
Yes (£1 fee)

Free ATM withdrawals

No (£1 fee)
Yes
No (fees apply)
No (£1 fee)
Yes
Yes (with paid plans, limits apply)
No (2% fee)
No (£1.50 fee)
No (£1.50 fee)
No (£1.50 fee)
Yes

Integration with accounting software

Yes
Yes
Yes
Yes (built-in)
Yes
Yes
Yes
Yes
No
Coming soon
Yes (with paid account)

International transfers

No
Yes
Inbound only
Yes (through a partner)
No
Yes (through a partner)
Yes
Yes
Yes
Yes
Outbound only

Create and send invoices

Yes (for a fee)

Yes

(for a fee)

No
Yes
Yes
Yes
Yes
No
No
No
Yes (with paid account)
Source: NerdWallet, November 2022
What do Countingup customer reviews say?
Countingup has some favourable ratings and reviews across popular review sites:
Trustpilot: 4.4 out of 5, based on over 2,100 reviews, with 81% rating it as '5-star'.
Apple Store: 4.7 out of 5, based on 2,300 reviews.
Google Play: 4.5 out of 5, based on over 1,000 reviews.
This information was correct on 2 December 2022.
Conclusion
Countingup offers a business banking service that is easy to set up and use, bundled with smart accounting tools to help streamline your business finances.
There are clear time-saving benefits to using one app for all your business banking and accounting activity, and shared access with your accountant is likely to be a bonus. The financial insights and instant notifications may prove useful for the one-person bands and businesses at the smaller end of the scale, which the account is designed for.
You will need to be comfortable with doing everything through the app. Other account providers may offer desktop access, phone and face-to-face support, along with an overdraft and cheque processing. So if you would find relying on emails for support frustrating and want these features, you may want to explore other options.
But if you're looking for an all-in-one financial tool, and don't already have accounting software in place, it may be the account for your business. Just factor in transaction and subscription fees, and what these costs are likely to add up to each month.
» COMPARE: Business bank accounts
FAQs
What is Countingup business banking?
Countingup is a business current account and accounting app that offers regular banking services along with financial insights and accounting tools.
The aim is to simplify financial admin for people who are self-employed and small-business owners by combining financial data and banking in one location.
Countingup, which was founded in 2017 by Tim Fouracre, former CEO of Clear Books, has more than 50,000 business customers.
No, Countingup isn't a bank and the account isn't a bank account. A Countingup business account is an e-money product provided by Prepay Technologies.
Is my money safe with Countingup?
As Countingup isn't a bank, you don't get the standard £85,000 protection with the Financial Services Compensation Scheme. However, Prepay Technologies, which provides the product, is authorised and regulated by the Financial Conduct Authority (FCA).
Instead, Countingup ring-fences your money in a separate safeguarding account, so it's not available to creditors, banks or third parties. This protects your money if Prepay Technologies becomes insolvent.
About the author:
Holly champions clear, jargon-free writing. She's been creating finance content for leading organisations for over 10 years. Read more
Kristina is a writer at NerdWallet. A recent graduate trading French for finance, she has experience creating content for student newspaper Cherwell and an edtech company. Read more
Services offered by this provider may change over time. Always check Ts&Cs.