What College Students Need to Know About Money
Many or all of the products featured here are from our partners who compensate us. This may influence which products we write about and where and how the product appears on a page. However, this does not influence our evaluations. Our opinions are our own. Here is a list of our partners and here's how we make money.
The financial life of a typical college student is rather simple, but unfortunately, many students still aren't equipped to handle money. They often arrive at college not knowing how to budget, how credit cards work or how to understand ATM and debit card fees. And while many students take out loans to attend school, they may not fully understand the implications.
In general, schools and parents tend to fall short in teaching students how to manage their money. That's too bad, because if students understand just a few basic personal finance concepts, they will be better off during their college years — and once they head out into the real world.
Here's a quick primer on the most important things for college students to know about their finances.
A college budget should be based on reasonable expenses. If you begin college life thinking and spending conservatively, a low-paying first job won't come as quite a shock.
To get started, estimate your monthly expenses (beyond room and board, assuming these are already covered). You can work with your parents to fine-tune this estimate if you aren't sure.
If you get an allowance or expense money from your parents, ask for it in regular installments, whether that's weekly, biweekly, monthly or per term or semester. Your budget should make the money last until the next payment. The major lesson here is that you have to spend wisely. Do not expect to your parents to provide "emergency" cash if you run out.
Periodically review your budget and spending habits with your parents.
Before you build a budget
Track all your spending at a glance to understand your trends and spot opportunities to save money.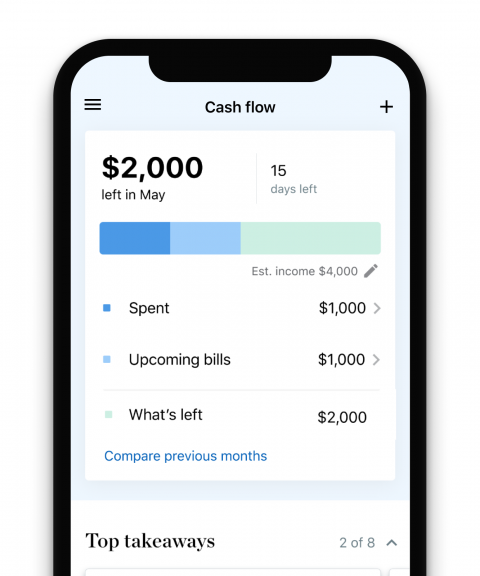 Credit cards are an incredibly useful tool — especially for building a positive credit history — but they can also be dangerous. The "hangover" that comes with paying for even a brief period of financial frivolity can last for many years.
Interest rates on credit cards, especially for college students and others with no credit history, tend to be very high, sometimes as much as 29% annually. At that rate, any unpaid debt would double in just three years. Pay off your balance in full each month, and you won't have to worry about interest at all.
New laws protect students by making it harder for credit card companies to target them. Nevertheless, if you're approved for a credit card as a student, use it wisely.
Withdrawing money from an ATM that isn't owned by your bank or in a network associated with your bank generally results in a surcharge of $2 to $3. When that's the case, the more withdrawals you make, the more you lose to fees.
If you must use an ATM that isn't affiliated with your bank, the best way to minimize fees is to make one large withdrawal rather than a series of small ones. If the fee is $3, for example, then taking out $100 all at once costs you $103, whereas taking out $20 at a time would cost a total of $115. A much cheaper (or even free) option is to request cash back from a debit card transaction at the supermarket.
When you set up a debit card, read the fine print carefully. Make sure to check the box that requires your bank to decline any charge that would leave you with a negative balance. Otherwise, you are telling the bank that it's OK for you to overdraw your account. When you overdraw, you are essentially getting a cash advance that could cost you as much as $50 per occurrence, regardless of the amount of the overdraft.
Going away to college may be the first time you live away from home. Once you're on your own, you are responsible for protecting important items and information. To protect your valuables, you must develop good and consistent habits to keep them safe.
You should know where your wallet, cash and credit cards are at all times. Never share your passwords to your computer or online accounts, and never share the personal identification number (PIN) for your ATM or debit cards. And when you choose a PIN, don't use obvious or easy-to-guess numbers like birthdates, anniversaries and the like.
For many students, loans are an important part of their education funding. There are two basic kinds of student loans: federal and private. Federal loans, which generally have lower interest rates and wider repayment options, are the better choice.
When used in moderation to pay for college-related costs, student loans can be invaluable. However, it's not unheard of for students to use student loan money for non-education-related spending. This isn't illegal, but it's a big mistake. The more debt you have to pay down, the more you will have to limit your spending in the future. Excess debt can affect your ability to qualify for a car loan or a mortgage. Ultimately, you don't want to make a habit of using credit to fund activities that you cannot afford today.
Furthermore, except in very rare cases, student loan debt can't be discharged through bankruptcy. Paychecks can and will be garnished until your loans, interest and associated fees or penalties have been satisfied. Any potential tax refund can also be seized to repay an outstanding balance. The bottom line is that student loan debt can hang over your head forever.
So as you start school this year, make sure you have the information you need to make sound financial decisions. If you can understand and abide by these basic principles now, you will develop good personal finance habits that will set you up for success in the long run.
---