SeedFi Credit Builder Loan Review: A Low- to No-Cost Way to Establish Credit
SeedFi's credit-builder loans have low or no fees and let borrowers pick a payment level.
Many or all of the products featured here are from our partners who compensate us. This may influence which products we write about and where and how the product appears on a page. However, this does not influence our evaluations. Our opinions are our own. Here is a list of our partners and here's how we make money.

Borrowing money is easiest if you already have a history with credit. Credit-builder loans, like those from online lender SeedFi, are designed to help people establish credit so that they are more likely to qualify for a credit card or loan later.
Credit-builder loans differ from other loans because you can get one without a credit history — but you don't receive the money upfront. Instead, the money is kept in a savings account and you get access after paying or ending the loan. These loans can be especially useful for credit newbies. SeedFi offers credit-builder loans in a majority of the states.
Other options for getting on the credit radar include:
Having someone with good credit add you to their card as an authorized user.

If you have money in a bank or credit union account, using that money on deposit as security for a loan. Having both a loan and a credit card in good standing can help build credit more quickly.
How SeedFi credit-builder loans work
SeedFi's Credit Builder Prime product puts a long-term savings spin on the traditional credit-builder loan. You sign up for a line of credit in your name and can choose a payment as low as $10 every other week (payments are timed to your paycheck or a cadence you choose). You don't get access to the line of credit right away; instead you make advance payments on the debt. Once your payments total $500, SeedFi moves the money to a savings account you can access. Credit Builder Prime is free — no fees or interest charged — so you get back all the money you put in.
What makes this plan different from others is its revolving credit structure. Unlike the typical installment loan, your Credit Builder Prime account remains open after the initial $500, and the cycle repeats. Keep your payments going and get access each time $500 is saved. SeedFi's co-founder and CEO, Jim McGinley, said the company introduced Credit Builder Prime to influence long-term financial health through savings, while also helping customers establish credit.
The company hopes the experience with this free service will help customers keep SeedFi in mind if they need other credit products down the road.
Credit Builder Installment Edition
If you're looking for a more straightforward credit-builder loan, SeedFi still offers its original installment plan, now called Credit Builder Installment Edition. With it you can only get a loan of $500 but can choose a payment of $10 to $40 per pay period. The length of the loan is fixed and dictated by the size and frequency of your payments.
Repayment periods are from seven months to 27 months, and SeedFi charges about a dollar a month. If you choose a $20 payment every two weeks, you would pay the loan off in about a year, spend $11.96 in fees and receive $500 at the end.
Compare SeedFi's credit-builder products
| | Credit Builder Installment Edition | |
| --- | --- | --- |
| | | Varies ($1,000 credit limit); money becomes accessible in $500 increments. |
| | 4.03% to 5.26% (in the form of a monthly $1 plan fee). | |
| | | Flexible, but you have to pay off your outstanding balance* (i.e., make a deposit) at least once in the first 3 months, and once every 6 months after that. |
| | As low as $10 per pay period. | As low as $10 per pay period. |
*The outstanding or ending balance is what you owe at the end of the billing cycle. If the billing cycle is monthly and you committed to pay $10 every two weeks, the outstanding balance is $20. Any payments skipped in a previous billing cycle will be added to your outstanding balance.
With Installment Edition, you can close the account when you've reached the score benefit you need and can qualify for credit on your own. The same goes for Credit Builder Prime, as long as you're caught up on payments.
Whether you pay the loan off entirely or choose to end it early, the savings account — at Cross River Bank — is yours. The account earns some interest like traditional savings, but at the time of this writing, the rate is significantly lower than the best savings accounts. You're free to transfer your account to a different bank or credit union, and it may behoove you to do so if you'd like to earn a little more on your money.
SeedFi is available in 36 states, plus Washington, D.C.
How SeedFi's credit-builder plans can help your credit score
Loan payments are reported to credit bureaus Equifax, Experian and TransUnion each month. On-time payments help build credit directly by beefing up your credit history. Once you've ended the loan, keeping the money in savings can help your score indirectly by providing a cushion so an unexpected expense doesn't lead to paying bills late.
If you're building credit from scratch, it's worth noting that just a couple of months of reported payments will get you a VantageScore, and in six months you should have a FICO score. You can check to see when the account appears on your credit reports by using AnnualCreditReport.com, which offers access to credit reports from all three credit bureaus.
Once you have a FICO score, it's smart to apply for a traditional unsecured credit card and pay it off in full every month. That will also help build your credit.
Most other credit-builder loans report both positive and negative credit information to credit bureaus. That means if you make a payment at least 30 days late, it will be reported to credit bureaus. That type of negative payment information can devastate your score.
SeedFi's website indicates that if you're having financial difficulties, it may be able to offer some flexibility. And with Credit Builder Installment Edition, there's a built-in safety net. Even if a customer doesn't reach out, SeedFi presumes financial distress and proactively closes the account at 29 days late, according to McGinley. The proactive closure avoids a negative account status being reported to the credit bureaus and hurting your score.
McGinley noted the proactive closure feature doesn't apply to Credit Builder Prime, which means SeedFi reports past-due payment data. "We believe that the more flexible structure [of Credit Builder Prime] enables customers to adjust their payment amount from period to period based on their financial situation," he explained via email.
In general, credit-builder loans can be closed early, and borrowers receive access to the part of the loan they've repaid. Closing the loan early is far better than missing a payment, possibly facing late fees and taking a hit on your credit when you were hoping the new account would help.
How to apply for a SeedFi credit-builder loan
Visit the SeedFi website to apply for either product. To be approved, you must:
Be at least 18 years old (19 in Alabama and Nebraska).

Be a resident of a state where SeedFi is licensed.

Earn an income of at least $10,000 a year, after taxes.

Have a bank account in the United States.

Provide your Social Security number or Individual Taxpayer Identification Number.

Provide a cell phone number that can receive text messages.
Know how your credit is scored
See your free score and the factors that influence it, plus insights into ways to keep building.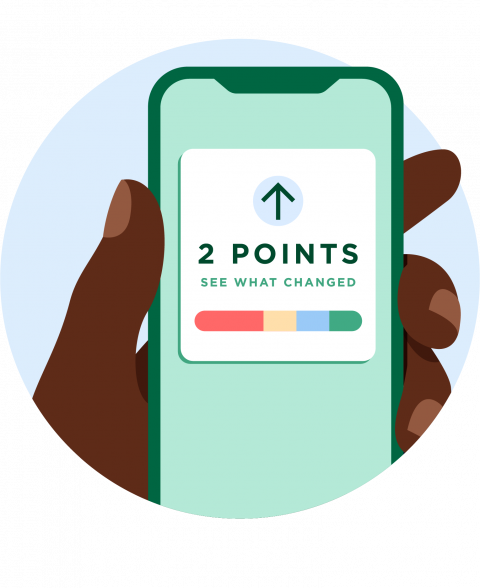 SeedFi offers a related Borrow & Grow plan
In addition to its credit-builder loans, SeedFi offers a Borrow & Grow personal loan that breaks up the amount borrowed: Some money is immediately available to you, and the remainder is placed in a locked savings account. When the loan is fully repaid, the savings account amount is unlocked.
McGinley said the amounts of money immediately available and saved till later can be adjusted according to customers' risk profiles and preferences. However, NerdWallet recommends saving separately from repaying a loan. Even if you're paying exactly the same amount per paycheck, dividing savings and debt repayment gives you more flexibility. You can skip a savings deposit in lean months, or in an emergency you can dip into savings to pay the loan on time.

Want nerdy knowledge that's personalized to your money? Bring all your money into one view, and get tailored insights to make the most of it. Learn more.