How Much Routine Car Maintenance Costs
Costs climb with your car's age, but basic maintenance services can start at a few hundred dollars a year.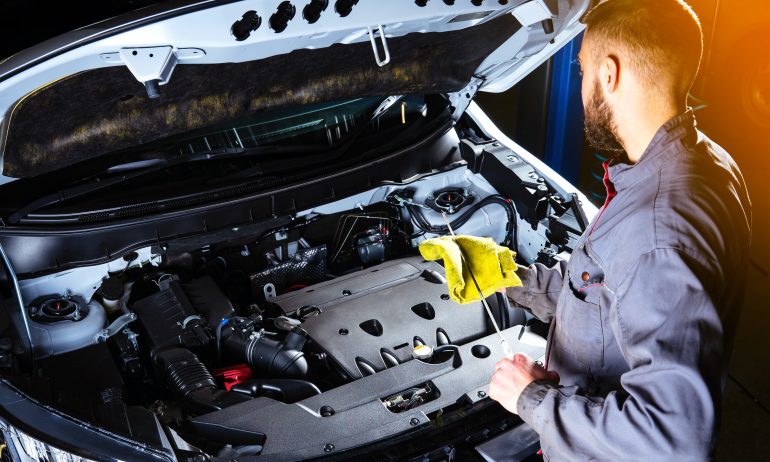 Many or all of the products featured here are from our partners who compensate us. This influences which products we write about and where and how the product appears on a page. However, this does not influence our evaluations. Our opinions are our own. Here is a list of our partners and here's how we make money.
Regular car maintenance keeps your engine running smoothly and prevents many serious problems. It's also relatively inexpensive compared with major repairs.
The routine maintenance your car will need — and its cost — depends on the vehicle and where you have the work performed. There are some services that almost all cars require periodically.
Basic maintenance is likely to cost you a few hundred dollars a year. Most cars will need more maintenance as they hit mileage milestones, which will increase the total cost of owning the car.
Here's a guide to the most common basic maintenance costs and how to prepare for them.
Basic car maintenance costs
The vehicle maintenance schedule in your car's owners manual will tell you what services it needs and when. Nearly every car requires a set of basic services at specific intervals.
Manufacturers often note that the intervals between these basic services need to be shortened if you often make trips of 5 miles or less, drive in extremely hot or cold temperatures or regularly drive in stop-and-go traffic, for example. In these cases, you might need to have the car serviced more frequently.
As cars age, they tend to develop different maintenance needs, which can be more expensive than in their earlier years. So be prepared to add different types of maintenance to the schedule as your car earns more miles.
The standard advice used to be to change your oil every three months or 3,000 miles. Most cars today can go much farther — often between 5,000 and 7,500 miles, and sometimes up to 10,000 miles — before needing an oil change. Check your car's owners manual for the manufacturer's recommendation. If you drive only a few thousand miles a year, you should have your oil changed at least every 12 months regardless of total mileage.
Some newer vehicles have oil-monitoring systems that alert you when it's time to change your oil. These systems often calculate when to perform an oil change based on driving conditions and habits.
Replacing your cabin air filter will cost between $25-$140.
The cabin air filter removes contaminants like dust, pollen and exhaust from the air before they reach the inside of your car. It also aids in circulating air through your air conditioning and heating systems to improve their performance. It's best to replace your cabin air filter every 15,000-25,000 miles or at least every 12 months. If you drive in areas with bad air quality, you might want to replace the filter more frequently.
Having your tires rotated tends to cost between $25-$120.
Rotating your tires allows them to wear more evenly, keeps an even level of tread on all of them and can even create less stress for other car components. You should rotate your tires every 5,000-8,000 miles — or every six months — which is why it's a good rule of thumb to rotate your tires with every oil change. But your manual will have the carmaker's recommendation.
A multipoint inspection can be free with other services or cost up to $250.
These vary in scope and price, depending on your mechanic. A multipoint inspection usually looks at your car from bumper to bumper — including the battery, filters, belts, hoses, fluids, tires, brakes, powertrain, and shocks and struts — to identify any maintenance or repair it might need.
It's a good idea to have a multipoint inspection of your vehicle every 5,000-7,000 miles.
Some mechanics will use a multipoint inspection to call out "necessary" maintenance that either isn't required or isn't yet due. If you think your mechanic is exaggerating how much maintenance you need after an inspection, do your research before agreeing to the work.
All car parts eventually wear down from regular driving. Some are meant to last longer than others, but it's likely that you'll need to replace some while you own the car.
The cost of tires can vary greatly, depending on the types of terrain you're driving on and the climate you drive in. A cheaper tire can cost around $50, while an expensive tire can cost over $1,000.
Windshield wiper blades can cost between $7-$90. The difference in price is usually a matter of quality.
Windshield wipers do the dirty work that you can't do while you drive, and ensuring they do their job properly makes for a safer drive.
How often you need to replace windshield wipers depends on the quality of your current wipers and the conditions in which you use them, but a good guideline is to replace windshield wiper blades every 12 months. They usually need to be replaced when the rubber is loose or cracked, they're leaving streaks on the glass or they're making an odd noise when in use.
Replacing your brake pads will cost you between $115-$270. The total cost depends on the brake pads you choose, your type of vehicle and your location.
Brake wear varies depending on your driving style and the terrain. If you're driving mostly on the highways with less stopping, you could get as much as 80,000 miles out of a set of brake pads. But with regular stop-and-go traffic, you're more likely to get around 35,000 miles out of them.
Routine maintenance cheat sheet
Every 5,000 to 7,000 miles or at least every 12 months.

Every 15,000 to 25,000 miles or at least every 12 months.

Every 5,000 to 8,000 miles or every six months.

Every 30,000-50,000 miles.

Recommended at every visit.

*Costs and timing based on estimates from automotive websites and experts.
Prepare for car maintenance
Get to know your car's needs
To find out exactly what maintenance your car needs, turn to the maintenance schedule in your owners manual. For example, a 2017 Subaru Outback has the following maintenance schedule for its first 30,000 miles or 30 months:
6,000 miles/6 months (Repeated every 6,000 miles)

Rotate and inspect tires.

12,000 miles/12 months (Repeated every 12 months)

6,000-mile standard maintenance.

Replace cabin air filter.

Inspect brake lines, brake systems and parking brake.

Inspect brake pads and discs.

Inspect front and rear axle boots and joints.

Inspect steering and suspension.

6,000-mile standard maintenance.

12,000-mile standard maintenance.

6,000-mile standard maintenance.

Replace cabin air filter.

Replace air cleaner element.

Replace brake fluid. Inspect drive belts.

Inspect fuel systems, lines and connections.

Inspect cooling system, hoses and connections.

Inspect transmission gear oil.

Inspect front and rear differential gear oil.

*Estimated costs are from Kelley Blue Book for maintenance performed in the Houston area as of October 2022.
Like with most cars, some maintenance repeats frequently, like an oil change every 6,000 miles and replacing the cabin air filter every 12,000 miles. However, some maintenance doesn't kick in until a car hits major milestones, such as inspecting key driving systems at the 30,000-mile mark.
The total cost of routine maintenance for the example above is estimated to be $658-$871 over the first 30,000 miles. This doesn't include any irregular maintenance like replacing tires or brake pads, which can add to the total cost.
Pay attention to how often you need certain maintenance
If your parts are lasting their expected lifespan, you're probably being mindful of your driving habits. But if you notice that you need some maintenance earlier than your schedule recommends, there could be two reasons for this.
If you're frequently replacing a part that's affected by your driving habits, like brake pads, you might need to reconsider how you're driving your car. For example, you can increase your stopping distance and come to a stop at a slower speed to reduce how quickly you wear out your brake pads.
2. Climate and environmental factors
You can't control some factors. For example, if your cabin air filter isn't lasting as long as you anticipated, that could be due to the air quality in your city or driving on a lot of dusty roads. In this case, you'll need to make a note in your maintenance schedule to replace your air filter more frequently than recommended by the manufacturer.
Staying on top of required maintenance and knowing your car's maintenance schedule will help you plan ahead for related expenses. You'll have time to research auto shops and get quotes for the work before you need to have it performed. This will allow you to be smart about where you have the work done and avoid sticker shock when you drop your car off for its next major maintenance checkup.
Want to refinance your auto loan? See if you pre-qualify.
Just answer a few questions to get personalized results from our lending partners.