What Types of Tires Should I Buy?
Tires offer a variety of features and performance ranges. Here's a guide to choosing the right tire for your car and budget.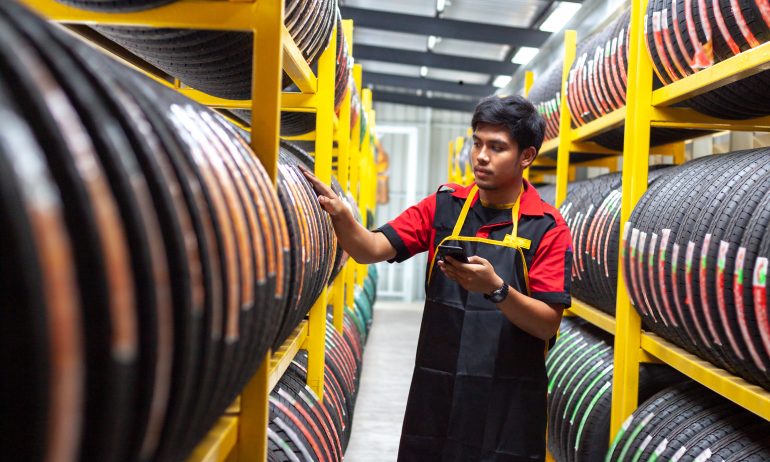 Many or all of the products featured here are from our partners who compensate us. This influences which products we write about and where and how the product appears on a page. However, this does not influence our evaluations. Our opinions are our own. Here is a list of our partners and here's how we make money.
As every 5-year-old child's drawing of a race car or fire truck shows, tires are a vital part of a vehicle's design. But not all tires provide the same experience.
"I think it's important that a consumer understands that tires are very different and they come with different levels of performance and different features and benefits," says Michiel Kramer, director of product marketing at Goodyear.
Tires are also a factor in the total cost of owning a car. While some drivers' primary focus is on price, the amount they pay for tires likely determines how their vehicle handles and drives in certain conditions. Some tires are designed to provide a smoother, more comfortable ride, while others will perform better in certain weather conditions.
"You'll have a variety of options there that deliver a certain level of value," says Kramer. "Knowing what you're after is key there."
Here is a breakdown of the types of tires that are readily available, their pros and cons and who is likely to benefit from each tire.
Tires for specific climates
All-season tires are the "just right" balance of tires — good all-around tires that do what you need regardless of the season without offering exceptional performance in any particular category. As a result, they are good options for drivers in moderate climates who rarely face extreme weather conditions.
Pros. They tend to offer better braking in dry conditions, have the best road noise reduction and provide decent comfort for drivers. Depending on where you live, you might be able to use these tires year-round.
Cons. Because they aren't designed for specific weather conditions, all-season tires only provide standard braking performance in snow or wet conditions. They also offer middle-of-the-road handling when compared with other tires.
Lifespan. All-season tires usually last around 50,000-85,000 miles.
Summer tires are designed for better performance in warmer weather by putting more of the tire in contact with the road and withstanding extreme heat. They are recommended for drivers who live in hotter climates and are unlikely to encounter lower temperatures.
Pros. Of weather-based tires, summer tires provide the best handling and dry braking. They also perform well in wet conditions and can help with hydroplaning.
Cons. With more tread touching the road, summer tires often make more noise than all-season tires. They provide the lowest comfort level and rolling resistance of weather-based tires and don't have good traction in snowy weather. Summer tires aren't recommended when temperatures drop below 40 degrees Fahrenheit.
Lifespan. Summer tires generally last around 20,000-40,000 miles.
Winter tires are designed for driving in temperatures below 40 degrees Fahrenheit and are recommended for drivers who live in colder climates and are likely to encounter snow, slush or ice.
Pros. Winter tires provide the best traction in snowy conditions and offer the best comfort of all weather-based tire options. In addition, the road noise is about the same as summer tires, with standard rolling resistance.
Cons. Because they are designed to allow snow to compact in the tread to improve traction, winter tires don't perform as well as the other tire types with dry and wet braking. They also tend to have the lowest handling performance. In addition, winter tires aren't recommended for use when temperatures exceed 40 degrees Fahrenheit.
Lifespan. Winter tires commonly last around 30,000-40,000 miles. Because winter tires are often swapped out for other types of tires in warmer months, driving on them all year when temperatures exceed 40 degrees Fahrenheit will lead to a shorter lifespan.
Tires for comfort and performance
Touring tires offer the benefits of all-season tires with better performance and a more comfortable drive. They're a step above the standard all-season tire. You'll want to try touring tires if you value comfort and a quiet ride.
Pros. Compared with a basic all-season tire, touring tires give you a more comfortable ride while reducing road noise. They're also better at handling and taking corners. However, touring tires still provide the same year-round traction and braking capabilities as regular all-season tires. In addition, touring tires can also lower gas mileage due to their wider tread.
Cons. Touring tires don't offer any additional performance in extreme hot or cold weather conditions despite creating a more comfortable and quieter ride. They also tend to be more expensive than standard all-season tires.
Lifespan. Touring tires generally last around 55,000-60,000 miles.
Performance tires offer better handling for taking tight corners and can reduce braking distance — the type of performance you want when driving sports cars and coupes.
Pros. Designed for fast turns and stopping quickly, performance tires will give you the handling you're looking for in a sports car.
Cons. Performance tires will get less gas mileage and offer a little less of a smooth ride than touring tires. General performance tires will work in damp or dry weather but won't provide good traction in wet and winter conditions. They also tend to be some of the most expensive tires.
Lifespan. Performance tires can last around 50,000 miles, but wear out much more quickly in certain conditions or if you drive a heavier vehicle with more power.
Tires for off-road driving
All-terrain tires offer a balance of on- and off-road performance — so you have a comfortable drive on the road and proper traction in off-road conditions. These tires are most common for SUVs and trucks and are recommended for drivers who switch between on-road and off-road conditions.
Pros. All-terrain tires provide traction for off-road conditions and allow for handling on paved roads. All-terrain tires can be used all year, and some all-terrain tires have a higher load-carrying capacity.
Cons. All-terrain tires tend to make more road noise and get lower gas mileage. They also can be prone to certain wear and tear more easily. And all-terrain tires aren't designed to handle extreme weather, so they won't provide any extra help on wet, icy or snowy roads.
Lifespan. They can have a shorter lifespan than other tires, but most will last around 40,000 miles.
Mud tires are the more specialized counterpart to all-terrain tires. Designed to remove mud from their tread as you drive, they can handle wet and dry mud more easily than all-terrain tires and are recommended for driving through such conditions.
Pros. Compared with all-terrain tires, mud tires tend to be quieter, have a bit better traction on paved roads and perform better in winter conditions.
Cons. Mud tires have lower fuel efficiency than other tires and are likely to wear out more quickly if you drive them often on pavement. They also are noisy, like all-terrain tires and don't provide extra traction in wet conditions.
Lifespan. If driven on surfaces covered in mud, dirt and rocks, mud tires can last 40,000 miles. But regularly driving them on pavement can wear them down more quickly.
Choosing the best tires for your car
When it's time to choose tires, safety matters just as much as price.
"There's only four pieces of rubber that touch the road and connect you to the vehicle and to the road," says Kramer. "The importance really is that tires are all about safety."
This means you'll need to do more research than simply comparing the price of tire brands. Here are a few things to consider when deciding which tires to purchase.
Original equipment or a new brand
If you like the feel and handling of the tires that came with your car from the manufacturer, also known as original equipment tires, rebuying them for your replacement tires is the easiest way to go. You'll know they'll fit your car. But if you want something that offers different features, you'll need to research the types of tires and brands that are a good option for your vehicle.
If you live in an extreme climate or regularly encounter wet driving conditions, you'll want to research whether a tire designed for particular weather will perform better. And if your area commonly changes to above, then below 40 degrees Fahrenheit seasonally, you'll need to consider if you want all-weather tires all year or want to switch between winter and summer tires.
If a lot of road noise and an uncomfortable drive are major annoyances, you'll need to bump up your budget a bit for a more comfortable tire, such as a touring option. On the other hand, if you want more comfort with higher performance in certain conditions, you can opt for a higher-priced weather or performance tire designed to give a smoother ride.
Want to refinance your auto loan? See if you pre-qualify.
Just answer a few questions to get personalized results from our lending partners.
Get more smart money moves – straight to your inbox
Sign up and we'll send you Nerdy articles about the money topics that matter most to you along with other ways to help you get more from your money.