Federal vs. Private Student Loans: What Are the Drawbacks?
Know the drawbacks to federal and private student loans before borrowing.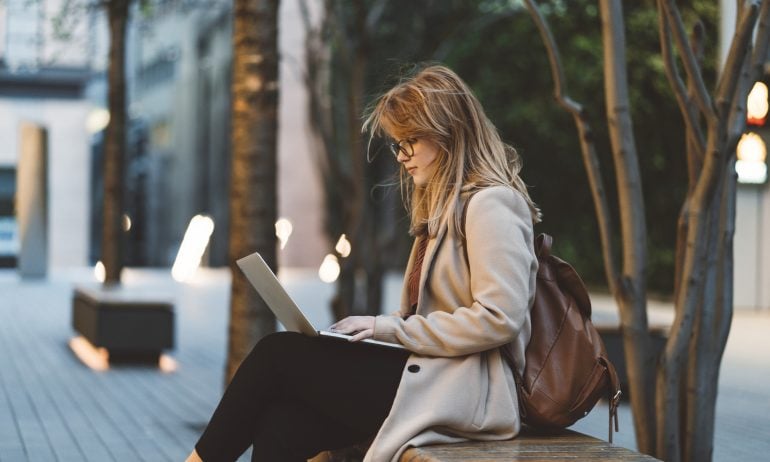 Many or all of the products featured here are from our partners who compensate us. This influences which products we write about and where and how the product appears on a page. However, this does not influence our evaluations. Our opinions are our own. Here is a list of our partners and here's how we make money.
Finding out the best ways to pay for college can be overwhelming. And if you've already exhausted free aid through the Free Application for Federal Student Aid, or FAFSA, and taken advantage of grants and scholarships, you might be looking at student loans to fill the gap.
Borrowers typically have two options for student loans: federal and private. It's best to exhaust federal student loans first if you're an undergraduate student. These loans are issued by the federal government and have lower interest rates than you'll find with a private lender. You can also get them without a co-signer, and they come with repayment safety nets that private loans don't.
But the answer to which is best isn't so clear for parent borrowers and graduate students, as PLUS loans — a federal student loan option for those groups — do have some drawbacks compared with private student loan options.
Here's how federal and private student loans compare.
What are the drawbacks of private student loans?
Compared with federal student loans, private student loans have some disadvantages:
Private student loans are harder to get. Almost all private student loans are credit-based. This means you must show a positive credit history and adequate income to qualify or have a co-signer who can assume the risk. Federal student loans for undergraduates do not require a co-signer. PLUS loans for parents and graduate students don't require excellent credit but may require a co-signer if the borrower's credit history shows an adverse event, such as bankruptcy, foreclosure or loan charge-offs.
Interest rates for private student loans are higher than interest rates for federal student loans. The interest rate for federal student loans — issued after July 1 — is 4.99%, fixed (though all federal student loans are in a temporary, interest-free forbearance through Sept. 30 as part of coronavirus relief). Interest rates on private student loans for most borrowers will be significantly higher. In addition, students with financial need can qualify for subsidized student loans from the federal government. Interest does not accrue on subsidized loans while the student is in school, during the grace period or when the loan is in deferment. Interest on private student loans begins to accrue immediately and does not stop until paid in full.
Private student loans have less wiggle room on repayment. Federal student loans offer a broad range of deferral and forbearance options that can temporarily pause payments, and several payment plans that can reduce them. For example, federal borrowers can apply for economic hardship deferment for up to three years; 12 months is a common limit for private student loans. Federal student loans offer income-driven repayment options that can result in payments as low as $0; private lenders typically make short-term payment accommodations only.
Private student loans aren't included in the COVID-19 student loan forbearance. Because of financial stress related to the pandemic, federal borrowers have benefitted from a long-term pause on payments with no additional interest accrued. Private lenders have offered only short-term forbearance options that continue to accrue interest.
Private student loans aren't included in most forgiveness programs. Federal Public Service Loan Forgiveness and income-driven repayment plans require borrowers to make a set number of payments before forgiving the balance of the loan. Private student loans do not offer these options. Moving forward, any government forgiveness programs are unlikely to address privately held debt.
Default on private student loans has more immediate consequences. Federal student loans enter default after 270 days of nonpayment. And even after that point, federal borrowers have options to restore their good standing. Private student loans are typically in default 30 days after a payment is missed, and lenders may charge off the loan in as little as 120 days, limiting options for borrowers to get out of default.
What are the drawbacks of federal student loans?
Compared with private student loans, federal student loans have a few disadvantages:
Federal student loans have origination fees. Federal direct student loans have an origination fee of 1.057%; PLUS loans carry a fee of 4.228%. Private student loans typically do not carry these fees.
Federal student loans have borrowing limits for undergraduates. Undergraduates can borrow up to $12,500 annually and $57,500 total in federal student loans. Graduate students can borrow up to $20,500 annually and $138,500 total. PLUS loans and many private loans are limited only by a school's cost of attendance and have no aggregate limits.
Federal student loans may not be the best deal for PLUS borrowers. PLUS loans for parents and graduate students have a stiff origination fee of 4.228% and interest rates of 7.54%. Borrowers with stable finances and a good credit history might find a better rate, with no fees, among private lenders.
Federal debt collectors have many more options. Private student lenders rely on the court system to sue and collect a judgment, and they are limited to your state's statute of limitations in their ability to do so. Federal debt collectors can bypass the courts to directly seize tax refunds or garnish wages — and can do so indefinitely.
Spot your saving opportunities
See your spending breakdown to show your top spending trends and where you can cut back.