How Much Does It Cost to Move?
Most local moves cost less than $2,500. You'll pay more for longer distances or heavier loads.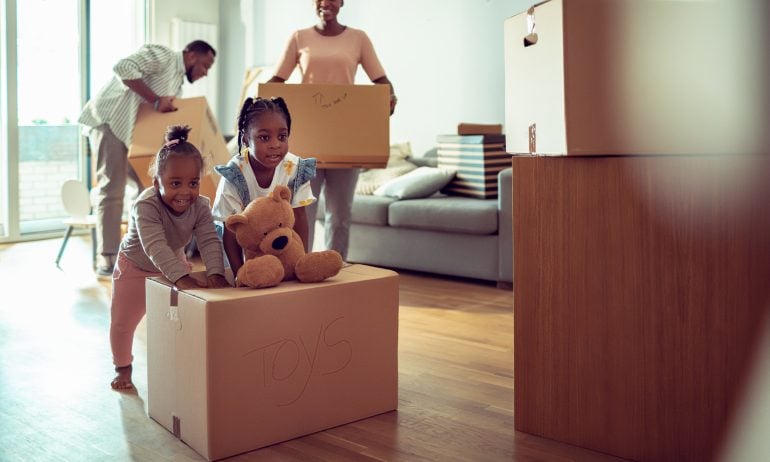 Some or all of the mortgage lenders featured on our site are advertising partners of NerdWallet, but this does not influence our evaluations, lender star ratings or the order in which lenders are listed on the page. Our opinions are our own. Here is a list of our partners.
It's exciting to start a new chapter in a new place. Whether your next step is renting or buying, chances are you'll have to budget for a move to get you there.
The average cost of a move varies widely. What you'll pay depends on factors, such as:
The distance you're moving.

The size of your home and the amount of stuff you're moving.

Whether you'll hire professional movers or rent a truck and do it yourself.
Here's how to estimate moving costs and avoid any surprises.
ADVERTISEMENT
Current Mortgage Rates | October 2023
Lender

APR

Interest rate

Mo. payment

Hmm, we didn't find any quotes for that selection. Try tweaking your filters to see quotes.
The national average cost to hire local movers is $1,714, at the time of writing, according to data from home services booking site Angi. Angi considers a "local" move to be within state lines and up to two hours of driving time — in other words, about 100 miles or less.
Most people who move stay local, or within the same county or state — 79%, according to 2021 data from the U.S. Census Bureau — so national average costs reflect that. But if you're moving an above-average distance, expect an above-average bill.
To get a more accurate estimate, let's look at moving costs according to distance.
A local move usually costs between $912 and $2,532, at the time of writing, according to data from HomeAdvisor, a digital marketplace for home services. This estimate factors in the cost of a truck rental and two professional movers.
If you don't mind doing the physical labor, it's possible to save money with a do-it-yourself move. According to Move.org, it costs an average of $150 to rent a moving truck for local moves. (Larger trucks and longer distances cost more.) That might sound like a bargain, but you still have to budget for gas, moving supplies, taxes and often a per-mile fee.
Cost of a long-distance move
At the time of writing, HomeAdvisor estimates the national average cost of a cross-country move to be $4,802, with a typical range of $2,645 to $6,994. However, costs can rise to $10,000 or more if you're bringing a lot of items or are moving a great distance, such as coast-to-coast or overseas.
In general, a long-distance move is one that spans 100 miles or more. Though you could rent a truck and do these types of moves yourself, hiring a professional moving company can save you time and stress. Since your belongings will be in transit for a longer time, it's likely a worthwhile investment to have them packed and transported securely by people who know what they're doing.
Are you moving for a new job? Often, you can negotiate a relocation package to cover moving costs. You can also factor in other expenses, such as what it costs to break your lease, sell your home or rent a storage unit.
ADVERTISEMENT
Current Mortgage Rates | October 2023
Lender

APR

Interest rate

Mo. payment

Hmm, we didn't find any quotes for that selection. Try tweaking your filters to see quotes.
How much do movers cost per hour?
A typical rate to hire one or two movers is $38 to $75 per mover, per hour, according to Moving.com. This estimate is based on the cost of a local move.
If you have your own truck or storage container, it's possible to hire labor-only movers to assist with loading and unloading. Otherwise, the cost to hire movers will be itemized as part of an overall moving quote.
If you're hiring movers, it's also customary to tip at least 10% of the total cost, or 20% for good service.
Factors that affect moving costs
National averages can be helpful, but ultimately, your moving cost will depend on your unique situation. Here are some variables to consider.
A larger home with more belongings requires more time and effort to move. Often, local movers charge by the hour. Others, such as full-service long-distance movers, charge a flat fee that factors in shipment weight. Either way, your home size will be reflected in the price.
Expect to pay less to move a one-bedroom or studio apartment and more for a single-family home with multiple bedrooms.
The mileage of your move is another main factor in the total cost. Local moves are less complicated than long-distance moves, so they don't cost as much.
For a long-distance move, higher travel costs — such as gas, tolls and hotel stays for the moving crew — are typically rolled into your quote.
If you can do some of the labor yourself, it's possible to save money. Think of your options in three tiers:
Moving truck rental. You can save money by renting a truck (such as U-Haul or Penske) and doing the heavy lifting and driving yourself. 

Moving container service. Renting a container (such as U-Pack, U-Box or PODS) is an in-between option. The container is delivered to your home, then you (or labor-only movers) load your belongings in. A professional driver picks it up and transports the container to your new place for unloading.

Hiring professional movers. This option costs more, but it's also the most streamlined solution for longer or more complicated moves. To avoid overpaying, get estimates from at least three moving companies before you pick a provider.
Moving trucks for rent come in standard sizes by length. It costs more to rent a larger truck.
Small: A 10- or 12-foot truck can support a move for a one-bedroom apartment.

Mid-size: These trucks vary in size from 14 to 20 feet. A mid-size moving truck can haul the contents of a larger apartment or condo — up to a three-bedroom house.

Large: The largest moving trucks range from 22 to 26 feet and can support moves for three- to five-bedroom homes.
Common packing supplies include boxes, packing tape, newspaper, bubble wrap and heavy-duty markers for labeling. You can save money by buying these secondhand or finding them for free at grocery stores or "Buy Nothing" groups.
It's common to run out of boxes and tape. To avoid last-minute stress, always buy more than you think you need. Only set up boxes as you use them. Most stores let you return unused moving boxes.
Don't forget to have a box cutter handy for unpacking, and some garbage bags, too. That way, you can keep things tidy and throw out packing materials you can't reuse.
For a DIY move, plan to buy or rent a dolly, furniture pads and tie-down straps or cables. (Professional movers typically have these on hand.) A pair of heavy-duty work gloves is also worth the extra few bucks — they can protect your hands and provide added grip for lifting all those cardboard boxes.
Spring and summer are the busiest months to move, so expect to pay a premium — and lock in a date as soon as you can. Many moving companies book up fast between Memorial Day and Labor Day.
You could save money by booking during the off-season, but then you have to bargain with winter weather and school schedules.
ADVERTISEMENT
Current Mortgage Rates | October 2023
Lender

APR

Interest rate

Mo. payment

Hmm, we didn't find any quotes for that selection. Try tweaking your filters to see quotes.
Movers charge more to haul oversized, delicate or expensive items, such as pianos, hot tubs, aquariums or safes. Some belongings, like musical instruments or a wine collection, might require climate-controlled storage, as they can be damaged by extreme temperatures or humidity.
You'll also pay extra to ship vehicles, such as cars or boats.
Typically, a mover's base rate covers moving only. Extra services like packing, unpacking or reassembling furniture will cost more.
Are moving expenses tax deductible?
In most cases, no. Under the current tax code, only active-duty military personnel can claim moving deductions. You're eligible for the deduction if you moved because of a permanent change of station due to a military order.
Get more smart money moves – straight to your inbox
Sign up and we'll send you Nerdy articles about the money topics that matter most to you along with other ways to help you get more from your money.