Hiring Movers vs. DIY Options: What's Best (and Cheapest)?
It depends on the size, distance and complexity of your move — and your tolerance for physical labor.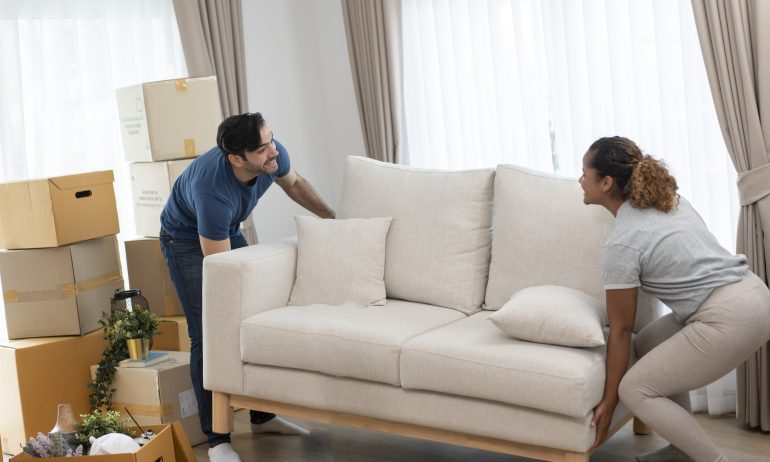 Some or all of the mortgage lenders featured on our site are advertising partners of NerdWallet, but this does not influence our evaluations, lender star ratings or the order in which lenders are listed on the page. Our opinions are our own. Here is a list of our partners.
For small moves across town, truck rental is cheapest. Gas and mileage costs go up for greater distances.

For longer moves, renting a moving container saves on labor costs — and you don't have to drive.

Hiring movers is most expensive, but can make any size move less time-consuming and physically taxing.
The cost of hiring professional movers might make you wonder, "Should I just do the heavy lifting myself?"
Certainly, a do-it-yourself move can be less expensive than hiring a full-service moving company. For small, shorter-distance moves especially, renting a moving truck can be a smart money-saving option. But your cost to move isn't the only factor to consider — after all, it's hard to put a price on reducing physical or emotional stress on moving day.
Here's how to decide between three common options: full-service movers, moving container services and DIY truck rentals.
When you hire movers, a team of trained professionals handles moving logistics, loading, driving and unloading your belongings at your destination. Each company has its own packages that list which services are included in "full service." For example, you might pay more for additional tasks such as packing and unpacking.
Someone else does the heavy lifting. You don't have to lift a single box if you don't want to. Full-service movers will get your belongings on and off the moving truck so you can focus on other things. They're also trained to navigate stairs, tight corners and other accessibility concerns safely.

Pros can handle items needing special care. For an extra cost, you can find movers who are trained to pack and transport oversized or specialty items, such as pianos, aquariums or safes. If you mishandle these during a move, you risk damage.
It usually costs more. If you're on a tight budget, hiring movers might not be an option. A moving container service or truck rental may come in at a lower cost.

For long-distance moves, delivery can take a week or longer. While movers can handle local moves within a matter of hours, longer moves can take a few days up to several weeks to arrive. Unless you choose an expedited shipping option, you might have to live out of a suitcase for a time.
It's customary to tip your movers as a thank-you. Budget for at least 10% of the total cost, or 20% for good service.
Moving container services transport belongings much like full-service movers. The difference: They generally leave the loading and unloading to you. Typically, the company delivers a portable storage container to your residence and you load it with your belongings. Then, the company picks it up and delivers it to your destination, saving you the drive.
For a long-distance move, a moving container service can be a lot cheaper than hiring professional movers. Why? Reduced labor costs: You don't need to pay the per-hour price of movers hauling your stuff, or the cost of meals and hotels for the crew along the way.
Someone else does the driving. Moving container services offer transportation and delivery services, so you don't have to drive a big moving truck or trailer — an advantage especially if you plan to move to another state.

There's plenty of time for loading and unloading. With these services, you typically get at least a few days for loading and unloading included in the base price. With a truck rental, you usually pay by the day, and taking days to load and unload can make a move more expensive.

It's generally less expensive than full-service movers (with some exceptions). For a small, uncomplicated move where you're handling the loading and unloading yourself, moving container companies can save you plenty, especially over longer distances.
Some homes might not have space for a moving container. Containers need a flat surface and a significant clearance area for placement. So, if your home has a steep driveway or lacks parking, you may have to take your belongings to a nearby service center and load (or unload) containers there, which can be time-consuming.

Paying extra for help with loading and unloading is costly. For an additional cost, moving container services let you hire movers to load and unload your items. But in some cases, that extra expense can make a moving container service just as expensive as hiring a full-service moving company.
Truck rental companies allow you to select from trucks or trailers of different sizes. With this option, you manage all of the move details, including packing, loading, driving and unloading. Trucks and trailers are serviced, cleaned and inspected according to the company's standards. And if you have an issue while driving the truck, many offer 24/7 roadside assistance themselves or through third-party providers.
For short, simple moves, renting a moving truck and doing the labor yourself is the best choice to save money. But for bigger moves out of state or across the country, budget for variable expenses like gas and mileage — they can add up quickly over long distances. Plus, you'll be stuck lifting all the boxes.
It's often less expensive than hiring movers or a moving container service. Renting a truck is often the cheapest option for moving, especially over shorter distances. Special discounts for members of the military, college students and members of organizations like AAA can lower expenses further.

A big-enough truck could allow you to move everything in one go. You likely can't cram all your household belongings in your car. You might be able to fit everything in a large truck, though, which could save you from making multiple trips.
You're responsible for loading, transport and unloading. While you can save money, renting a truck and handling your move yourself can be time-intensive and physically exhausting. You may lose or damage belongings if they aren't packed and loaded correctly. 

You'll have to drive the truck. Consider your route and any obstacles like narrow streets, heavy traffic or parking garages. If you haven't driven a moving truck before, or you'll be driving in an unfamiliar place — especially in a long-distance move — you might be more likely to make mistakes or cause accidents. You could be liable if the vehicle is damaged.

You'll pay a la carte for supplies and other extras. The total cost of your move is more than the truck rental itself. If you're on a budget, you could find moving boxes and packing materials for cheap (or free) — but you might still need to pay for a dolly, furniture pads and tie-down straps or cables. Don't forget the cost of gas, mileage, taxes and insurance, too. 
Mortgage loans from our partners