How Much Does It Cost to Move?
Most local moves cost less than $2,500. You'll pay more for longer distances or heavier loads.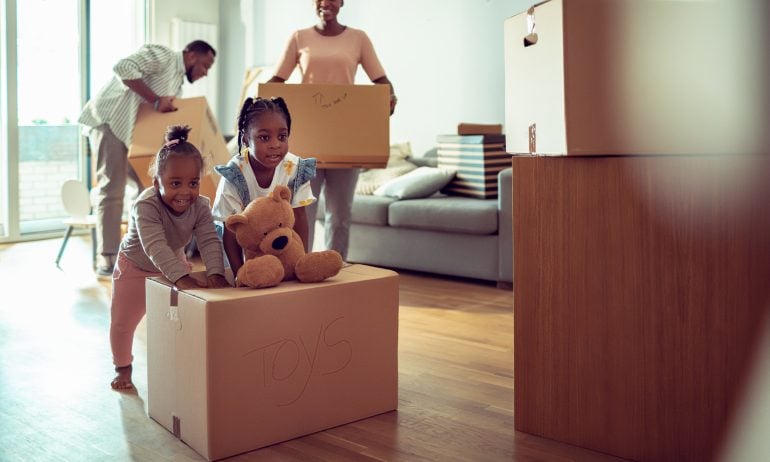 Some or all of the mortgage lenders featured on our site are advertising partners of NerdWallet, but this does not influence our evaluations, lender star ratings or the order in which lenders are listed on the page. Our opinions are our own. Here is a list of our partners.
It's exciting to start a new chapter in a new place. Whether your next step is renting or buying, chances are you'll have to budget for a move to get you there.
The average cost of a move varies widely. What you'll pay depends on factors, such as:
The distance you're moving.

The size of your home and the amount of stuff you're moving.

Whether you'll hire professional movers or rent a truck and do it yourself.
Here's how to estimate moving costs and avoid any surprises.
The national average cost to hire local movers is $1,705, at the time of writing, according to data from home services booking site Angi. Angi considers a "local" move to be within state lines and up to two hours of driving time — in other words, about 100 miles or less.
Most people who move stay local, or within the same county or state — 79%, according to 2021 data from the U.S. Census Bureau — so national average costs reflect that. But if you're moving an above-average distance, expect an above-average bill.
To get a more accurate estimate, let's look at moving costs according to distance.
A local move usually costs between $886 and $2,536, at the time of writing, according to data from HomeAdvisor, a digital marketplace for home services. This estimate factors in the cost of a truck rental and two professional movers.
If you don't mind doing the physical labor, it's possible to save money with a do-it-yourself move. According to Move.org, it costs an average of $150 to rent a moving truck for local moves. (Larger trucks and longer distances cost more.) That might sound like a bargain, but you still have to budget for gas, moving supplies, taxes and often a per-mile fee.
Cost of a long-distance move
In general, a long-distance move is one that spans 100 miles or more.
At the time of writing, HomeAdvisor estimates the national average cost of a cross-country move to be $4,651, with a typical range of $2,462 to $6,874. However, costs can rise to $10,000 or more if you're bringing a lot of items or are moving a great distance, such as coast-to-coast or overseas.
To DIY, you can rent a truck for a cross-country move. However, one-way rentals tend to be more expensive than returning a truck to the same location. You'll also pay more for gas when moving a greater distance.
If you have a tight budget, consider renting a moving container. The company delivers it to you to load your belongings. When you're all packed, the company picks it up and drives it to your destination. You'll save money on moving labor, since you handle the loading and unloading — and you won't have to drive a big rental truck.
While hiring professional movers is often your most expensive option for a long-distance move, it's also typically worth the expense to save time and stress. Since your belongings will be in transit for a longer time, it's likely a worthwhile investment to have seasoned pros pack and transport your stuff securely.
Are you moving for a new job? Often, you can negotiate a relocation package to cover moving costs. You can also factor in other expenses, such as what it costs to break your lease, sell your home or rent a storage unit.
Mortgage loans from our partners