What Is a Home Warranty?
Home warranty plans cover some of your home's systems and appliances when they break from natural wear and tear, but you'll still pay certain costs for repairs.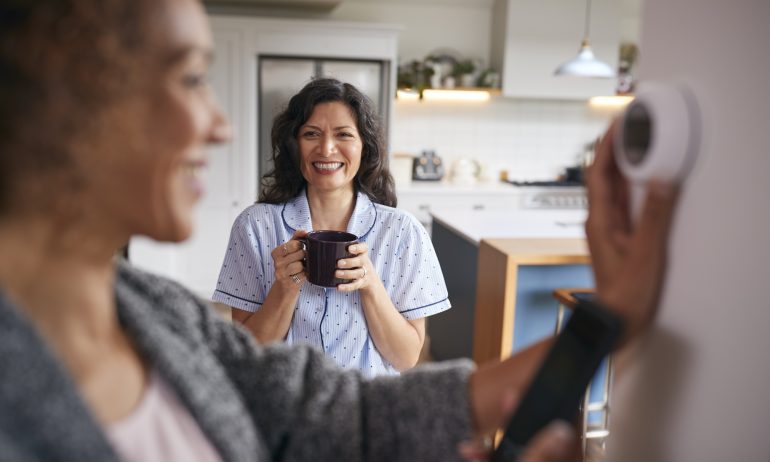 Some or all of the mortgage lenders featured on our site are advertising partners of NerdWallet, but this does not influence our evaluations, lender star ratings or the order in which lenders are listed on the page. Our opinions are our own. Here is a list of our partners.
A home warranty is an annual plan that can cover replacements and repairs of some of your home's major systems and appliances. In exchange, you'll pay an annual fee that can range from a few hundred dollars to over $1,000 and a service fee when a technician comes to your home to evaluate an issue.
A seller may offer a home warranty as an incentive for buyers, and some buyers choose to purchase one themselves. Although it may bring some peace of mind, a home warranty is never a replacement for a home inspection, even in a competitive homebuying market — no matter how much coverage you have.
For you to get the most out of a home warranty, it's important to read the fine print so you understand what's covered and how the plan works before signing up.
How does a home warranty work?
When something in your home breaks, contact your home warranty provider. The company will have a technician evaluate the issue, then decide whether you need a repair or replacement and whether it's covered by the warranty. If it's covered, the technician will complete the work.
If the problem isn't covered by the warranty — because the component isn't part of your plan or the company denies your claim — you'll have to cover the cost yourself. You'll also be on the hook for the cost of the original technician's visit.
The service fee can range from about $35 to $150 for each service instance, making it a point to consider if you're shopping for a home warranty.
Home warranty companies generally deny claims for system or appliance failures that predate the start of the contract. In other words, if you're buying a home and an issue comes up during the inspection or in the seller's disclosures (or if a problem that wasn't disclosed surfaces later), your warranty likely won't cover it. Rather than relying solely on a warranty, try to negotiate with the seller to fix the issue or give you a credit to fix it yourself.
On the plus side, having a home warranty can save you time: You don't have to do research and get recommendations for a tradesperson every time you need something fixed. However, you'll also get whomever the home warranty company sends. You can't choose a contractor (or do the work yourself), then get reimbursed.
What does a home warranty cover?
A home warranty works similarly to any standard warranty, letting you get an item repaired or replaced without having to pay full price out of pocket. The difference is that a home warranty covers a range of items rather than just one. There are three standard types of home warranty plans:
System plans cover your home's major systems, including heating and cooling, electrical and plumbing.

Appliance plans cover major appliances, like the dishwasher, oven and washing machine.

Combination plans include major systems and appliances. These are sometimes offered in tiers, with the more expensive plans offering a greater range of coverage.
Some items, like in-ground sprinklers, swimming pools and septic systems, may require supplementary coverage or may not be covered by all home warranty companies. When comparing plans, make sure the options encompass everything you'd want covered.
Even elements covered by a home warranty may have a payout limit. For example, if you have a plumbing problem that is accessible only through concrete, a standard contract from American Home Shield (one of the largest and oldest home warranty companies) may cover up to $1,000 for the job. You would finance any remaining cost.
New construction homes often come with a warranty from the builder. Builder warranties are a little different, though, because they cover the home itself, including the structure and materials used to build it, as well as mechanical systems — but generally not appliances. In a new home with new appliances, manufacturers' warranties are likely still in play.
You must typically observe a 30-day waiting period between buying your home and warranty coverage kicking in. That discourages buying a warranty just to fix something that's already broken.
What isn't covered by a home warranty?
Home warranties provide coverage for parts and systems when they break from normal wear and tear. So if an issue is deemed to be the result of human error or inadequate maintenance, it's unlikely the problem will be covered. You may have to cover these regular maintenance costs yourself, though some plans offer reimbursement for annual service visits.
The National Home Service Contract Association, a nonprofit trade organization, notes that contracts also don't cover conditions that existed before the purchase of the contract or failures caused by improper installation or modification.
Home warranty vs. homeowners insurance
A home warranty isn't the same as homeowners insurance. For one, homeowners insurance is required by lenders for a buyer to obtain a mortgage, while a home warranty is optional. But the bigger differences are in what they cover and how they work.
A home warranty covers the repair and replacement of major appliances and systems in your home. Though you might not know when your dishwasher will need to be repaired or replaced, neither event is a big surprise — no one expects a dishwasher to last forever.
Your homeowners insurance, on the other hand, covers the unexpected. It won't help you replace your dishwasher because it got old, but it could help you get a new dishwasher if your existing one is damaged in a fire or flood.
With homeowners insurance, you'll have to meet a deductible before the insurer starts paying for your claim. Home warranties don't have deductibles, just service fees and an annual fee that pays for the plan membership.
How much does a home warranty cost?
In addition to the service fee that you'll pay the technician, home warranties generally cost a few hundred to over $1,000 per year. The cost varies depending on the type of plan you have, and more coverage generally comes with a higher price. Your location can also affect the cost. Unless you've received a plan directly from your homebuilder or the seller, it's a good idea to shop around to see which home warranty company will give you the best value.
One more home warranty cost to factor in: how much the plan will pay out in a given year. Depending on your plan, that could be per item or repair (such as $500 for the septic system), or it could be an overall ceiling, so once you hit the cap, you're paying out of pocket.
How to choose a home warranty company
In addition to shopping around for a home warranty company based on cost, you may want to consider these factors when comparing plans:
Do they offer coverage for the most expensive home repairs? According to 2021 U.S. Census Bureau data — the most recent available — homeowners spent the most money on roofing repairs ($8,000). Other costly fixes include improvements to heating, ventilation and air conditioning (HVAC) systems ($4,200) and electrical wiring and fuse boxes ($700).

How long is the waiting period before coverage begins?

What is their reputation among customers? You can get an idea by asking for recommendations and by reading reviews posted on the Better Business Bureau, Yelp and Consumer Affairs. And you can search for any warnings or investigations that have been issued by state officials. For example, attorneys general have published formal complaints against specific home warranty companies for using deceptive tactics to refuse valid claims.
What are alternatives to a home warranty?
If you don't use your home warranty in a given year — or if you try to use it and your claim is denied — it can feel like an inefficient use of your money. (Though if you were gifted the warranty when you bought your home, it wasn't your money anyway, and you don't have to renew.)
One alternative to consider: Set aside money for home repairs and maintenance in a dedicated savings account. That way, your rainy-day fund is earning interest, so the longer you don't need to use it, the more money you have.
You can also check the manufacturer's website to see whether there's an option for an extended product warranty for your broken appliance or system. If it's still under warranty, you may be able to get it replaced.
If you paid for the part with your credit card, you may also have an additional year or two of coverage from your lender. For example, borrowers with an American Express Platinum account can receive up to $10,000 to recover losses up to two years after the original warranty expires.
Get more smart money moves – straight to your inbox
Sign up and we'll send you Nerdy articles about the money topics that matter most to you along with other ways to help you get more from your money.