The Guide to Cancel For Any Reason (CFAR) Travel Insurance
CFAR travel insurance can help you recoup a large percentage of your nonrefundable travel expenses.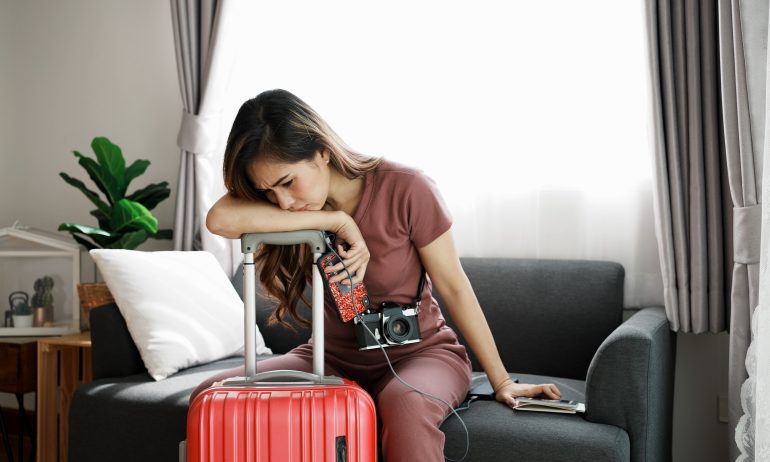 Many or all of the products featured here are from our partners who compensate us. This influences which products we write about and where and how the product appears on a page. However, this does not influence our evaluations. Our opinions are our own. Here is a list of our partners and here's how we make money.
Travel insurance can help you get your money back if you have to cancel a trip — but only if you cancel for certain reasons. If you want more flexibility, you may need "Cancel For Any Reason," or CFAR, coverage.
Cancel For Any Reason travel insurance means exactly that: You can change your mind — regardless of why — and get a partial refund of what you paid without having to worry about meeting insurance coverage requirements.
What is Cancel For Any Reason travel insurance?
The main details to know about Cancel For Any Reason travel insurance are:
CFAR is supplemental coverage that offers partial reimbursement when you cancel a nonrefundable trip for any reason that isn't covered by your travel insurance policy.

You cannot buy CFAR on its own; it's an optional upgrade added when you buy primary travel insurance.

Not every trip insurer offers it, and not every plan is eligible for the add-on.

It is the only type of coverage that will offer reimbursement if you cancel a trip for any reason.
Can I really cancel for ANY reason? What does a CFAR policy cover?
Yes — for any reason, including fear of travel. When you buy CFAR coverage, you can cancel your trip for any reason without worrying that you'll lose your entire prepaid, nonrefundable vacation deposit.
The reason doesn't matter as long as you cancel within the allowable time frame (usually two days in advance) and you've insured the entire nonrefundable cost of your trip.
What doesn't qualify for a claim?
Refundable expenses don't qualify. For example, if you book a flight, cancel your trip and receive a refund or a travel voucher, you can't claim it afterward. If you redeemed airline rewards and got the miles redeposited, that also doesn't qualify for a reimbursement.
Additionally, if you accept a voucher or credit from a hotel or airline for a canceled trip, your claim may be ineligible for CFAR insurance reimbursement. However, if you're provided with only a partial voucher/credit for the trip or have leftover unreimbursed expenses, you can claim the remaining amount.
Let's say you received a voucher for a canceled flight to Amsterdam but your hotel reservation wasn't refundable and you couldn't use your prepaid ticket to the Van Gogh Museum. In that case, you can still claim the nonrefundable expenses, minus the flight.
CFAR has a few limitations:
It doesn't offer full reimbursement.

Different policies have varying reimbursement percentages ranging from 50% to 75%.

A trip cannot be canceled at the last minute. You will need to cancel usually two days in advance to get reimbursed.

You are required to insure 100% of your nonrefundable trip costs; you can't pick and choose which parts you want to insure.

You have a limited number of days (10 to 21 days depending on the policy) after buying a nonrefundable trip to add the CFAR option.
How does CFAR travel insurance compare with regular travel insurance?
Regular travel insurance restricts when you can get reimbursed for canceled travel. For example, you might get a full refund if you, a family member or a traveling companion gets sick before your trip and you have a doctor's note to validate your claim. Other valid reasons under some trip insurance policies include circumstances like:
Bankruptcy of the carrier.
Travel insurance typically won't help if you want to cancel because you're afraid of getting sick. Many people found that out as the coronavirus was starting to spread in 2020. Buying CFAR coverage is usually the only way to get a partial refund of your prepaid, nonrefundable trip.
Also, travel insurance policies usually exclude pandemics from coverage. Once the World Health Organization officially declared COVID-19 a pandemic on March 11, 2020, policies with pandemic exclusions wouldn't cover illness or losses related to COVID-19.
Every policy is different, and you'll need to review the fine print to see what is and isn't covered.
Cancel For Any Reason travel insurance cost
Cancel For Any Reason coverage will likely add about 50% to your total travel insurance bill. According to the U.S. Travel Insurance Association, a complete travel insurance policy will usually cost about 4% to 8% of the trip's cost.
Based on these numbers, if you buy CFAR coverage along with travel insurance, your total out-of-pocket cost will be 6% to 12% of your trip.
A sample of CFAR coverage cost
To test these numbers, we searched for travel insurance policies that offer a CFAR upgrade on Squaremouth, a travel insurance comparison site. In the chart below, we've included four providers that offer Cancel For Any Reason coverage. The figures are based on a nonrefundable $1,000 one-week trip to Mexico in April taken by a 30-year-old U.S. citizen.
We looked at offerings from Nationwide Cruise Choice, HTH Travel Insurance, AXA Assistance USA and Seven Corners.

For each of the policies listed, travel insurance was from 4% to 8% of the total trip cost. CFAR coverage increased the cost of travel insurance by roughly 40%-50%. The cost of travel insurance inclusive of CFAR represented 5% to 12% of the total trip cost.
As you can see, CFAR is a pricey upgrade. Though these numbers may not look excessive, they are based on a one-week $1,000 trip. If you want to protect a two-week $5,000 trip (or a bigger one), the cost of CFAR increases considerably.
Will CFAR give me a full refund of my trip?
No. Typically, CFAR coverage includes a 75% reimbursement of prepaid nonrefundable trip plans. That is the appeal of the pricey CFAR add-on.
Let's consider the example above. CFAR coverage under those policies reimburses 75% of the total trip cost. If you buy travel insurance for this trip (without CFAR) and need to cancel for a noncovered reason, you will lose the $1,000 you paid.
However, if you buy the CFAR option and cancel your trip, you will be reimbursed $750 and lose $250. You're essentially paying an extra $16-$40 to safeguard $750 of your trip, no matter the reason for your cancellation.
If you're having second thoughts about a trip you're planning and suspect you may need to cancel it, CFAR could provide peace of mind.
Most trip insurance providers limit the time during which you can buy CFAR coverage. We reviewed 16 travel insurance policies that offer CFAR as an optional upgrade and found that this add-on must be bought within 10 to 21 days of making your initial trip payment (depending on the company).
In the case of cruise-specific policies, you must buy CFAR coverage before the final payment date of your cruise. You cannot buy a CFAR supplement if your trip has begun.
If you buy travel insurance from a comparison site like Squaremouth, you can filter by policies that offer a CFAR upgrade. When choosing a policy, make sure to select the Cancel For Any Reason add-on (remember, it is optional).
Not every insurance company offers CFAR, so if you're buying directly from a provider, check to see whether CFAR is available before you buy. Cancel For Any Reason coverage may not be available in every state, and policies may have changed because of the coronavirus pandemic.
If you're interested in adding this type of coverage to your travel insurance policy, these providers are a good place to start your search.
Allianz Global Assistance provides AAA's travel insurance policies. Some AAA travel insurance plans offer a Cancel For Any Reason add-on. You can't buy such coverage online and must talk to an agent first.
With Seven Corners, you must insure your trip within 20 days of the first deposit to be covered for 75% of the trip cost. The cancellation must not occur within two days of the scheduled departure. This benefit isn't available in all states.
Tin Leg provides the option to cancel for any reason on some of its policies and reimburses up to 75% of nonrefundable expenses for a covered trip. You must buy coverage within 14 days after paying a deposit, cover the full cost of all nonrefundable costs and cancel the trip no fewer than two days before departure.
Travel Guard offers the CFAR option as an upgrade to select comprehensive plans. To qualify for a partial refund, you must buy the CFAR upgrade within 15 days of the initial trip deposit, cancel the trip more than 48 hours before departure and insure all prepaid, nonrefundable costs when buying the policy.
Cancel For Any Reason insurance is available as an add-on to the following protection plans by Trawick International: Safe Travels First Class and Safe Travels Voyager. You must buy the coverage within 14 to 21 days of making your first trip payment (depending on the plan) and cancel the trip no fewer than two days before departure.
Is Cancel For Any Reason travel insurance worth it?
If you have any inclination that you may cancel your trip — be it for personal, professional, health, family or other reasons — paying the upcharge for this optional add-on will be worth it.
Rather than being out all of your prepaid, nonrefundable expenses, you'll lose 25%-50% of those costs.
As always, look closely at transit and lodging cancellation and refund policies because having CFAR coverage may not be necessary for your specific trip plans. If the airline will credit your account with the full value of the ticket, you might be comfortable forgoing getting that money back in your personal bank account (rather than tied up in your loyalty account). Similarly, some hotels offer generous refund policies for certain bookings, and vacation rentals vary in timelines for eligible refunds.
If you booked your trip with a credit card that offers travel insurance, paying out of pocket for CFAR coverage may not be a smart money move. Cross-check your card's insurance benefits and coverage limits with the CFAR policy in question so you can make the right decision for you.
Frequently asked questions
I found a great deal for a vacation, but I'm worried about the coronavirus. Should I get travel insurance and/or CFAR?
My credit card offers trip cancellation coverage. Do I still need to get CFAR if I want to cancel a trip and get a refund?
I bought travel insurance but didn't add on CFAR. Is it too late?
Can I buy a CFAR insurance policy on its own?
What is the difference between trip cancellation I bought from an insurance provider and the Cancel For Any Reason coverage?
What are considered nonrefundable expenses?
Cancel For Any Reason recapped
The coronavirus has had a significant impact on travel. Many people have had to cancel trips, and some are still hesitant to plan vacations. Though standard travel insurance can protect you when unforeseen circumstances affect you before or during your trip, the coverage comes with a lot of limitations and exclusions.
The best way to protect a nonrefundable trip is to buy a Cancel For Any Reason optional upgrade because it will allow you to cancel for any reason and still receive a sizable reimbursement.
---
How to maximize your rewards
Get more smart money moves – straight to your inbox
Sign up and we'll send you Nerdy articles about the money topics that matter most to you along with other ways to help you get more from your money.