Dyson vacuums are a popular choice for home cleaning devices, but do a quick online search and you'll discover there are more models from this brand on the market than you can probably name.
If you need a little help deciphering all those numbers and letters and deciding which vacuum model to buy, check out our side-by-side comparison of two upright models: the Dyson Ball Compact Animal (formerly DC50 Animal) and the Dyson Ball Multi Floor (formerly DC65 Multi Floor).
Dyson Ball Compact Animal (formerly DC50 Animal)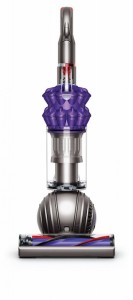 Price: $449.99 retail price
Accessories: Tangle-free turbine tool, combination tool, stair tool 
NerdWallet takes you shopping: With a regular retail price of $449.99, the Dyson Ball Compact Animal (formerly the DC50 Animal) is the more expensive of the two vacuums in our comparison.
But before you decide this model is sucking up too much of your money, take a look at some of its features. Capable of cleaning carpets and hard floors alike, this Dyson boasts ball technology for efficient steering, two tiers of cyclones for powerful suction and a tangle-free turbine tool for convenient removal of pet fur. Additionally, its 11.6-pound weight makes this device easy to transport.
One possible drawback? The maximum reach of this model is just 28 feet — compare that to the 51-foot reach of the DC65.
Also important to note: This model is no longer sold directly from Dyson's website. It can still be purchased from third-party sellers, often for less than its regular price.
Good fit for: Pet owners who want a powerful and lightweight tool for cleaning up Fido's hair. 
» MORE: Dyson Ball Multi Floor review
Dyson Ball Multi Floor (formerly DC65 Multi Floor)

Price: $399.99 from Dyson
Accessories: Combination tool, stair tool
Want to lower your home expenses?
Let us help you find the best deals.
Learn more
NerdWallet takes you shopping: Similar to the preceding model, the DC65 Multi Floor boasts a washable lifetime filter, self-adjusting cleaner head and ball technology, among other features. Despite these shared components, the two devices are easily distinguishable, and the differences between them extend beyond just their appearance (the DC65's accents are bright yellow, while the DC50's are purple).
For example, the multi floor vacuum — touted by Dyson for its strong suction — has a 35-foot-long cord, giving users 10 more feet of access for large rooms than the DC50. Perhaps most appealing of all is the DC65's price. It's $50 less than the DC50.
However, there are some downsides as well. Weighing in at 17.3 pounds, this model is nearly 6 pounds heavier than the preceding one (something residents of two-story homes may want to keep in mind). Additionally, this Dyson lacks the tangle-free turbine tool that's designed for pet hair removal.
Good fit for: Consumers who want a reliable vacuum from a trusted brand that can seamlessly transition from carpets to floors.
Still not sure if either of these vacuums is the right one for you? Head over to our Vacuum Buying Guide for more tips on what to look for in a Dyson or any other type of vacuum cleaner.
More from NerdWallet
The best vacuums for hardwood floors
Courtney Jespersen is a staff writer at NerdWallet, a personal finance website. Email: [email protected]. Twitter: @courtneynerd.
---
Photos via iStock and Amazon.