When it comes to vacuums, weight and power often go hand in hand: The more powerful the vacuum, the heavier it often is. But the Hoover WindTunnel Air UH72400 is an exception to that rule.
If you have pets and bare floors, this lightweight machine may be just what you need. If you have stairs and area rugs to clean, however, this is probably not the right vacuum for you. But before you decide, check out our analysis of the WindTunnel's features and performance.
The vacuum
The Hoover WindTunnel Air UH72400 is a lightweight, bagless vacuum cleaner. It's a cyclonic model built with Hoover's WindTunnel 3 technology, which uses airflow to help lift deeply embedded dirt from floors.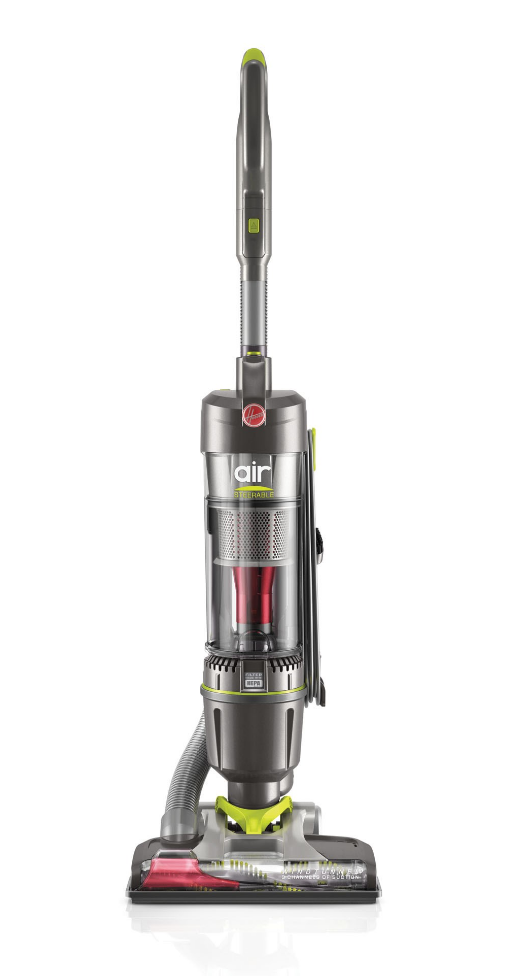 The WindTunnel Air weighs 13 pounds and steers with a twist of the handle. It can fully recline to the floor, making it easier to clean underneath furniture.
This model is equipped with a "no-scuff bumper" and soft wheels to avoid leaving marks on your hard floors. When you're moving from carpet to bare floor, you can turn off the vacuum's brushroll with the push of a button.
Features include a 30-foot cord, automatic height adjustment, a dirt cup and a rinsable filter. The WindTunnel Air also comes with a dusting brush, a crevice tool and a 12-foot hose.
This vacuum is priced at $189.99 on Hoover's website, but it's often sold for less on Amazon.
» MORE: The best bagless vacuums
The reviews
We researched some of the most popular vacuums on the market to come up with a definitive buyer's guide. We looked at expert opinions from review sites such as The Sweethome, CNET and Good Housekeeping. We then analyzed user reviews to see what shoppers were saying about the various attributes of each vacuum.
The scores, which run from a low of 1 to a high of 10, consider what users reported about the vacuums' overall performance in a variety of settings, such as on hardwood floors and stairs. We also factored in reviewers' observations on characteristics such as noise level and durability for an inclusive look at each model.
The Hoover WindTunnel Air UH72400 earned a spot on our best vacuums list, with an overall score of 9.1. It also scored 9.1 for how well it cleans, and 8.9 for ease of use.
The pros
This Hoover has several standout features. It cleans tile and hardwood particularly well, though some users also praised its performance on wall-to-wall carpets. Certain reviewers noted that the vacuum maintains strong suction on different floor types.
Other users said the vacuum is lightweight and flexible, making it easy to move throughout the house and carry up stairs. Many noted that the machine removes pet hair extremely well. Other popular aspects are the vacuum's low noise level and easy-to-clean dust cup.
The cons
But this vacuum has a few underwhelming characteristics. Some users experienced issues with the vacuum's durability — especially with the motorized brush — and found that their machines needed repairs soon after being purchased. Some also said they weren't pleased with Hoover's customer service.
Others found that this machine does not sufficiently clean stairs; many would have preferred a wider attachment. Some users said the vacuum is difficult to push on area rugs and that long hair can easily become tangled in the roller brush.
Is the Hoover WindTunnel Air UH72400 right for you?
If you're a pet owner and your home is mainly filled with bare floors, this Hoover WindTunnel Air is a good fit. Because it's easy to carry and works on most floor types, this vacuum is also good for homes with multiple levels.
But if the stairs to get to those other levels are carpeted and you hope to clean them, or to clean area rugs, this might not be the right vacuum type. Consider a stick vacuum instead, like the Dyson V6 Motorhead, which got high marks for its ability to clean stairs.
More from NerdWallet
The best upright vacuums
Dyson V6 Absolute vs. Dyson V6 Motorhead
The best cheap vacuums
Lauren Schwahn is a staff writer at NerdWallet, a personal finance website. Email: [email protected]. Twitter: @lauren_schwahn.