Many or all of the products featured here are from our partners who compensate us. This may influence which products we write about and where and how the product appears on a page. However, this does not influence our evaluations. Our opinions are our own.
With so many business credit cards to choose from in Canada, finding the best one for your company can be a challenge.
Whether you're seeking a card for frequent flyers, a basic, no-fee option or something in between, there's a lot to consider. To speed up the selection process — you do have a business to run, after all — we evaluated more than 40 business credit cards in Canada and chose which ones provide the most value across multiple categories.
Summary of best business credit cards
American Express® Business Gold Rewards Card®
Earn up to 110,000 points with the American Express® Business Gold Rewards Card®. Click Learn More for full offer details. Conditions Apply.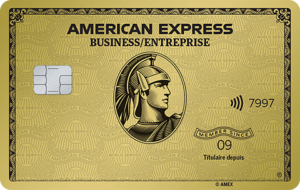 Methodology to identify the best business credit cards
NerdWallet Canada selects the best business credit cards based on overall consumer value and their suitability for specific kinds of businesses.
Factors in our evaluation include annual and other fees, rewards rates, the earning structure (for example, flat-rate rewards versus bonus categories), redemption options, bonus offers for new cardholders, introductory and ongoing APRs, and other noteworthy features such as travel perks and business support services.
Beginner's guide to business credit cards in Canada
As with other types of credit cards, there's plenty to learn before selecting a business credit card that best suits your needs.
What is a business credit card?
A business credit card is a credit card specifically intended to cover business expenses. Whether you employ others, own a small family business or run a solo freelance operation as a side hustle, a business credit card will help you reach your goals faster.
Business cards vs. personal cards
Business credit cards are similar to personal credit cards in most ways — you use them to make purchases and then pay off the balance, incurring interest charges on what's left over. However, there are differences related to perks, benefits and features.
Business credit cards often have higher credit limits, which accommodate costly business expenses. Some also help you tap into more financing for your business by including things like longer interest-free grace periods and low introductory interest rates on purchases or balance transfers.
The rewards involved with business credit cards are similarly tailored to meet business needs. For example, some travel rewards cards offer higher earn rates on items like office supplies, internet services and cell phone bills. Other cards provide cash back that can be reinvested in your business. Some come with juicy introductory earn rates and welcome bonuses; others provide useful perks like travel insurance and accounting tools designed to help small businesses.
Finally, credit card providers often let businesses apply for several additional cards, which allows your employees to easily make business-related purchases as supplementary cardholders to help you claim the rewards sooner. Protection from employee misuse may be provided in the form of a liability waiver or insurance.
Who can get a business credit card?
Since business credit cards are designed to suit the needs of business owners and freelancers alike, you don't need to own a large-scale business in order to apply for one. A business credit card should be within your reach as long as you can provide proper evidence that your business exists.
Many cards don't even require your business to hit certain revenue thresholds, so if you just started a small business and it isn't yet turning a profit, you may still get approved.
Why get a business credit card?
A business credit card separates business expenses from your personal spending, which simplifies accounting and recordkeeping. This can be invaluable when tracking expenditures and budgeting for your company.
Using a card solely for business purchases also makes it easy to deduct the interest and most fees you pay as business expenses. Get your personal and business spending mixed up, though, and tax time could get messy.
A business credit card can also give you access to perks and rewards that are better suited to your company's needs. Expense tracking tools, higher earn rates on business-related purchases, and discounts on essentials like gas are just a few examples of the goodies that come with some Canadian business credit cards.
Back to the top of this section
Types of business credit cards
Business credit cards and charge cards are tailored for businesses of all sizes, so it's important to identify the right type of card for your needs.
Small business credit cards
Small business credit cards operate almost identically to personal credit cards. Business owners generally apply for these cards directly and bear the responsibility of paying the fees and charges.
While many small business card applications will be evaluated based on the owner's personal credit score, some also require minimum income requirements. Applicants will also need to show documentation that proves their company is a real entity.
Small business credit cards are generally the best option for sole proprietors, who can use them to earn rewards not offered by their personal credit cards, and small or mid-sized business owners with multiple employees.
But they're also a fit for brand new businesses in Canada.
Business credit card options designed for entrepreneurs just getting started include cards with no annual fees or lower interest rates, which can help reduce a new company's credit burden. Cards with low — or no — income requirements can also help upstart business owners get approved for their first company card so they can start building credit.
Corporate credit cards
Corporate credit cards are designed for larger companies with strong credit scores that generate significant revenues. American Express, for example, recommends its corporate credit cards to Canadian businesses with annual revenues of $10 million or more.
Even though corporate credit cards can be distributed to employees, paying off a corporate card's fees and charges are the responsibility of the corporation, not an individual worker or owner.
Back to the top of this section
How to compare business credit cards
Business credit cards vary in terms of what they offer cardholders. Comparing them effectively often involves looking at several cards and reviewing the features most important to your needs. This may include:
Interest rates on purchases, balance transfers and cash advances.
Annual fees for the primary card and any additional cards
Credit limit offered.
Rewards programs — cash back and travel points are two common examples — and the earn rates associated with them.
Welcome offers, enrollment bonuses and purchase thresholds that can unlock more rewards points.
Perks like travel insurance and access to exclusive deals.
Discounts on commonly purchased items.
Tools for expense tracking and business management.
How to get a business credit card
Once you've chosen the best business credit card for your needs, you'll need to apply and meet certain qualifications to prove your eligibility.
How to apply for a business credit card
Applying for a business credit card is a lot like applying for a personal credit card, but with the added element of providing information about your business.
To prove your identity, you'll typically need a piece of original, valid and current government-issued photo identification, like a driver's license or passport. If photo ID isn't possible, some providers will accept valid and current documents from independent, reliable sources.
If you're a sole proprietor, you may be asked to provide:
A trade name registration certificate or copy of your Master Business License. This may not be necessary if your business is operated in your own name.
Your personal Notice of Assessment and income tax return, including your Statement of Business Activities, for the last two years.
Business year-end financial statements for the last two years that have been signed by the business owner.
Investment/deposit statements for accounts at other financial institutions.
Bank account statements at other financial institutions for the past three months.
Bill of sale/purchase agreements detailing purchases of business assets.
If you're operating a new business or a start-up that's less than two years old, you may also have to provide more information, like a business plan, cash flow statement, balance sheet, or financial statements signed since launch.
If your business is a partnership, you'll be asked to provide proof that a limited partnership exists and personal information about anyone with a significant interest in your business. The same applies to a corporation, but you'll have to provide the Articles of Incorporation instead of partnership documents.
How to qualify for a business credit card
In addition to providing relevant legal and tax documents that prove the existence and current state of your business, you'll need to convince credit card providers that they should do business with you.
Doing that requires a strong personal credit report. If you're applying for your first business credit card, there's a good chance your company may not have much of a credit history. That means your personal credit score will be a major factor in whether you get approved for a business card and how high your credit limit will be.
In Canada, a "good" credit score falls between 660 and 724. If your credit score is lower than that, however, you may still get approved for certain business credit cards suited for applicants with bad credit.
Some cards may also have minimum income or revenue requirements. If your personal income or annual business revenue falls short of these thresholds, you'll have to search for a card with a lower one.
Back to the top of this section
Pros and cons of business credit cards
Even though business credit cards vary from one to the next, there are some common pros and cons that apply to most.
Pros
Simplifies accounting and budgeting by separating personal and business expenses.
Earn rewards at a higher rate than what's offered by most personal credit cards.
Travel perks, discounts and insurance offerings can provide real benefits.
Used responsibly, business credit cards can help you build and strengthen your business's credit history, which can help secure future financing for your business, like loans or a mortgage.
The fees and interest paid are often tax-deductible.
Account management and expense tracking tools are provided by many business cards and can help small businesses stay on top of their finances.
Cons
Your personal creditworthiness will be negatively impacted if you aren't able to manage your business's credit card.
The interest rate you'll pay on your credit card balances will likely be higher than what you'd pay on a traditional loan or line of credit.
High annual fees can add up, especially if a business has been approved for multiple cards.
The potential for misuse or having a card's information inadvertently stolen increases if multiple people are using a business's cards.
Getting the most out of your business credit card
There are several ways you can maximize the value of your business credit card.
Choose a card that offers the most relevant rewards. Using a card with rewards tailored to your business's actual spending will help you collect rewards faster. A card that offers a healthy earn rate on gas purchases, for example, may not be of much use to a bicycle messaging service.
Get multiple cards. Using multiple cards, also known as "credit card stacking", can help you earn different kinds of rewards. One card could be for travel points, for example, and another could be for earning cash back. Just make sure you're staying on top of your balances, or the extra interest could eat away the added benefits.
Make use of rewarding welcome bonuses. Some business credit cards offer substantial welcome bonuses, which are triggered when certain spending thresholds are hit in the first few months of card use. Getting a card a few months out from when you expect to do an increased amount of spending can help you hit those thresholds.
Take advantage of promotional interest rates, including balance transfer offers and low-interest periods. Making major purchases while these introductory rates are in place can help you save money — so long as you pay the balances off before the offers expire.
Pay more than the minimum each month. Wiping out your entire credit card balance may not be possible every month, but you should pay off as much of your credit card balance as you can to ensure you're not paying more in interest charges than you need to.
Take advantage of discounts. Many business cards provide discounts on useful items, like gas, car rentals and various business-related merchandise. Don't overlook these savings.
Track the interest and fees paid. Interest and fees related to purchases made for your business are tax deductible. Keeping track of these amounts will make tax time a little easier.
How many credit cards should businesses get?
There is no ideal number of different credit cards for a company to have. But there is a case to be made for businesses having more than one card.
Most importantly, multiple cards mean multiple lines of credit. Running a business can be both expensive and unpredictable, so having more borrowing power at your disposal can come in handy.
Having more than one card can also help you earn more rewards. For example, some cards offer higher cash back or reward point earn rates on business-related purchases. You might want to use a card like that to pay for everyday business expenses and maximize your rewards. But if that card doesn't help you save money on gas or build up travel points, you may want to apply for a card with rewards better suited to those particular business needs.
There are risks involved with applying for too many business credit cards. Each application for a new card can knock a few points off your credit score, so make sure to wait long enough between applications.
Also, having balances spread across multiple cards requires a little more diligence in making sure they're all paid off on time. You don't want your interest payments to eat into your profits or diminish the value of your rewards.
Frequently asked questions about business credit cards

Can I use my personal credit card for business expenses?

Yes. A personal credit card can be used for business purchases. The credit limit for personal cards, however, is generally lower than what's offered for business cards.

If you're charging business purchases to your personal credit card, just be sure to track them carefully for when tax season rolls around.

Is credit card interest tax deductible for a business?

Yes, it is. You can deduct the interest paid on business-related purchases. If you have a dedicated business credit card, you can often deduct the fees, too.