Despite the name, not all black credit cards are black. What actually unites black credit cards is a unique combination of mystery and prestige.
The exact eligibility requirements and perks of black credit cards in Canada are tough to nail down — but not impossible. In general, these cards tend to be reserved for those with high net worth and lavish spending habits.
Is a black credit card right for you? It depends. But you'll need to see if you qualify for one first.
What is a black credit card?
A black credit card is a deluxe credit card that offers exclusive perks and rewards to those that qualify. There's no universal definition for what qualifies as a black card in Canada, but the attributes commonly associated with black credit cards include:
High credit limit.
High annual income requirement.
Annual spending requirement.
Premium rewards and perks.
Exclusive application process, including Invitation-only.
You'll notice the colour black is curiously missing from that list — it's not an accident. Not all black credit cards are black. But they are highly exclusive. In fact, some black credit cards are only available on an invitation-only basis.
Made popular by the American Express Centurion Credit Card, black credit cards are available from a variety of credit card issuers, including BMO, HSBC, RBC and more.
The American Express Centurion Card
The popularity of black credit cards can largely be attributed to the American Express Centurion Card. The Centurion is American Express's most exclusive card, and is available by invitation only.
How to get an invitation is a closely guarded secret. The rumour is that you need to spend at least $500,000 per year on an American Express Platinum Card just to be considered. In addition, there's supposedly a high one-time fee (rumoured to be in the thousands) and an annual fee that's in the four-digit range.
What makes this Black Card so prestigious is its list of benefits, although it's tough to confirm the specifics. Some of the perks you can apparently enjoy as a cardholder include:
24/7 concierge service.
Premier status at various brands of hotels.
Premier status at multiple rental car agencies.
Exclusive hotel and shopping offers.
Unlimited airport lounge access.
Discounts and upgrades through the International Airline Program.
VIP airport arrival services at select airports.
The Black Card focuses on luxury experiences and benefits, which is what makes the program so exclusive. The earn rate is supposedly not the most impressive, but when you're spending $500,000+ a year, earning points won't be an issue.
Black credit card benefits
Generally speaking, black credit cards boast luxurious rewards and benefits that typically include:
Accelerated everyday spending and travel rewards programs.
No foreign currency conversion fees.
Unlimited airport lounge access.
Unlimited free WiFi.
Robust travel insurance coverage.
Premier status at various brands of hotels.
Exclusive dining offers.
Dedicated taxi and limousine services.
Best Credit Cards in Canada
Compare all different credit cards side-by-side and find out the best card that will meet your need with special perks and benefits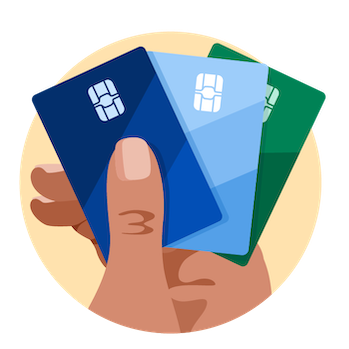 How to get a black credit card
Some black cards are available on an invitation-only basis, like the American Express Centurion Credit Card. Others are available to those that participate in the respective card provider's private banking services, like the HSBC Jade World Elite Mastercard, a metal credit card that is only available to HSBC Jade customers.
There are also black credit cards that are available to anyone who completes an application and fulfills the eligibility requirements, like the Visa Infinite Privilege cards offered by BMO, CIBC and TD.
Black card eligibility requirements
If you apply for a black credit card, expect to encounter some or all of the following requirements:
Canadian residency.
Age of majority in your province or territory.
Strong credit score.
Individual annual income of at least $80,000 or household income of at least $150,000.
Existing private banking or wealth management accounts with the card provider.
Are black credit cards worth it?
Black credit cards tend to impose strict eligibility criteria and high annual fees in exchange for top-shelf rewards, concierge service, travel discounts, big welcome bonuses and robust insurance coverage. Is the cost of entry worthwhile? It depends on your lifestyle and spending habits.
What makes a credit card worthwhile is its overall value. If you can squeeze more from the card than you pay to have it, then a black credit card may be worthwhile.
Take a look at the annual fee a card charges and compare it to the potential rewards. Some rewards have time-sensitive spending requirements, so take that into consideration, too.
Black credit card alternatives
While the perks and exclusivity are attractive, black credit cards are far from the only premium credit card. There are plenty of options for those who don't want (or can't get) a black credit card, including: