What is instant approval?
Instant approval credit cards let you know whether you have been approved or rejected within minutes of submitting your application online. If you're approved, the issuer will expedite your new credit card and welcome package to you, and you may receive them in as little as 5-7 business days.
How does it work?
When you apply for a credit card that offers instant approval online, the credit card provider will run a quick background check to verify the information you submitted. Based on the results, they'll decide whether to approve or reject your application. This will only take a few minutes, and if you're approved, you can often expect to receive your card within a week or so.
Occasionally, you may not get an instant response because some applications require manual review. This is a precaution that credit card providers take to prevent fraud, and it may add an extra day or two to your timeline.
Who is eligible for instant approval?
To be considered for instant approval, you need to meet the following standards:
You must be a permanent resident or Canadian citizen
You must be the age of majority in your home province
You must not have a history of bankruptcy
Additionally, the better your credit score, the higher your chances of getting instant approval.
» MORE: What credit score is needed for a credit card?
What credit cards offer instant approval?
As online banking becomes more sophisticated, more credit card issuers in Canada are offering instant approval options. You can be instantly approved for all types of credit cards, including rewards cards, cash back cards, low-interest cards and business cards.
The following credit card providers all offer instant approval:
American Express
RBC
Tangerine
TD
Scotiabank
CIBC
BMO
National Bank
PC Financial
Capital One
What is guaranteed approval?
Guaranteed approval credit cards are exactly what their name suggests: credit cards you're guaranteed to be approved for. Guaranteed approval is very rare and is only available for a few secured credit cards because they're designed for people with bad credit who cannot qualify for unsecured credit cards.
How does it work?
Guaranteed approval is offered on a couple of secured credit cards, which are meant to help people rebuild their credit. While credit history plays no role in your approval, secured credit cards require a (refundable) deposit that you are required to pay upfront before you can use the credit card.
Who is eligible for guaranteed approval?
To be considered eligible for guaranteed approval, you must be the age of majority in your home province or territory. Most providers also require that you don't already have a credit card with them, especially if it's in bad standing.
» MORE: How old do you need to be to get a credit card?
What credit cards offer guaranteed approval?
The following financial institutions offer guaranteed approval on some of their secured credit cards:
Best Credit Cards in Canada
Compare all different credit cards side-by-side and find out the best card that will reward you with special perks and benefits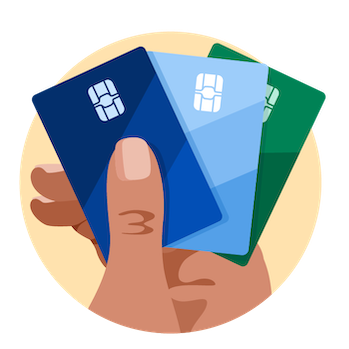 Instant approval vs. guaranteed approval
The important difference between instant approval and guaranteed approval is the types of credit cards that qualify for these options. Credit cards that offer instant approval are unsecured, while those that offer guaranteed approval are secured credit cards. An easier way to look at it is that you will likely qualify for instant approval if you have good credit. If you have bad credit (or no credit), look for a card that offers guaranteed approval and can help you rebuild your credit. Once you've established a better credit history, you may be able to qualify for an unsecured credit card.
Alternatives to instant or guaranteed approval
Most credit cards fall into one of these categories, although many more credit cards in Canada offer instant approval than guaranteed approval. However, remember that your application still could be flagged for manual approval even if your issuer offers instant approval.
FAQs
Can you get a credit card without a credit check?
Typically, no. Credit card providers want to check your credit history to ensure you will pay your bill. That said, there is one Canadian credit card that doesn't do credit checks: the Refresh Financial Secured Visa Card.
You could also consider getting a prepaid credit card, as they do not require credit checks. However, they also won't help you build your credit history, so consider your goals before applying.
Can you get instant approval with bad credit?
If you have bad credit, it's typically much more difficult to qualify for an unsecured credit card. Your best bet is to apply for a secured credit card to help rebuild your credit. However, since secured credit cards require a collateral deposit, they don't really count as instant approval
Can you get guaranteed approval with bad credit?
Yes. Guaranteed approval is offered for secured credit cards as they are geared towards people with bad credit.