With its significant swings in value over the last few years and new coins hitting the market regularly, cryptocurrency is the talk of the investment world. More recently, it has made its way into the banking and payments sphere with the arrival of what many are calling "crypto credit cards."
The way these new forms of payment are named and advertised can be mysterious at best and misleading at worst. Here's what you need to know before applying for a crypto card.
» MORE: What is cryptocurrency?
What is a crypto credit card?
A credit card is a payment method associated with a line of credit. It allows you to borrow money to cover a transaction, with the understanding that the borrowed amount will be paid back in cash, potentially with interest.
Although often referred to as credit cards, the crypto payment cards available in Canada right now aren't credit cards because there's no borrowing involved — they aren't connected to a line of credit. Instead, these cards work like prepaid or debit cards, allowing you to spend crypto you already own.
There are also crypto rewards credit cards, sometimes called crypto-earning credit cards. These are traditional credit cards or crypto debit cards that allow users to earn cryptocurrency as a reward.
» See our picks: Best rewards credit cards in Canada
How crypto cards work
Cryptocurrency is not considered legal tender in Canada, so despite having value, it can't be spent like dollars. Crypto debit and prepaid cards provide a more convenient way to exchange digital currency for goods and services.
Card holders must preload funds from their crypto wallet and can only spend as much as they've deposited. When making a purchase, cryptocurrency is converted into Canadian dollars based on its current market value and delivered to the merchant as cash.
A crypto rewards credit card works much like any other credit card, but rewards are paid in cryptocurrency rather than cash, and may be deposited directly into the account holder's crypto wallet.
What crypto cards are available in Canada?
The crypto payment card universe in Canada is quite small. The cards are typically offered by crypto exchanges.
Current options include:
The Crypto.com Visa Card. This prepaid card is available in several tiers, which provide cardholders with a variety of reward benefits and carry different requirements at the application stage.
The Shakepay Visa Card. This prepaid card earns up to 2% in bitcoin cash back on purchases, deposited to a Shakepay account.
A number of different cryptocurrencies can be deposited onto prepaid crypto card. For example, Canadian cardholders can top up Crypto.com's Visa card with more than 20 types of crypto, including Bitcoin, Litecoin, Cardano, Theta and even meme coins (cryptocurrency that launched as a joke) like Dogecoin.
Pros and cons of crypto cards
Pros:
No risk of getting into debt. With crypto debit and prepaid cards, you're not borrowing money. This means you can't overextend yourself by spending money you don't have.
Chance to earn rewards. Crypto-earning cards may offer "cash-back" rewards that are paid to the cardholder in the form of cryptocurrency.
Simpler way to enter the crypto space. For those looking to experiment with crypto investing, crypto rewards cards may provide a less complex way to do so, especially if earned as a reward for typical spending.
Cons:
Exchange rates. Cards funded with cryptocurrency must convert, i.e. sell, your digital currency to Canadian dollars to complete a transaction. This leaves you at the mercy of the prevailing cryptocurrency exchange rates, which can be quite volatile.
Tax considerations. Any transactions involving digital currency are taxable by the Canada Revenue Agency. When cardholders exchange crypto for dollars, or another crypto coin, there may be tax implications. Consult with a tax lawyer or accountant to understand how using a crypto payment card may affect your income tax bill.
Best Credit Cards in Canada
Compare all different credit cards side-by-side and find out the best card that will meet your need with special perks and benefits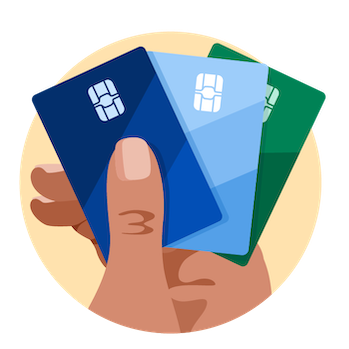 How to get a crypto card
Getting a crypto prepaid or debit card is different from applying for a traditional credit card. For example, before applying for a Crypto.com Visa card you have to sign up for an account on their currency exchange app. You also need to complete the verification process, and purchase and 'stake' (or deposit/lock) CRO tokens (the exchange's own coin) in your crypto wallet for 180 days.