You can get a credit card without a job, but you'll still need to meet income requirements to be approved for most credit cards. If you're unemployed or have a low income, your options may be limited.
Credit card income requirements
Many unsecured credit cards in Canada have annual income requirements, ranging from $12,000 to as high as $200,000. In general, cards with the most benefits and lucrative rewards have higher income requirements.
A credit card application will typically list a minimum individual annual income and a minimum household annual income. Some may even take your net worth into account and list a minimum amount of assets you must have under management with the financial institution.
For example, the Scotia Momentum Visa Infinite credit card requires a minimum annual income of $60,000, a minimum household income of $100,000, or at least $250,000 in assets under management. It's important to note the use of the word "or" — you don't need to fulfill all of those requirements; you just need to meet one.
Just remember, your annual salary is only one of the factors considered. Some credit card experts say that it's your credit report and score that most influence credit card approval because they provide a more accurate picture of creditworthiness.
» MORE: What credit score is needed for a credit card?
How to report income on a credit card application
When asked for income on a credit card application, you'll generally need to give your total gross (i.e. before tax) annual income. While this is a simple request for salaried employees on a fixed income, calculating this figure may be difficult for those who are unemployed, self-employed, a student, stay-at-home parent, or work as a freelancer.
What counts as income
Credit card applications aren't usually explicit about what they consider "income," so to be on the safe side, you may want to use the Canada Revenue Agency's official list of what constitutes income when calculating earnings.
Here are some examples of what counts as income on a credit card application.
Employment income
Interest from banking products like savings accounts or
guaranteed investment certificates
Canada Pension Plan or other pension income
Unemployment benefits
Government benefits
Capital gains
Alimony or child support payments
What doesn't count as income
There less clarity around what credit card providers do not consider income. When calculating income, you should not include things like lottery winnings, one-off inheritances or life insurance policy payouts because you likely won't have access to those funds on an annual basis. For further guidance, contact the credit card provider applying.
» MORE: How old do you need to be to get a credit card?
How card issuers check your income
If you have a good or excellent credit score, you may not need to provide proof of income. However, if you have a limited credit history or a fair credit score, you may be required to provide pay stubs or your latest tax return.
» MORE: How to check your credit score
What happens if your income estimate is off?
Even if the income estimate is incorrect, a credit card provider may still approve your application. Each issuer may have a different benchmark for how wrong an income estimate can be.
Generally speaking, even if the provider can prove that the income estimate is exaggerated, it's unlikely to report fraud. Instead, the provider will probably deny the application and take no further action.
However, submitting an inaccurate income estimate could result in your name being flagged and you may be denied credit cards from that issuer in the future, even if your circumstances and income change.
» MORE: How long should you wait between credit card applications?
Best Credit Cards in Canada
Compare all different credit cards side-by-side and find out the best card that will reward you with special perks and benefits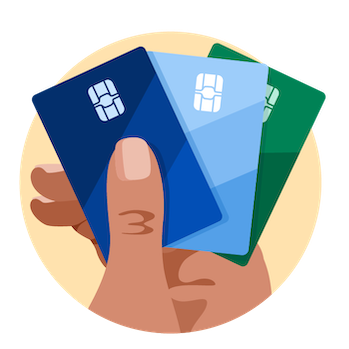 How to get a credit card with no income or low income
If you don't have a job or a source of regular income, you still have options.
Credit cards without income requirements. Some types of credit cards have no income requirements. American Express offers several unsecured credit cards in Canada that don't require income, such as the Cobalt, SimplyCash and Aeroplan cards. You will need to have a Canadian credit file to qualify.
Credit cards with lower income requirements. Some credit cards, such as student credit cards and no-fee cards, tend to have lower income requirements because they offer fewer rewards and perks.
Secured credit cards. Since a secured card requires a security deposit, it's typically easier to qualify than a regular, unsecured card. The best secured credit cards do not typically earn points or cash back, but some, like Plastk, earn rewards.
Prepaid cards. Prepaid cards function like traditional cards but are not technically credit cards because there's no borrowed money. The best prepaid cards can be used wherever Visa, Mastercard, or American Express is accepted. Some options, like the KOHO Prepaid Visa, even offer credit building and rewards on purchases.
Joint credit cards. You can share a credit card by asking a trusted friend or family member if they will add you as an authorized or supplementary user to their account. You will both get a card of your own, but the account will be shared.
Co-signed credit cards. Some issuers may allow you to apply for a credit card with a friend or family member who meets the income criteria and will agree to make payments if you can't. You will get a card of your own and the account will not be shared.
» Before you apply: Understand how credit card debt may affect you
FAQs
Should I report my household or individual income?
Unless the credit card application requests one or the other, it's really up to you whether you report your household or individual income. If you're unlikely to have a successful application based solely on your own, use your household income — especially if whoever you share a household with will help you make credit card payments if you ever fall behind.
DIVE EVEN DEEPER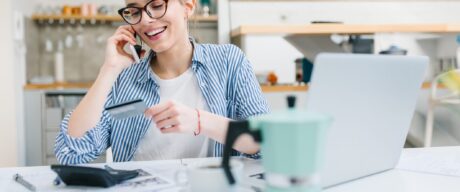 At the very least, you should pay your credit card bill by its due date every month. But in some cases, you can do yourself a favour by paying it even earlier — whenever your credit utilization gets close to (or exceeds) 35%. Here's why it's worth paying your bill before it's due. Why pay […]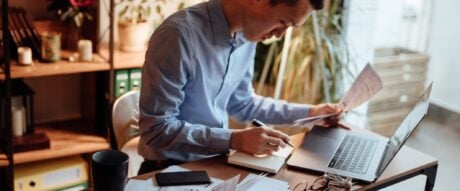 Unfortunately, many credit card users don't have a real appreciation for—or interest in—their credit card statement, and may even throw it in the recycling bin unopened. Yet, understanding your statement can play a crucial role in managing credit card debt and ensuring you're not the victim of fraud. Here we break down the basics of […]