Canadians have lots of choices when it comes to loyalty rewards programs. One of the largest (and arguably most complicated) is Air Miles. The program offers many ways to earn and redeem points, but mastering how to use your Air Miles most effectively may require a little research, forethought and careful planning.
On March 10, 2023, the Bank of Montreal announced its plans to acquire LoyaltyOne's Air Miles Reward Program. We are actively monitoring the situation. Visit our BMO Buys Air Miles story for the latest updates.
What is the Air Miles program?
Air Miles is one of Canada's most recognized and popular loyalty rewards programs, with nearly 10 million members. Launched in 1992 and operated by LoyaltyOne, a Netherlands-based company, Air Miles is one of the few loyalty programs not run by a specific bank, airline or hotel chain.
Air Miles aims to create loyalty and increase sales for retail partners by rewarding members for purchases with miles that members can redeem for travel, hotels, merchandise and more.
To collect Air Miles, you must sign up online to become a member. Once your application is approved, the company will send you a membership number and a card.
You can then earn Air Miles miles in several ways, including
Shopping in person or online at Air Miles partners
Using a co-branded Air Miles credit card
Shopping via the Air Miles eStore.
After amassing a sufficient number of miles, you can redeem them for a variety of items like flights or merchandise or instant cash rebates on purchases at select retailers.
How do Air Miles work?
Air Miles are earned either as Dream Miles or Cash Miles, or as a combination of both. You'll need to decide which is best for you before collecting rewards.
What are Dream Miles rewards?
Dream Miles are miles that you can redeem for non-cash rewards.
You can redeem Dream Miles for rewards like flights, car rentals, merchandise and experiences.
What are Air Miles cash rewards?
Cash Miles are Air Miles cash rewards and are convertible into cash or cash-like eVouchers, which are handy for online purchases.
You can only redeem Cash Miles for instant in-store or online cash rebates at participating Cash Miles partners.
Dream miles vs. cash miles
Dream Miles
Cash Miles
Redemption options
Non-cash rewards, such as flights, rental cars, hotel stays, concert tickets and merchandise.
Cash rewards, such as in-store cash rebates or eVouchers.
Air Miles value
Varies considerably. On average, the best redemption values are for flights (approximately 10.1 cents per mile for economy class and
12.6 cents for business class).
95 Cash Miles are worth $10, and you can redeem miles in $10 increments up to a total of $750 per day.
Pros
Very flexible and can be redeemed for a variety of items.
Easy to use, stable value.
Cons
Lack of standard mile value makes it hard to know if you're getting a good value.
Can only be used as cash and can't be converted to Dream Miles.
Best Air Miles Credit Cards in Canada
Compare all different air miles credit cards side-by-side and find out the best card that will meet your need with special perks and benefits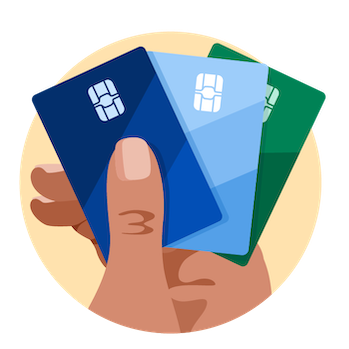 How much are Air Miles worth?
Cash Miles have a specific value because they are only redeemable for cash or a cash voucher. You can redeem 95 Cash Miles for $10 cash towards a purchase (or eVoucher), which gives each Air Mile Cash Mile a value of 10.5 cents.
Dream Miles, in contrast to Cash Miles, do not have a standard, reliable value because the value of an individual Air Miles Dream Mile varies based on how it is redeemed.
For example, if you redeem your Air Miles Dream Miles for merchandise, you may get a value of about 7 cents per Air Mile. However, when you redeem Air Miles for a hotel room, you may get a per-mile value of approximately 12 cents. These different mile valuations underscore why, to maximize the purchasing power of your Air Miles, it's so important to figure out how much value you're getting before you redeem them.
Generally, you get the best deal when redeeming Air Miles Dream Miles for travel, specifically flights. Fortunately, it's easier to figure out a relatively stable value per Air Mile Dream Mile when it comes to flight redemptions.
NerdWallet analyzed 75+ data points to compare the Air Miles redemption values of flights in 2022 to determine a "cent per mile" value for each flight.
More specifically, you can expect to get around:
10.1 cents per Air Miles Dream Mile for economy class redemptions
12.60 cents per Air Miles Dream Mile for business class redemptions
These values can fluctuate based on several factors, such as where and at what time of year you're travelling (i.e., during holidays or other peak times), and how far ahead of time you book your flight.
For example, when redeeming miles for a business class ticket when travelling within Canada or internationally, the value of a single Air Mile can rise to as high as $1.05 if you book as much as 180 days before departure. However, if you book the same business class seat on a flight only 15 days out, each Air Mile only has an approximate value of 10.5 cents.
How many Air Miles for a flight?
Unfortunately, unlike some travel rewards loyalty programs (like Aeroplan), Air Miles does not offer a flight chart with info about how many miles are needed to reach a particular destination. The amount of Air Miles you'll need for a flight depends on a number of factors, including when you travel, your destination and the carrier.
To find the actual amount of Air Miles needed for a specific trip, you'll need to search for flights on the Air Miles travel portal. You can try varying your dates slightly to see whether it affects the number of Air Miles required for a flight.
» MORE: The best ways to use your credit card overseas
How to collect Air Miles
Air Miles collectors can select how they want to earn their miles using the slider tool in your account profile. Look for "Set Balance Preference" under Quick Links and choose a percentage, from 0% to 100%, of Cash and Dream Miles you want to earn. For example, if you choose to earn 50% Dream Miles and 50% Cash Miles, Air Miles will automatically distribute any points you earn to match this preference.
You can change your set percentages as often as you want, but you can't convert the miles after making your selection between Dream Miles and Cash Miles.
For example, if you earned 500 Cash Miles and now want to earn only Dream Miles, you can't change those 500 Cash Miles into Dream Miles — they will be Cash Miles until you redeem them.
How to earn Air Miles
One of the best features of the Air Miles program is that you can earn miles in many ways.
Present your Air Miles membership card
Becoming an Air Miles member is the most common way to earn miles. When shopping in person or online at an Air Miles retail partner, you just need to present your card or input your membership number online to earn Air Miles.
The amount of Air Miles you earn can vary with each retailer. For example, at IHG Hotels and Resorts, you can earn 1 Air Mile per $5 spent, whereas, with Global Pet Foods, you'll earn 1 Air Mile for every $20 you spend.
Shop with an Air Miles credit card
A fast and easy way to accelerate your earnings is with a co-branded Air Miles credit card.
Air Miles has partnered with BMO Bank and American Express to provide several credit cards that allow users to earn a set amount of Air Miles for every purchase they make.
For example, with the American Express® AIR MILES®* Reserve Credit Card, cardholders earn 1 Air Mile for every $10 they spend at an Air Miles partner, or at grocery stores, gas stations, and drugstores in Canada, and 1 Mile per $15 spent everywhere else.
These co-branded rewards credit cards are a smart way to maximize Air Miles earnings because cardholders earn miles on every purchase, whether or not you make the purchase with an official Air Miles partner.
Use the Air Miles shopping portal and eStore
On top of earning Air Miles directly when shopping at merchants in person or online, you can also earn Air Miles using the Air Miles shopping portal at airmilesshops.ca. Rather than going directly to a partner retailer's website, you would go through the Air Miles eStore and earn 1 Air Mile for every $20 spent.
Book travel through the Air Miles travel portal
You can earn points by booking travel-related items like flights, hotel stays, vacations and rental cars via the Air Miles travel hub.
Pay attention to Air Miles bonus offers and promotions
Air Miles partner merchants sometimes offer special promotions or bonuses that allow members to earn additional miles. You can find current promotions by checking out the Air Miles website.
Air Miles also sometimes features its own bonus offers, such as bonus Air Miles when you book a flight via the Air Miles travel portal using your credit card.
Answer surveys to earn free Air Miles
You can earn miles by answering surveys online with companies like Shopper's Voice and Rewarding Your Opinions.
Air Miles Onyx status
Air Miles Onyx status is the highest status tier available for the Air Miles loyalty program. You must earn 5,000 or more miles within a year to attain Onyx status, which will give you access to exclusive perks, like discounts of up to 40% on Air Miles flights, 10% fewer points required for merchandise redemptions, and priority customer service.
Some premium Air Miles co-branded credit cards automatically give cardholders Onyx status. If you're considering applying for an Air Miles credit card and the Onyx perks appeal to you, it's worth checking whether the card you want includes this benefit.
» MORE: How many credit cards should I have?
Air Miles Gold status
Air Miles Gold status (also known as Air Miles Gold Collector) is the tier below Onyx. It's for Air Miles members who collect between 500 to 4,999 miles in a calendar year.
Benefits for a Gold Collector include special offers like up to 30% off the number of miles needed for certain flights or 5% off the miles required for some merchandise redemptions. Gold Collectors may also be invited to exclusive events, enjoy free movie passes and be able to enter contests.
Are Air Miles worth it?
Air Miles is free to join, so there's no downside to joining the program. It takes very little effort to earn miles, as all you have to do is show your membership card at participating retailers or enter the number at online checkout.
That said, with an average earn rate of 1 Air Mile per $20 spent at retail partners, it can take a long time to earn rewards. To accumulate a significant amount of miles in a reasonable amount of time, you'd likely need to use an Air Miles credit card or constantly be looking for generous bonuses.
Air Miles pros
Air Miles is free to join.
There's a wide range of earning opportunities.
Promotions can help you upsize your earnings.
A wide array of retail partners is enticing for shoppers.
Co-branded credit cards can help you earn miles on all purchases
Onyx and Gold status offer extra benefits.
Air Miles cons
It can be difficult to figure out the value of Dream Mile redemptions.
You can't transfer miles can't be transferred to other loyalty programs.
Dream Miles can't convert to Cash Miles and vice versa.
Taxes and fees are not usually covered when redeeming Dream Miles for flights, which can add up to a considerable additional expense.
Air Miles expire if an account is inactive for 24 months.
» MORE: How to maximize your use of credit card rewards
Air Miles alternatives
One alternative to Air Miles is Air Canada's Aeroplan, another of Canada's most well-known travel reward loyalty programs. Aeroplan also has co-branded credit cards, and you can earn points more quickly than with Air Miles.
The value of an individual Aeroplan point may be lower than that of a single Air Mile when redeemed for flights, but you could be in the air much more quickly with Aeroplan — and use Aeroplan points to cover taxes and fees, unlike with Air Miles.
Finally, Aeroplan has an attractive "Family Sharing" feature that allows up to eight family members or friends to pool their points, making it easy to redeem Aeroplan points for maximum value.
» MORE: How to stack credit card rewards
Frequently asked questions about Air Miles
In March 2023, the Bank of Montreal announced its plans to acquire LoyaltyOne's Air Miles Reward Program. This announcement took place on the same day that LoyaltyOne's parent company, Loyalty Ventures Inc., filed for bankruptcy. As of this writing, the BMO Air Miles acquisition has yet to be confirmed, and no major changes to the Air Miles program have been announced.
How much are 5,000 Air Miles worth?
5,000 Cash Miles are worth $525, as 95 Cash Miles have a monetary value of $10 (giving each mile a value of 10.5 cents).
The cash value of 5,000 Dream Miles is nearly impossible to say since it depends entirely on how you redeem them. You can experiment with the Air Miles search tool to explore different trips and see how far your 5,000 Dream Miles would take you.