Everyone loves to be rewarded for their loyalty, and that's exactly what you get with rewards credit cards. The more you spend on a particular card, the greater rewards you can get— whether they be in the form of travel, merchandise or cold hard cash.
But each rewards card has its pros and cons, so you need to take a deeper look at how they work before you can pick one that works best for you.
Best Rewards Credit Cards in Canada
Compare all different rewards credit cards side-by-side and find out the best card that will meet your need with special perks and benefits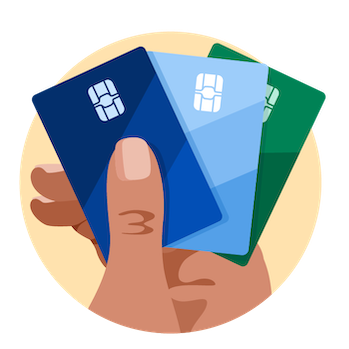 How do rewards cards work?
Rewards cards allow you to collect points that correspond to your spending. These points can then be redeemed for goods, services or money, depending on the card type.
The most common rewards are:
Travel, including hotel stays, flights and car rentals
Merchandise, such a groceries, electronics, housewares, etc.
Gift cards
Experiences like vacations, concerts, celebrity meet-and-greets, private or opulent fine dining and more
Cash back through statement credits, cheques or direct deposit
Within that basic collection and redemption framework, all kinds of variations affect how specific rewards and loyalty programs work. For example, some cards have rotating seasonal redemption categories where you will earn more points for three months a year than usual on certain spending categories (e.g., travel, gas, groceries, etc.). After those three months, the categories change. Other cards offer double (or more) points when you use them at certain retailers.
Most reward cards provide a sign-up bonus in points for opening the account. There can also be promotions throughout the year where certain retailers offer more points than usual on certain merchandise for a limited time.
Or, you may get bonus points for completing specific actions, such as downloading the card's app, opening a bank account with the same financial institution that issued your card, or signing up for the rewards program's e-mail newsletter.
Getting a rewards card
Eligibility for a rewards card is no different than that of a regular credit card. You still need to be the age of majority in the province you live in, be a Canadian resident or citizen, and you must meet the annual income and credit score requirements.
» MORE: How to apply for a credit card and get approved
How to choose a rewards card
It's important to weigh the costs and benefits of any type of credit card before applying, and rewards cards are no exception. That means looking for the lowest interest rate (especially if you carry a balance) and understanding what other fees you may be charged.
For example, many rewards cards come with an annual fee, which helps pay for the program. So be realistic as to the dollar value you are likely to save through the rewards. After all, there's no point in paying more for the card than what you'd get back in rewards. On the other hand, the rewards and benefits may more than offset the cost, especially if the card also comes with an annual travel or statement credit.
Other factors to consider include what type of rewards you'd like to earn for your spending and where you spend most often. Sure, you might like to travel, but picking a travel rewards card with retail partners where you actually shop is important too. That way, you will earn rewards faster.
» Our top picks: The best travel credit cards in Canada
You'll also want to look at the earn rate and redemption rate of the rewards card you choose. How many points do you need to earn before you can redeem them for a reward, and how fast can you earn those points? What percent cash back do you receive for purchases?
» Our top picks: The best cash back credit cards in Canada
Finally, you'll want to go with a rewards card that has straightforward program rules, such as one dollar equals one point, redeem anytime, and has many retailers or brands to earn points.
What to look for with rewards cards
Pros
High sign-up bonuses
A variety of ways to earn points (buying specific brands, completing certain actions, spending at certain retailers, etc.)
A variety of rewards to redeem (flights, hotels, merchandise, gift cards, statement credits, groceries, etc.)
Points last for as long as the credit card account is active and don't expire unless the account remains dormant with no activity for a stipulated time period
Opportunities to earn more points and therefore redeem rewards faster
Cons
Complicated redemption schemes
High annual fees (When is an annual fee worth it?)
High annual income and credit score requirements
Higher interest rates
Don't always fit natural spending patterns, especially when relying on fewer retail partners
Points are seldom transferable to other reward programs